Special Installation Brings Futuristic Art Experience to National Museum of the American Indian in New York
"Manifestipi" Opens Feb. 3 for Limited Engagement in Conjunction With Recently Opened "Transformer" Exhibition
December 14, 2017
News Release
Addthis Share Tools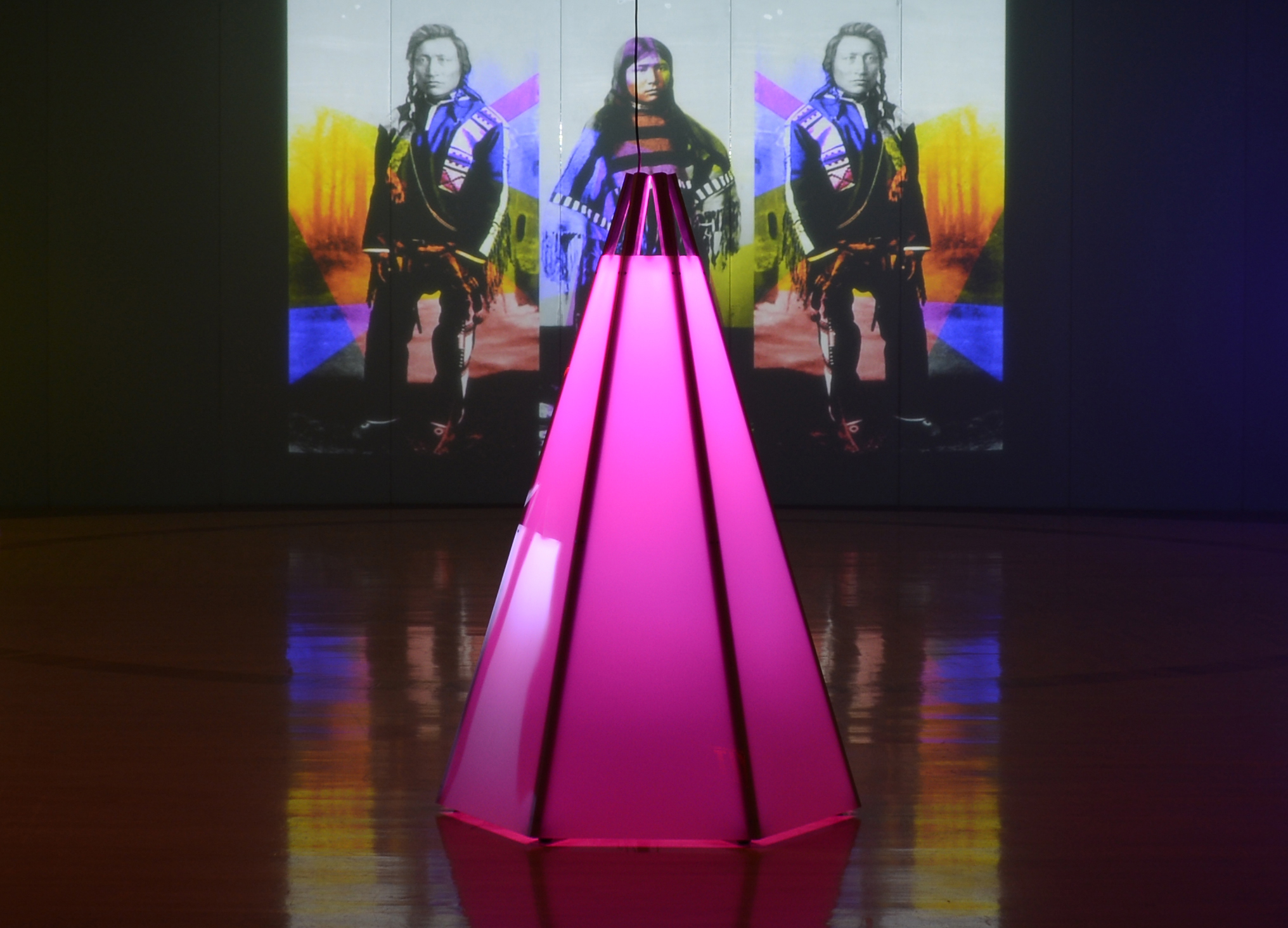 The tipi, an iconic symbol and perhaps one of the most widely recognized structures of early life for Plains Indians, gets a space-age makeover in the newest installation at the Smithsonian's National Museum of the American Indian, George Gustav Heye Center in New York. "Manifestipi" features five frosted Plexiglas tipis, each eight feet in height and colorfully illuminated with neon hues of pink, blue, green and yellow that rapidly change throughout the day. Arranged within a darkened space, the tipis are set against a background of quick-paced video projections of Native imagery and a ghostly soundscape. Visitors will be able to walk around the tipis and experience the installation from multiple angles.
"Manifestipi" opens Saturday, Feb. 3, 2018, in the museum's first-floor Diker Pavilion for Native Arts and Cultures and is presented for a limited engagement only in conjunction with the museum's newest exhibition "Transformer: Native Art in Light and Sound." The "Manifestipi" installation closes Sunday, March 25, 2018. Admission is free.
The installation is the creation of the ITWÉ Collective, a trans-disciplinary art collective dedicated to research, creation, production and education in the field of Aboriginal digital culture, based in Winnipeg and Montréal, Canada, and composed of Sébastien Aubin (Cree/Métis), Kevin Lee Burton (Swampy Cree) and Caroline Monnet (Anishnabe/French).
The team created the futuristic encampment in 2016. "Manifestipi" is meant to challenge perceptions, encourage dialogue and discourse, and promote individual perspectives about shared spaces. Using tipis meshed with modernized materials, ITWÉ speaks about efficiency and portability in modern society by reliving the communal effort that it takes to build a sense of place. 
"This multisensory installation is a dynamic and immersive experience for the visitor, which the artists created to bring people together," said Kathleen Ash-Milby (Diné), museum associate curator. "It's exciting to have this unconventional and thought-provoking work in New York City."
"Transformer: Native Art in Light and Sound"
"Transformer" features 10 artists and nine installations that employ a variety of electrified media, including light, digital projection, innovative sound technology and more to provide thought-provoking and unforgettable experiences composed for the digital age. It is on view through Jan. 6, 2019. For more information, consult the exhibition press kit: http://s.si.edu/2uvtw8V. 
"Transformer: Native Art in Light and Sound" and related programming are made possible through the generous support of the members of the New York Board of Directors of the National Museum of the American Indian, Ameriprise Financial, and Con Edison.
The Smithsonian's National Museum of the American Indian
The National Museum of the American Indian is committed to advancing knowledge and understanding of the Native cultures of the Western Hemisphere—past, present and future—through partnership with Native people and others. The museum's George Gustav Heye Center is located at One Bowling Green in New York City. For additional information, including hours and directions, visit AmericanIndian.SI.edu. Follow the museum via social media on Facebook, Twitter and Instagram.
# # #
SI-683A-2017