Smithsonian Traveling Exhibition Offers Journey through American Artist Romare Bearden's "Black Odyssey"
Tour Launches at Reynolda House Museum of American Art Oct. 13
June 5, 2012
News Release
Addthis Share Tools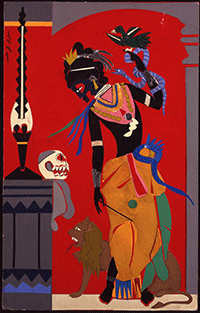 "…all of us are on a kind of an odyssey. And I think this is what makes the story so lasting, so classic, and applicable to everyone..."
—Romare Bearden
In 1977, Romare Bearden (1911-1988), one of the most powerful and original artists of the 20th century, created a cycle of collages and watercolors based on Homer's epic poem, "The Odyssey." Rich in symbolism and allegorical content, Bearden's "Odysseus Series" created an artistic bridge between classical mythology and African American culture. The works conveyed a sense of timelessness and the universality of the human condition, but their brilliance was displayed for only two months in New York City before being scattered to private collections and public art museums. A new exhibition from the Smithsonian Institution Traveling Exhibition Service (SITES) represents the first full-scale presentation of these works outside of New York City.
"Romare Bearden: A Black Odyssey" will debut at the Reynolda House Museum of American Art in Winston-Salem, N.C., Oct. 13 and will remain on view through Jan. 13, 2013, before continuing on a seven-city national tour through 2014. Curated by renowned English and jazz scholar Robert G. O'Meally, the Zora Neale Hurston Professor of English and Comparative Literature and founder and former director of the Center for Jazz Studies at Columbia University, the exhibition is organized by SITES in cooperation with the Romare Bearden Foundation and Estate and DC Moore Gallery. "Romare Bearden: A Black Odyssey" and its related educational resources are supported by a grant from the Stavros Niarchos Foundation.
Born in Charlotte, N.C., Bearden moved with his family to Harlem as a young child, part of the Great Migration of African Americans from the inhospitable South to greater opportunity in the North. Throughout his career, Bearden created images of the lives of travelers on their way to and from home, a theme no more powerfully explored than in his "Odyssey Series." Bearden had examined classical themes before, but the "Odysseus Series" expanded his exploration of literary narratives and artistic genres by presenting his own personal reinterpretation of the subject.
"In creating a black Odyssey series, Bearden not only staked a claim to the tales of ancient Greece as having modern relevance, he also made the claim of global cultural collage—that as humans, we are all collages of our unique experiences," said O'Meally. "Indeed, Bearden does not merely illustrate Homer—he is Homer's true collaborator, and he invites us as viewers to inherit Homer's tale and interpret it as our own" The Smithsonian exhibition features some 55 works, including collages, watercolors and line drawings as well as additional compositions relating to Bearden's interest in classical themes. The exhibition examines his motivations in creating these works within the context of the "Odysseus Series" and his overall body of work.
"Romare Bearden: A Black Odyssey" is complemented by a fully illustrated companion book of the same name (DC Moore Gallery, 2008), written by curator O'Meally. The book features full-color images of Bearden's work and an essay by O'Meally.
The Stavros Niarchos Foundation (www.SNF.org) is one of the world's leading international philanthropic organizations, making grants in the areas of arts and culture, education, health and medicine, and social welfare. The foundation funds organizations and projects that exhibit strong leadership and sound management and are expected to achieve a broad, lasting and positive social impact. The foundation also seeks actively to support projects that facilitate the formation of public-private partnerships as effective means for serving public welfare.
DC Moore Gallery represents a lively mix of more than 20 contemporary artists, and also offers the finest in 20th century American painting, sculpture, and works on paper, including modernism, ashcan, African American, regionalism, social realism, and mid-century abstraction. Founded in 1995, the gallery also represents Bearden's foundation and estate.
SITES has been sharing the wealth of Smithsonian collections and research programs with millions of people outside Washington, D.C., for nearly 60 years. SITES connects Americans to their shared cultural heritage through a wide range of exhibitions about art, science and history, which are shown wherever people live, work and play. Exhibition descriptions and tour schedules are available at www.sites.si.edu.
# # #
SI-256-2012