Smithsonian Secretary Lonnie G. Bunch III Accepts 48-Star D-Day Flag for the National Collection at White House Ceremony
Flag Will Be Displayed in D-Day Exhibit at the National Museum of American History
July 18, 2019
News Release
Addthis Share Tools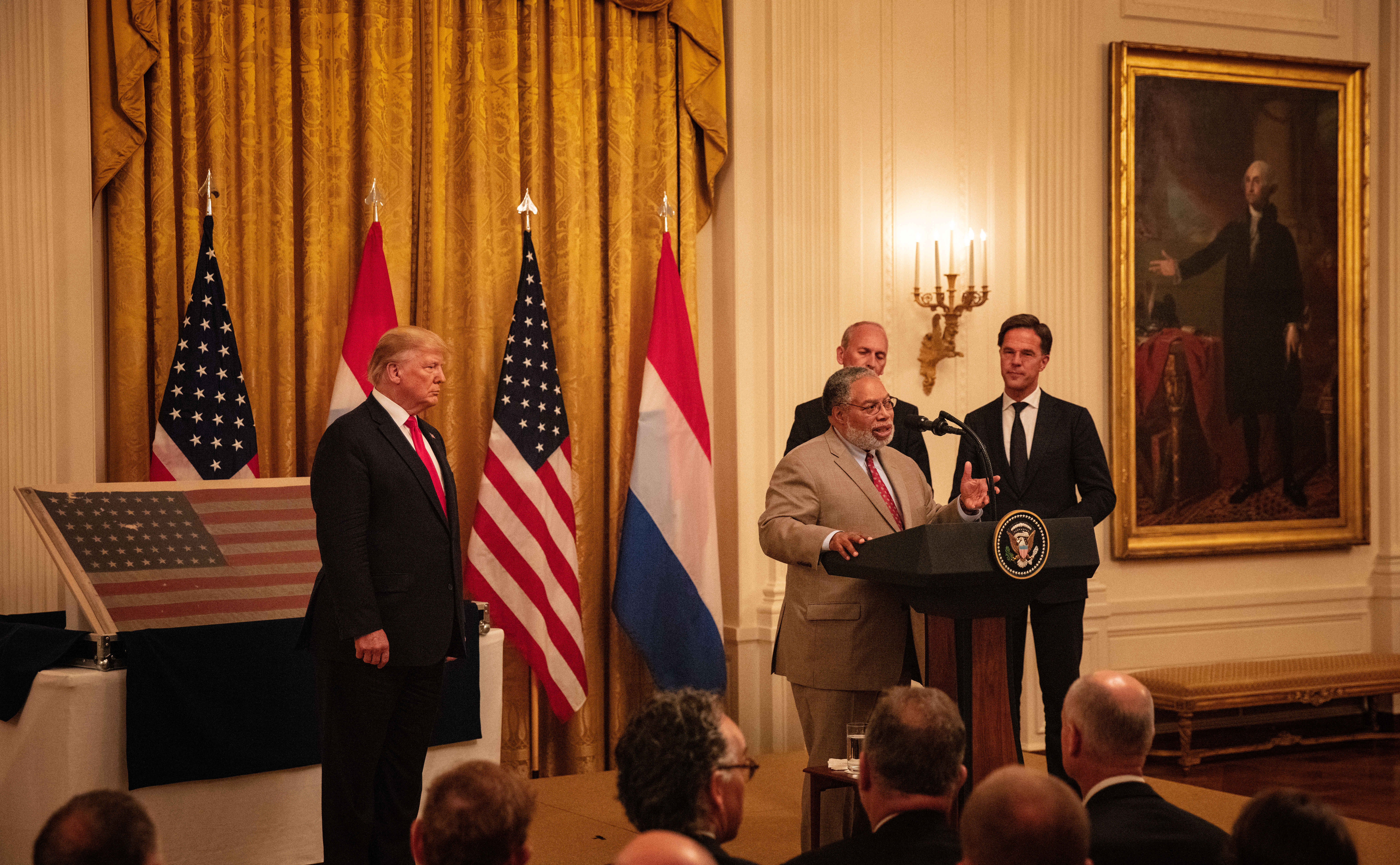 In a ceremony in the White House's East Room July 18, Smithsonian Secretary Lonnie G. Bunch III accepted a 48-star flag flown on the control vessel Landing Craft, Control 60 (LCC 60) D-Day June 6, 1944. The LCC 60 crew worked off Utah Beach and was led by Lt. (junior grade) Howard Vander Beek, a Dutch American who kept the flag.
Following a meeting between President Donald J. Trump and Prime Minister Mark Rutte of the Netherlands, Dutch art collector Bert Kreuk donated the flag to the Smithsonian. It will go on view July 26 as part of the exhibit "D-Day, June 6, 1944," a display of select objects from the museum's World War II collection to commemorate the 75th anniversary of D-Day.
"One of the key goals of the Smithsonian is to help America remember the moments such as D-Day that forever shaped our nation," Bunch said. "On this year commemorating the Allied landing on Normandy 75 years ago, this flag is a fitting tribute to all who risked their lives for freedom."
Bunch was joined at the White House by Anthea M. Hartig, the Elizabeth MacMillan Director of the National Museum of American History, and three museum staff.
The 30-by-57-inch flag features two steel grommets set in a canvas edge and 48 stars representing the existing states. The banner shows discoloration and staining from diesel exhaust along with general wear and tear sustained during the war-time use. One symmetrical hole in blue field flag appears to have come from a German machine gun bullet. Additional moth damage and other fading and discoloration occurred after the war.
# # #
SI-309-2019