Smithsonian's National Postal Museum Receives Donation for the William H. Gross Stamp Gallery
July 20, 2011
News Release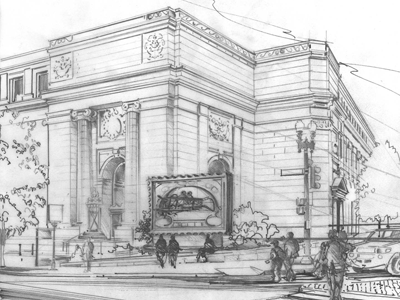 George Kramer, a well-known philatelist, has donated $100,000 to support the National Postal Museum's expansion to create the William H. Gross Stamp Gallery (www.postalmuseum.si.edu/StampGallery).
The Smithsonian and the U.S. Postal Service recently signed a lease agreement for the additional space to build the gallery. This new space will be added to the museum's existing 65,000 square feet and is scheduled to open in the next couple of years.
In addition, Kramer is donating for display in the new gallery, a piece of mail that was mailed to John Hancock from New York via the Constitutional Post, a mail system created by American revolutionary leaders to compete with the British post office. It was postmarked July 4, 1776, the date that the Second Continental Congress, meeting at the Pennsylvania State House in Philadelphia, approved the Declaration of Independence. No postage was charged because Hancock was president of the Congress.
"The museum is honored to have the support of George Kramer," said Allen Kane, director of the museum. "George's generous donation will allow the museum to showcase the July 4, 1776, John Hancock cover allowing millions of onsite and online visitors access to a spectacular rare gem."
The National Postal Museum is devoted to presenting the colorful and engaging history of the nation's mail service and showcasing one of the largest and most comprehensive collections of stamps and philatelic material in the world. It is located at 2 Massachusetts Avenue N.E., Washington, D.C., across from Union Station. The museum is open daily from 10 a.m. to 5:30 p.m. (closed Dec. 25). For more information about the Smithsonian, please call (202) 633-1000 or visit the museum website at www.postalmuseum.si.edu.
# # #
SI-319-2011