Smithsonian's National Portrait Gallery Marks the 150th Anniversary of the Civil War with Exhibitions through 2015
October 4, 2012
News Release
Addthis Share Tools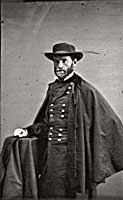 The National Portrait Gallery continues to commemorate the 150th anniversary of the Civil War, fought from 1861 to 1865, with rotating permanent collection installations, many of which draw heavily on the museum's permanent collection. These presentations, which mark each year of the war, complement the installation of objects from the Civil War that are on long-term display in the exhibition "American Origins." Additionally, a curator and historian from the museum have co-edited a modern-day reader that pairs current and historic poetry and photographs in response to the Civil War.
In addition, the building that houses the museum at Eighth and F streets N.W., served as a Civil War barracks and hospital to Union soldiers and was the site of Lincoln's second inaugural ball March 6, 1865, as the war was nearing its conclusion.
The Confederate Sketches of Adalbert Volck
Through Jan. 21, 2013
Having come to the United States in 1848 in the wave of immigration from Germany after its failed revolution, Adalbert Volck settled in Baltimore. Unusual for the politically liberal German émigrés, Volck sided with the Confederacy. A dentist by trade, he served the southern cause in several ways, including smuggling medical supplies to Virginia across the Potomac. However, Volck's most significant contribution to the Confederate cause was his production of pictorial propaganda that vilified President Abraham Lincoln, northern abolitionists and Union soldiers. While his major publication, Sketches from the Civil War in North America, had a small circulation, the etchings reveal the Confederate mindset and contemporary southern opinion. This exhibition curator is historian James Barber.
Bound for Freedom's Light: African Americans and the Civil War
Feb. 1, 2013, through March 2, 2014
To commemorate the 150th anniversary of the Emancipation Proclamation, the National Portrait Gallery will present "Bound for Freedom's Light: African Americans and the Civil War." This installation will focus on the roles that individual African Americans played during the course of this hard-fought conflict.
In addition to highlighting the Civil War experiences of famous men and women such as Harriet Tubman, Frederick Douglass, Martin R. Delaney and Sojourner Truth, "Bound for Freedom's Light" will include compelling stories of others whose names may be less familiar. Among those featured will be Gordon, who escaped enslavement on a Louisiana plantation to join a black regiment and fight for the Union cause; and Robert Smalls, the South Carolina bondsman who freed himself and his family by seizing control of a Confederate ship and delivering it safely into Union hands.
"Bound for Freedom's Light" will include vintage photographs and historic prints, the majority drawn from the collection of the National Portrait Gallery. The installation's curator is Ann Shumard, curator of photographs at the museum.
Lines in Long Array: A Civil War Commemoration
Poems and Photographs
Coming in 2013
co-editors Frank H. Goodyear III, David C. Ward 128 pages (TBC); Published by Smithsonian Books Inspired by Civil War readers, which were small pamphlets published to raise funds to help dress the injuries of wounded soldiers, the Smithsonian is publishing a modern-day reader titled Lines in Long Array. This poetry reader includes verse written by 12 of today's nationally renowned, award-winning poets in response to the Civil War. The poets who have contributed to the publication are Eavan Boland, Geoffrey Brock, Nikki Giovanni, Jorie Graham, John Koethe, Yusef Komunyakaa, Paul Muldoon, Michael Schmidt, Steve Scafidi Jr., Dave Smith, Tracy Smith, C. D. (Carolyn) Wright. Sally Mann has contributed six modern-day photographs of Civil War battlefields. These images and poetry are paired with six photographs by Alexander Gardner and twelve poems by Civil War–era poets Ethyl Lynn Beers, Ambrose Bierce, George H. Boker, Emily Dickinson, Frances Ellen Watkins Harper, Julia Ward Howe, Oliver Wendell Holmes, Herman Melville, Francis Orray Ticknor, Henry Timrod, Walt Whitman and John Greenleaf Whittier. The reader includes essays by the co-editors: Shattered Ground: Photography and the Civil War by Frank H. Goodyear III, associate curator of photographs at the National Portrait Gallery and "The Real War. . .": Poetry and the Civil War, by David C. Ward, historian at the National Portrait Gallery.
Washington during the Civil War
Dec. 13, 2013, through Jan. 25, 2015
This exhibition will use large-format reproductions of original photographs, prints, drawings and maps to document how the Civil War affected patterns of life in the District of Columbia. Special focus will center on activities in and around the historic Patent Office Building—now home to the Smithsonian's National Portrait Gallery and the Smithsonian American Art Museum. The exhibition will include views of forts and hospitals, the Navy Yard and the Sixth Street Wharf, and landmarks such as the Capitol, White House, Ford's Theatre and the Old Capitol Prison. A special feature will be the images of notable Washington personalities—statesmen, spies, soldiers and nurses—who gave the city a sense of national purpose, glamour and intrigue during four years of war. This exhibition curator is historian James Barber.
One Life: Grant and Lee
July 4, 2014, through May 31, 2015
This special installation of "One Life" considers two lives that were intertwined in the crisis of the Union.
The Civil War rivalry between generals Ulysses S. Grant and Robert E. Lee is one of the most memorable in American military history. Lee was a polished and seemingly invincible Confederate commander who encountered Grant, a rough-hewn upstart, in the Virginia campaigns of 1864 and 1865. Ultimately, the Union would prevail, in part with the adoption of a total war philosophy of destroying both armies and resources. This exhibition considers the personal lives and professional rivalries of Grant and Lee through paintings, photographs, documents and associative objects. This exhibition curator is historian David C. Ward.
Alexander Gardner
March 6, 2015, through Sept. 13, 2015
Feb. 5, 2015, marks the 150th anniversary of Alexander Gardner's "cracked-plate" portrait of President Abraham Lincoln. Arguably the most iconic likeness of the 16th president today, it was created by a man whose life and photographic career remain relatively undocumented and underappreciated. This oversight is notable, as Gardner (1821–1882) was perhaps the most progressive photographer of the Civil War era. He was influential not only in advancing photographic portraiture beyond traditional compositional conventions, but also in realizing photography's power as a documentary tool. In his mind, photographs were more than static likenesses; they were active images capable of conveying narrative and recording history. The author of the first American photographic book and a leading contributor of photographic views to the illustrated press, Gardner was a pioneer in his field. This exhibition curator is associate curator of photographs Frank H. Goodyear III.
Mathew Brady's Photographs of Union Generals
Through May 31, 2015
Although Mathew Brady may be best known for his photographic documentation of the Civil War, his New York and Washington galleries also did a brisk business throughout the conflict by producing studio portraits of the ever-changing roster of Union army generals. Featuring modern albumen prints made from the original Brady negatives in the National Portrait Gallery's Frederick Hill Meserve Collection, this installation will include portraits of many of the North's military leaders, from George McClellan and Ambrose Burnside to William Tecumseh Sherman and Ulysses Grant. The exhibition curator is curator of photographs Ann Shumard.
National Portrait Gallery
The Smithsonian's National Portrait Gallery tells the history of America through the individuals who have shaped its culture. Through the visual arts, performing arts and new media, the Portrait Gallery portrays poets and presidents, visionaries and villains, actors and activists whose lives tell the American story. The National Portrait Gallery, part of the Donald W. Reynolds Center for American Art and Portraiture, is located at Eighth and F streets N.W., Washington, D.C. Smithsonian Information: (202) 633-1000. Website: npg.si.edu.
# # #
SI-111A-2012