Smithsonian's National Air and Space Museum Launches "How Things Fly" Online Exhibition
February 9, 2012
News Release
Addthis Share Tools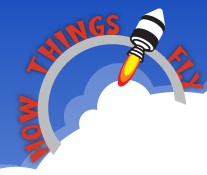 What makes an airplane fly? How does a spacecraft stay in orbit? Why does a balloon float in the air? These and many other questions are answered in the How Things Fly website, a companion to the physical exhibition at the National Air and Space Museum about the basic principles of flight. In this interactive online exhibition, visitors can explore the flight environment, aerodynamics, propulsion, structures and materials, flight dynamics and see the forces of flight in action.
"The How Things Fly website is based on the museum's most popular hands-on exhibition," said gallery manager Michael Hulslander. "By integrating animations, videos, games and social media we hope users will learn complex aeronautical concepts in a way that is fun and engaging."
The website is the museum's first interactive offering specifically geared toward students. Some of the key features are:
Interactive animations that engage students in exploring the forces of flight
Short educational videos explaining complex ideas of flight such as Bernoulli's principle, how propellers work and supersonic flight
Downloadable hands-on activities that can be used in the classroom or at home
Fun facts and quiz questions
The website also includes immersive educational and social activities that allow users to interact with their friends via email, Facebook or Twitter:
Forces of Flight—build a plane and learn about the forces of flight
How Wings Work—examine the evidence and identify the correct angle of attack to generate the greatest amount of lift
Controlled Flight—explore the control surfaces of three different types of airplanes—Cessna, WWII fighter or aerobatic plane—and pilot them through an obstacle courses
Create a Paper Airplane—design a paper airplane that users can print, fly and share with friends online
Join the Distance Challenge—fly a virtual paper airplane to friends around the world and with their help, see how far it can travel
Ask an Explainer—submit a tough physics questions to one of the How Things Fly gallery's high school-and college-age staff and receive answers. Search the growing collection of questions and answers
The National Air and Space Museum building on the National Mall in Washington, D.C., is located at Sixth Street and Independence Avenue S.W. The museum's Steven F. Udvar-Hazy Center is located in Chantilly, Va., near Washington Dulles International Airport. Both facilities are open daily from 10 a.m. until 5:30 p.m. (closed Dec. 25). Admission is free, but there is a $15 fee for parking at the Udvar-Hazy Center.
# # #
SI-58-2012