Smithsonian's Hirshhorn Museum Announces Reading by Douglas Crimp
On the Occasion of Andy Warhol Exhibitions at Hirshhorn, Renowned Scholar and Critic Previews Forthcoming Book
October 24, 2011
News Release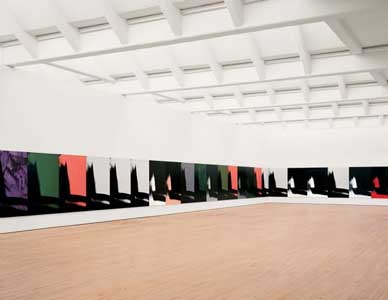 In the third collaboration between the Hirshhorn Museum and the Center for the Book at the Library of Congress, acclaimed author and critic Douglas Crimp reads, for the first time in Washington, from his new book, "Our Kind of Movie" The Films of Andy Warhol Nov. 10 at 7 p.m. Crimp's reading coincides with two exhibitions at the Hirshhorn featuring the work of Andy Warhol (American, b. Pittsburgh, 1928; d. New York, 1987): "Andy Warhol: Shadows" (Sept. 25–Jan. 15, 2012) and "Directions: Empire3" (Nov. 10–Feb. 26, 2012).
In his first reading from the final manuscript, Crimp will discuss Warhol's extraordinary work in cinema—a topic that has only recently begun to receive as much art historical and museum attention as his painting. The program, located in the Hirshhorn's Lerner Room, is free and open to the public. Seating is available on a first-come, first-served basis. Since Crimp's reading falls on the opening day of "Directions: Empire3," the exhibition will be open to the public before and after the event.
About "Our Kind of Movie" The Films of Andy Warhol
Scheduled to be published by MIT Press in early 2012, "Our Kind of Movie" offers the first single-authored publication about the full range of Warhol's films in 40 years—and the first since the films were put back into circulation following the artist's death. In six essays, Crimp examines individual films, including Blow Job, Screen Test No. 2 and Warhol's cinematic masterpiece The Chelsea Girls (perhaps the most commercially successful avant-garde film of all time).
Crimp argues that Warhol's films make visible new, gendered forms of sociality. Crimp does not view these films as camera-abetted voyeurism; rather, he acknowledges Warhol's inventive cinema techniques and collaborative working methods, as well as his superstars' unique capabilities. In "Our Kind of Movie" Crimp shows how Warhol's films allow the audience to see against the grain—to see differently and to see a different world, a world of difference.
About the Author
Crimp began writing art criticism for Art News and Art International in the early 1970s and has published widely in such magazines as Artforum and Art in America, as well as in scholarly journals. He has also worked as a curator, most recently co-organizing with Lynne Cooke the exhibition "Mixed Use, Manhattan: Photography and Related Practices, 1970s to the Present," which appeared at the Reina Sofía in Madrid in the summer of 2010.
Well known as a theoretician of postmodernism in the visual arts owing to his 1977 Artists Space exhibition "Pictures," Crimp served as editor of the journal October from 1977 to 1990 and his writings on art practices and institutions were collected in his 1993 book On the Museum's Ruins. In 1987 Crimp published a highly influential special issue of October on AIDS, reissued as the book AIDS: Cultural Analysis/Cultural Activism. He continued working as an AIDS activist and educator in the ensuing years and in 2002 published a collection of his AIDS writings, Melancholia and Moralism: Essays on AIDS and Queer Politics.
Crimp is the Fanny Knapp Allen Professor of Art History at the University of Rochester; he has also taught at New York University, the University of Manchester, Princeton University, Rutgers University, Sarah Lawrence College, the Cooper Union and UCLA.
About the Hirshhorn
The Hirshhorn Museum and Sculpture Garden, the Smithsonian Institution's museum of international modern and contemporary art, has nearly 12,000 paintings, sculptures, photographs, mixed-media installations, works on paper and new media works in its collection. The Hirshhorn presents diverse exhibitions and offers an array of public programs that explore modern and contemporary art. Located at Independence Avenue and Seventh Street S.W., the museum is open daily from 10 a.m. to 5:30 p.m. (except Dec. 25). Admission to the galleries and special programs is free. For more information about exhibitions and events, visit hirshhorn.si.edu. Follow the Hirshhorn on Facebook at www.facebook.com/hirshhorn and on Twitter at www.twitter.com/hirshhorn. To request accessibility services, contact Kristy Maruca at marucak@si.edu or (202) 633-2796, preferably two weeks in advance.
About the Center for the Book at the Library of Congress
Since its creation by Congress in 1977 to "stimulate public interest in books and reading," the Center for the Book in the Library of Congress (www.read.gov/cfb) has become a major national force for reading and literacy promotion. A public-private partnership, it sponsors educational programs that reach readers of all ages, nationally and internationally. The Center provides leadership for 52 affiliated state centers for the book (including sites in the District of Columbia and the U.S. Virgin Islands) and nonprofit reading promotion partners and plays a key role in the Library's annual National Book Festival. It also oversees the Library's Read.gov website and administers the Library's Young Readers Center.
# # #
SI-466-2011