Smithsonian Marks 10th Anniversary of Jazz Appreciation Month
Focuses on Women's Contributions to America's Music
March 10, 2011
News Release
Addthis Share Tools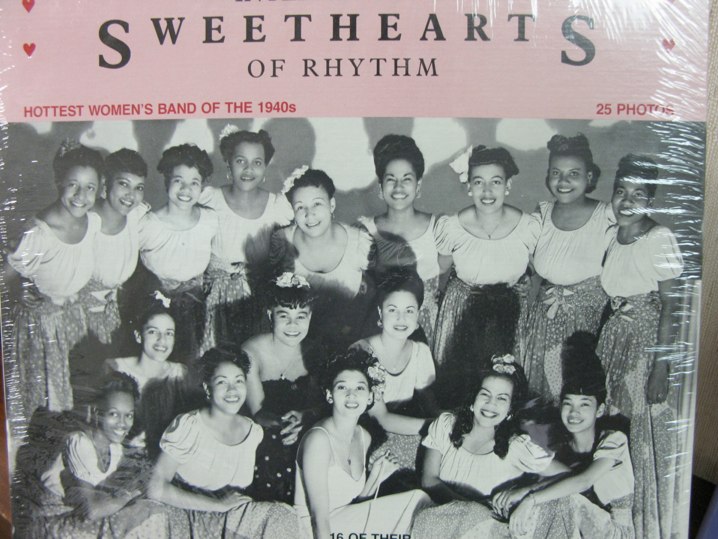 The Smithsonian's National Museum of American History will mark the 10th annual Jazz Appreciation Month in April with a monthlong celebration of jazz featuring performances, talks, tours and family-oriented events. This year's 10th anniversary programming will examine the legacies of women in jazz and will kick off with a special donation ceremony related to the nation's first, integrated, female big band, the International Sweethearts of Rhythm, founded in 1937 at the Piney Woods School, in Mississippi.
The Piney Woods School, founded in 1909 by Laurence Clifton Jones, began on a log under a cedar tree. Students were former slaves and their descendants. Later, a pre-Civil War cabin, $50 and 40 acres were donated to the school located in Rankin County, Miss., by Ed Taylor, a former slave who served as valet to a Union soldier during the Civil War. Families would donate a pig, 25 cents or a jug of syrup to pay their children's tuition. Beginning March 29, the museum will display archival material about the Sweethearts and host special online and public programming to highlight the legacy of the Piney Woods School and its female band. Original and pioneering members of the International Sweethearts of Rhythm will participate in onstage programs.
The International Sweethearts of Rhythm band members were students, 14 years and older, who paid for their education by performing as a jazz band to help promote and sustain the financially struggling school. The Sweethearts travelled nationwide in a customized tour bus built by the school, named Big Bertha, performing at churches, state fairs, dance and civic halls and later entertainment venues, such as the Apollo Theater. The band confronted dual biases of gender and race and excelled during a period in history when the majority of African Americans lived in the South under Jim Crow laws.
"Jazz is a truly American style of music that has played an important role in our heritage," said Brent D. Glass, director of the museum. "Through the Smithsonian's 2011 Jazz Appreciation Month activities, we will highlight jazz with a focus on women's contributions to better understand the American experience."
The monthlong jazz celebration will also highlight Mary Lou Williams, an innovative jazz pianist, composer and arranger who performed with Duke Ellington, among others. Her work is included in the new Jazz: The Smithsonian Anthology that examines the history of jazz in music and narrative. Jazz: The Smithsonian Anthology is a 111-track, six CD and companion book set available March 2011 from Smithsonian Folkways. Legendary jazz artist Williams is featured on the 2011 JAM poster, which is distributed to schools, libraries, music and jazz educators, music merchants and manufacturers, radio stations, art presenters and U.S. embassies worldwide. The portrait used for the poster was created by Keith Henry Brown, an African American artist and the former creative art director for jazz at Lincoln Center.  
The museum launched JAM in 2001 as an annual event that pays tribute to jazz both as a historic and living American art form. It has since grown to include celebrations in all 50 states and 40 other countries. In celebrating JAM, the museum joins with a diverse group of organizations, institutions, corporations, associations and federal agencies that have provided financial and in-kind support, as well as organizing programs and outreach of their own.
The lead sponsor for JAM 2011 is the Argus Fund. Additional funding is provided by BMI, the Herb Alpert Foundation, the Ella Fitzgerald Foundation, the National Park Service and the National Association of Music Merchants. For a complete schedule of JAM events, go to smithsonianjazz.org.
The Smithsonian operates the world's most comprehensive set of jazz programs and the National Museum of American History is home to jazz collections that include 100,000 pages of Duke Ellington's unpublished music and such objects as Ella Fitzgerald's famous red dress, Dizzy Gillespie's angled trumpet, John Coltrane's "A Love Supreme" manuscript and Goodman's clarinet.
The National Museum of American History collects, preserves and displays American heritage in the areas of social, political, cultural, scientific and military history. To learn more about the museum, visit http://americanhistory.si.edu. For Smithsonian information, the public may call (202) 633-1000, (202) 633-5285 (TTY).
# # #
SI-104-2011