Smithsonian Journeys Offers 2011 "Voyages of Discovery" with Unique Itineraries, Access and Savings on Small Ships
July 1, 2010
News Release
Addthis Share Tools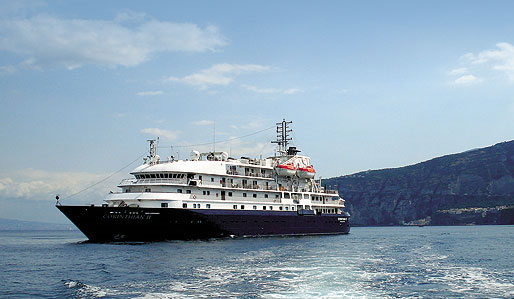 Smithsonian Journeys announces its 2011 cruise season of 30 worldwide voyages, introducing new, unique itineraries that provide unprecedented savings on intimate small ships. As with all Smithsonian Journeys, travelers will be accompanied by a Smithsonian expert and enjoy special access. On cruises for 2011, travelers can meet an archaeologist who uncovered new treasures in Ephesus, enjoy the company of former Secretary of State Colin Powell and former Senator Chuck Hagel on a special World Leaders Symposium cruise in Asia and experience unique destinations such as the island of Nosy Mangabe in Madagascar. For a limited time on select 2011 cruises travelers will receive significantly reduced rates, including free airfare and no single supplements on certain cabins.
To help Americans discover distant and unique destinations, Smithsonian Journeys announces its "Grand African Voyage," a special four-part cruise that features the cultural and natural treasures of 19 African countries from Madagascar to Morocco. However travelers have the flexibility to choose one or more itineraries depending on their interests and enjoy additional savings by enrolling in more than one cruise. The 57-cabin deluxe Corinthian II provides an atmosphere of informal elegance throughout the entire series. The first cruise, "A Voyage to Madagascar and Mozambique" (Jan. 30-Feb. 16, 2011), features savings up to $2,000 on all cabins. During this unique itinerary travelers learn about the flora and fauna of Madagascar and Mozambique in the company of an expert naturalist. The other cruises feature similar incentives and include "South Africa and Namibia by Sea" (Feb. 14-28); "Into Africa: A Cruise from Namibia to Ghana" (Feb. 26-March 17) and "From the Gold and Ivory Coasts to the Imperial Cities of Morocco" (March 16-April 6).
Another cruise aboard Corinthian II, "The World and Times of St. Paul" (June 27-July 8, 2011), traces the steps of the disciple Paul through ancient Greece and Turkey. This voyage features a special visit to the recently excavated and restored first-century B.C. Terrace Houses at Ephesus, where the archaeologist working on the excavation showcases original frescoes and mosaics. For a limited time, travelers will pay no single supplement for a variety of cabin categories.
"Partners Across the Pacific: A World Leaders Symposium" (Oct. 13-31, 2011) features outstanding world leaders such as Colin Powell, Chuck Hagel and others as well as Smithsonian scientist Clyde Roper, who will examine important issues of concern with Asian and Western nations. Aboard the elegant Silver Shadow, this cruise is set against the backdrop of Asia's leading cities of Shanghai, Hong Kong, Tokyo, Danang and Ho Chi Minh City.
Other highlights of the Smithsonian's new cruise line-up include "The Black Sea" from Athens to Istanbul (Aug. 5-16, 2011), "Historic Cities of the Sea" from Seville to Venice (May 15-29, 2011) and "Mediterranean Music Cruise" from Venice to Seville, featuring the incomparable music of flutist Sir James Galway and other performing artists during private recitals (May 3-16, 2011).
About Smithsonian Journeys
Smithsonian Journeys is the Smithsonian Institution's travel program, with more than 40 years dedicated to life-enriching experiences worldwide. The Smithsonian is known for "Inspiring Generations through Knowledge and Discovery," which is central to Smithsonian Journeys and its more than 150 expert-led international and domestic tours featuring exclusive access and unforgettable experiences. For more information, call toll-free 1(877) 338-8687 or visit SmithsonianJourneys.org.
Note: Photographs are available on request.
About the Smithsonian
Founded in 1846, the Smithsonian is the world's largest museum and research complex consisting of 19 museums and galleries, the National Zoological Park and nine research facilities. There are 6,000 Smithsonian employees, including approximately 500 scientists, and more than 6,500 volunteers. Approximately 30 million people from around the world visited the Smithsonian in 2009 with more than 188 million visits to the Smithsonian Web sites. The total number of objects, works of art and specimens at the Smithsonian is estimated at 137 million.
# # #
SI-259-2010