Smithsonian Journeys Announces Private Jet Tour to Central and South America
Tour Features Eight World Heritage Sites and Choice of Active or Relaxed Pace
September 28, 2010
News Release
Addthis Share Tools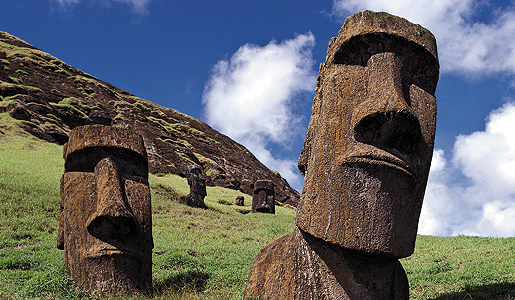 Smithsonian Journeys, the Smithsonian Institution's travel program, announces its 2011 "Central and South America by Private Jet" tour (March 26-April 10, 2011). This 16-day private jet adventure will include stops ranging from Machu Picchu and Buenos Aires to the Amazon region. Travelers will explore five countries and eight World Heritage sites, experience diverse cultures and witness some of the world's most amazing natural wonders—all in a single journey. Participants will fly in luxury aboard a private Boeing 757, bypassing commercial airline routes and schedules. The chartered jet is specially configured to generously accommodate 78 VIP-style seats instead of the standard 233 seats. Detailed information about the World Heritage sites visited and articles about previous private-jet tours and photographs can be found at www.SmithsonianJourneys.org/privateair.
Enhancing this travel experience is a team of experts, including one of the world's leading Inca specialists, a Pulitzer Prize-winning photojournalist, a zoologist and a former ambassador stationed in Latin America. Travelers will enjoy a variety of excursions showcasing cultural and natural wonders and choose an active or relaxed pace on other days. In Guatemala, they will visit the Mayan ruins of Tikal and jungles of El Petén. Arriving in Peru, they will tour the treasures of Cuzco then choose to visit the sacred citadel of the Inca's Machu Picchu, Chan Chan, the mysterious Nasca Lines, or the ancient homes of Moche and Chimu peoples. Two days amid the stunning landscape of the Argentine Lake District provide opportunities to relax and go hiking, canoeing, fly-fishing or golfing. The private jet then takes travelers to cosmopolitan Buenos Aires for two days of cultural activities, and then heads off for the world-renowned natural wonder of Iguaçu Falls, which spans the borders of Brazil, Argentina and Paraguay. Two days in the Amazon feature a river cruise and different ways to explore the jungle, such as a canopy walkway or forest walk with a member of the Yagua tribe. In Costa Rica's Guanacaste region travelers can choose to go horseback riding, discover the unique habitats of a tropical dry forest or relax on some of the best beaches in the country.
Experienced expedition staff will attend to every logistical detail, create customized excursions tailored to personal interests and ensure a luxury journey. "Central and South America by Private Jet" is available for $46,950 per person. Travelers enrolling by Oct. 11 will receive a complimentary pre-tour hotel night at the Ritz in Orlando, Fla. The tour cost includes round-trip private jet travel from Orlando, luxury accommodations, all meals, ground transportation, excursions and activities, welcome reception, lectures by experts, on-board physician, baggage handling, gratuities and emergency evacuation insurance. More information on this special opportunity and other private-jet expeditions offered in 2011 and 2012 can be found at www.SmithsonianJourneys.org/privateair or by calling toll-free 1 (877) 338-8687.
About Smithsonian Journeys
Smithsonian Journeys is the Smithsonian Institution's travel program, with more than 40 years dedicated to life-enriching experiences worldwide. The Smithsonian is known for "Inspiring Generations through Knowledge and Discovery," which is central to Smithsonian Journeys and its more than 150 expert-led international and domestic tours featuring exclusive access and unforgettable experiences. For more information, call toll-free 1 (877) 338-8687 or visit www.SmithsonianJourneys.org.
About Smithsonian Institution
Founded in 1846, the Smithsonian is the world's largest museum and research complex consisting of 19 museums and galleries, the National Zoological Park and nine research facilities. There are 6,000 Smithsonian employees, including approximately 500 scientists, and more than 6,500 volunteers. There were approximately 30 million visits from around the world at the Smithsonian in 2009 with more than 188 million visits to the Smithsonian websites. The total number of objects, works of art and specimens at the Smithsonian is estimated at 137 million.
# # #
SI-421-2010