Smithsonian Folklife Festival Offers Fun for All Ages
June 24, 2013
News Release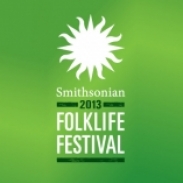 The 47th annual Smithsonian Folklife Festival will feature a variety of fun and interactive family activities, including crafts and food demonstrations, as well as music and dance performances.
The Festival will be held Wednesday, June 26, through Sunday, June 30, and Wednesday, July 3, through Sunday, July 7, outdoors on the National Mall between Seventh and 14th streets. Admission is free. Festival hours are from 11 a.m. to 5:30 p.m. each day, with such special evening events as concerts and dance parties beginning at 6 p.m. The Festival is co-sponsored by the National Park Service.
Children can learn more about Hungarian heritage, language and the wide range of traditions and customs practiced in Hungary today in the "Hungarian Heritage: Roots to Revival" program's family area. Activities will include hands-on craft projects, dance lessons, children's games and toy making. The program also will offer a "Family Activity Guide," which sends kids on a journey around the program to collect peacock feathers that feature fun facts about Hungary and different activities to complete. Once all the feathers have been collected, young visitors can bind them in to a fan.
Young visitors to the "One World, Many Voices: Endangered Languages and Cultural Heritage" family activities area can explore the rich diversity of languages and cultures through hands-on activities. Children can create a woodblock print using endangered alphabets and learn to count to 10 in Koro, Passamaquoddy and Welsh. Kids also can participate in a drum circle, learn some hula dance moves and learn songs and games from a variety of cultures across the globe.
Visitors of all ages can learn about head-to-toe style in "The Will to Adorn: African American Diversity, Style, and Identity." The program's hands-on activities will include creating a paper-bag hat, designing shoes and t-shirts, trying out the new "Will to Adorn" mobile app to record the different fashion seen at the Festival and becoming a runway model.
# # #
SI-215-2013