Smithsonian Folklife Festival Celebrates Asian Pacific American Culture
June 16, 2010
News Release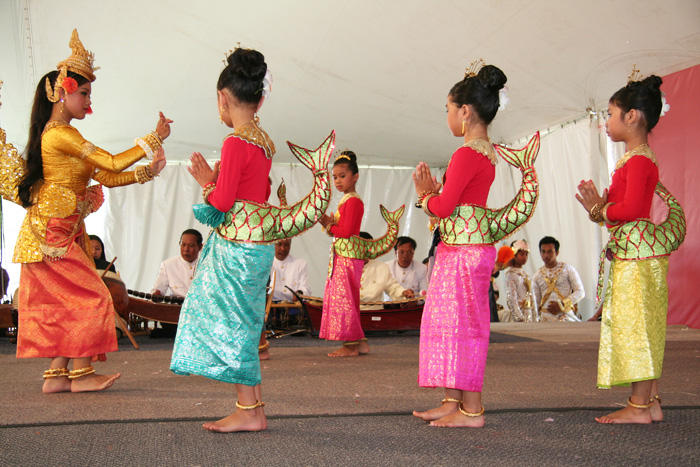 The 44th annual Smithsonian Folklife Festival will celebrate Asian Pacific American culture in the program "Asian Pacific Americans: Local Lives, Global Ties." Asian Americans and Pacific Islander Americans are an integral part of the governmental, commercial and cultural life of the nation's capital region, yet they also participate in traditional practices that keep alive memories and ties to their ancestral homes. With approximately 30 Asian American and 24 Pacific Island American groups in the United States, the more than 350,000 Asian Pacific Americans who live in the Washington area represent a microcosm of cultural, linguistic and religious diversity.
The Festival will be held Thursday, June 24, through Monday, June 28, and Thursday, July 1, through Monday, July 5, outdoors on the National Mall between Seventh and 14th streets. Admission is free. Festival hours are from 11 a.m. to 5:30 p.m. each day, with special evening events such as concerts and dance parties beginning at 5:30 p.m. The Festival is co-sponsored by the National Park Service.
"Whether you are eight or 80, this program will be fun and educational," said Phil Tajitsu Nash, program curator. "The performances, presentations and narrative sessions will bring different groups together—many for the first time—to demonstrate their traditions and give a workshop for visitors."
The program will feature more than 900 participants from the Washington, D.C., area. Each day of the 10-day Festival will have a theme, highlighting different aspects of Asian Pacific American culture. The themes include "Celebrating Our Diversity" (June 24), "Local to National to Global" (June 26), "Homes, Jobs and Dreams" (June 27), "Religious Diversity" (July 1) and "Teaching Traditions" (July 2). The program also will have a day of programming focused on the Pacific Islands (June 28) and a celebration of the martial arts and peace (July 4).
On the Asian Fusions stage, visitors will be able to see a variety of performances throughout the Festival, including opera presented by the Society for Kunqu Arts (Chinese) and Nguyen Dinh Nghia and daughters (Vietnamese), dance traditions with the Dana Tai Soon Burgess & Co. (Asian-inspired) and the Shizumi Kodomo Dance Troupe (Japanese), musical performances with the Aloha Boys (Hawaii) and a Samoan choir, demonstrations of the Filipino martial art of Kali-Eskrima and Mongolian wrestling.
In the program's kitchen, the Tea House, local chefs will prepare Indian and Vietnamese curries, Burmese and Filipino rice dishes, Khmer New Year's foods from Cambodia and spring rolls from Thailand. Visitors also can learn how to make island appetizers from Spam, Japanese mochi, noodle dishes from Sri Lanka and Mongolia, the proper way to debone a chicken and how to create edible art by carving vegetables.
On the program's narrative stage, Talkstory, visitors can hear discussions on a variety of topics such as spiritual identity, education, business, Asian Pacific American veterans, technology and immigration. There also will be a daily presentation on the Talkstory stage introducing visitors to some of the many languages spoken in the Asian Pacific American community.
The Family Activities tent will feature a variety of hands-on activities including, lei making, calligraphy and mask making. There also will be martial arts demonstration and traditional dance lessons. Children also can learn to play Konane checkers and Chinlone, a Burmese ball game.
Sponsors
The "Asian Pacific Americans: Local Lives, Global Ties" program is sponsored by AARP, with additional support from the Office of Hawaiian Affairs; Juanita Tamayo Lott, in memory of Robert H. Lott; OCA; Pragmatics Inc.; and the Taipei Economic and Cultural Representative Office in the United States.
About the Festival
The Smithsonian Folklife Festival, inaugurated in 1967, honors tradition bearers from across the United States and around the world. With approximately 1 million visitors each year, the Festival unites performers and visitors in the nation's capital to celebrate the diversity of cultural traditions. It is produced by the Smithsonian's Center for Folklife and Cultural Heritage. The Festival's website is www.festival.si.edu.
# # #
SI-274-2010