Smithsonian Examines the Role of Gender Bias in Science
"Challenging the Face of Science: The Bearded Lady Project" Opens Nov. 14
November 7, 2019
News Release
Addthis Share Tools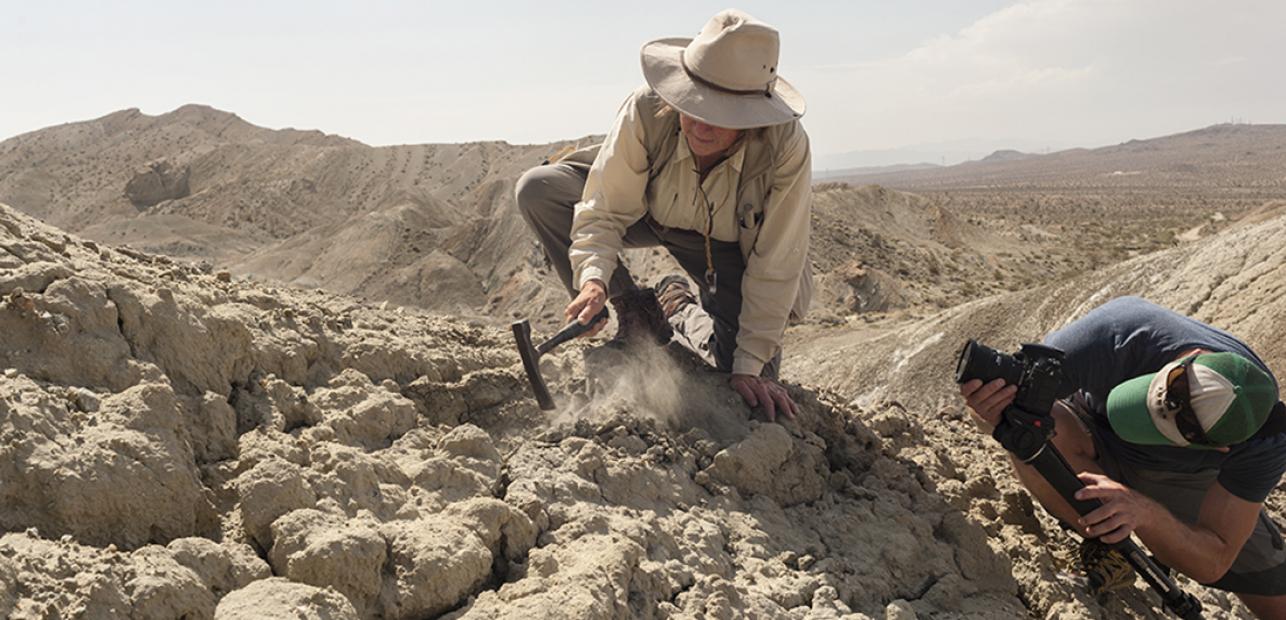 The Smithsonian's National Museum of Natural History will host a new exhibition that highlights the unsung achievements of female paleontologists and examines the obstacles they face because of their gender. "Challenging the Face of Science: The Bearded Lady Project" will offer visitors the opportunity to see female scientists at work and evaluate societal stereotypes concerning gender and professional roles. The exhibition opens Nov. 14.
"The Bearded Lady Project" is a traveling exhibition composed of a series of 38 black-and-white portraits taken by photographer Kelsey Vance alongside a short documentary. The photographs showcase female paleontologists conducting their research in the field, laboratories, offices and museums. The paleontologists posed for the large-format camera wearing fake beards to challenge the public perception of what a professional scientist looks like.
"Like many of my colleagues, I have encountered gender bias in my career," said Anna "Kay" Behrensmeyer, curator of fossil vertebrates at the museum and one of the paleontologists featured in the exhibition. "The exhibition provides a way to stand with others, especially early career women confronted with continuing bias, to change assumptions about what paleontologists look like and who they are."
Born out of a conversation between paleontologist Ellen Currano and filmmaker Lexi Jamieson Marsh, The Bearded Lady Project's mission is twofold.  First, to celebrate the inspirational and adventurous women who choose to dedicate their lives in the search of clues to the history of life on earth. And, second, to educate the public on the inequities and prejudices that still exist science, with special emphasis on the geosciences.
In conjunction with the exhibition, the museum will hold a public screening of the feature-length documentary The Bearded Lady Project Dec. 16 at 6:45 p.m. A panel discussion on the use of art as social commentary will follow the film screening. Speakers include Lexi Jamieson Marsh, co-founder of The Bearded Lady Project and director of the film; project participants Behrensmeyer and Denise Su, curator of paleobotany and paleoecology at the Cleveland Museum of Natural History; and Laura Soul, paleontologist at the National Museum of Natural History. Leslie Ureña, assistant curator of photographs at the Smithsonian's National Portrait Gallery, will moderate the conversation. The program is free but registration is required. More information is available on the program's website. 
About the National Museum of Natural History
The National Museum of Natural History is connecting people everywhere with Earth's unfolding story. It is one of the most visited natural history museums in the world. Opened in 1910, the museum is dedicated to maintaining and preserving the world's most extensive collection of natural history specimens and human artifacts. The museum is open daily from 10 a.m. to 5:30 p.m. (closed Dec. 25). Admission is free. For more information, visit the museum on its website and on Facebook, Twitter and Instagram.
# # #
SI-440-2019