Smithsonian Examines Philanthropy at a Symposium and in an Exhibit
National Museum of American History Hosts "Power of Giving" Symposium on Philanthropy's Role in Social Justice and Adds New Stories to "Giving in America" Exhibit
September 18, 2023
News Release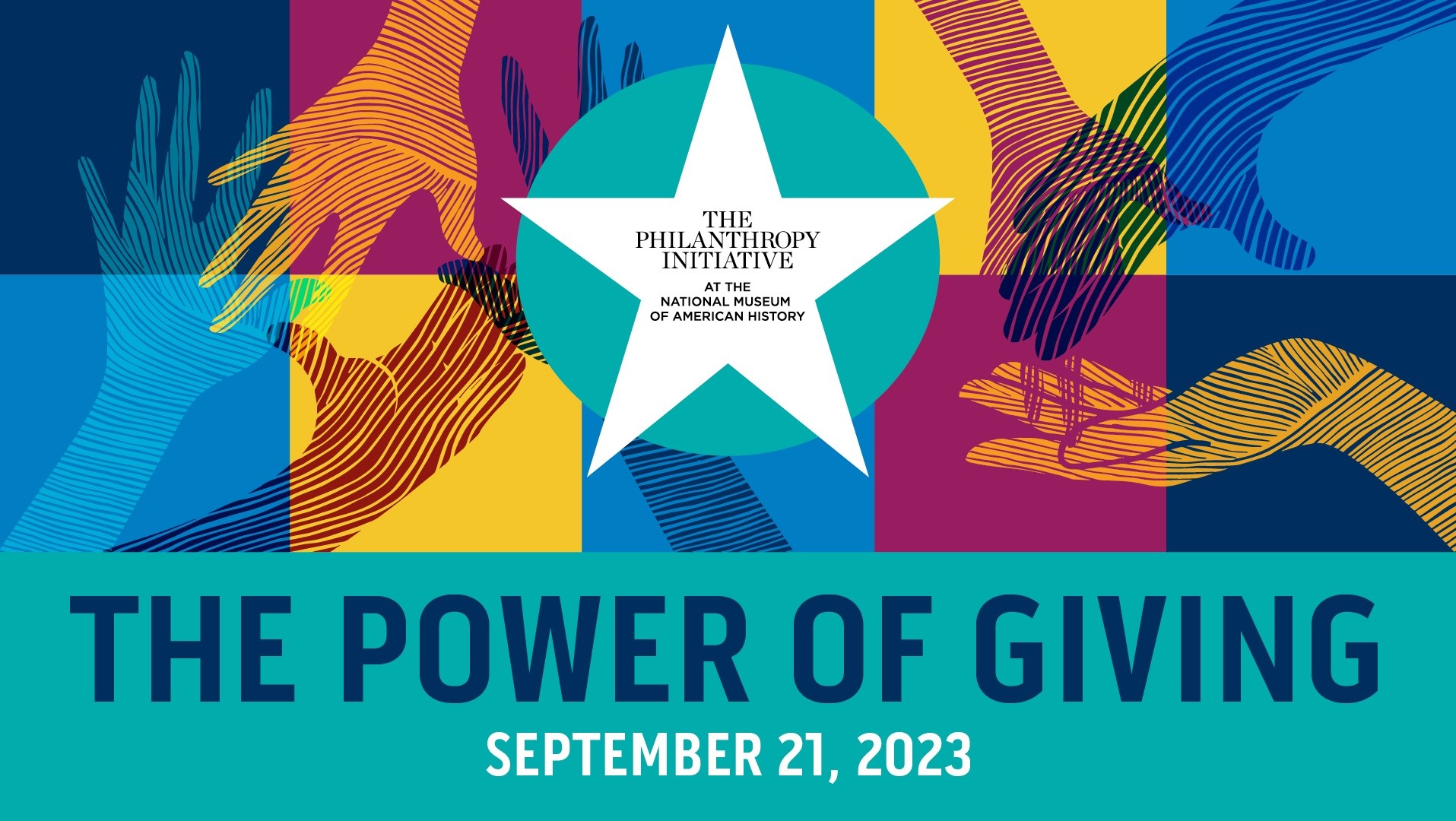 The Smithsonian's National Museum of American History unveiled a new section of the "Giving in America" exhibit Sept. 15 and will host the sixth "Power of Giving" symposium Sept. 21, which invites a connection with the stories around the theme of philanthropy's role in social justice in the U.S. "Giving in America" is a long-term exhibit that looks at philanthropy's role in shaping the nation, and it is regularly updated to feature new collections within thematic topics.  
The symposium and exhibit are part of the museum's Philanthropy Initiative, which launched in 2015 to explore philanthropy's collaborative power through programming as well as collecting, researching, documenting and displaying materials related to the history and impact of giving. This year, the "Power of Giving" symposium, which is free and open to the public, will take place Sept. 21 from 2 p.m. until 5:45 p.m. ET in the museum's Warner Bros. Theater; it will also be webcast across the nation. 
With social justice as the theme of this year's "Power of Giving" symposium, the event invites the public to connect with philanthropists, historians, community organizers, activists, foundation leaders and curators from the museum's Philanthropy Initiative and its Center for Restorative History.
"Through our shared history, our symposium will examine how philanthropy has advanced or impeded social justice and how this history informs today's work to create a more just and equitable future," said Anthea M. Hartig, the Elizabeth MacMillan Director of the National Museum of American History.
Scheduled speakers include Edgar Villanueva, founder and CEO of Decolonizing Wealth Project and Liberated Capital; Tonya Matthews, president and CEO of Charleston, South Carolina's new International African American Museum; Nicholas Tedesco, president and CEO of the National Center for Family Philanthropy; and community partners of the museum's Center for Restorative History, including Jessie Jaynes-Diming, board member of the Emmett Till Interpretive Center and president of the Tallahatchie Alliance; Dillon Delvo, executive director of Little Manila Rising; and Maggie Loredo, executive director of Otros Dreams en Acción. Smithsonian Regent Emeritus David M. Rubenstein, co-founder and co-executive chairman of The Carlyle Group and former chair of the Smithsonian Board of Regents, will provide the symposium welcome.
Other featured participants include Modupe Labode, a curator in the museum's Center for Restorative History; Elizabeth Snowdon Bonner, board president of the Hill Snowdon Foundation; and Kelly D. Nowlin, principal of KDN Philanthropy and a former board member of the Surdna Foundation, the social justice foundation started by her great-great-grandfather over 100 years ago.
There will be an Objects Out of Storage presentation connected to social justice philanthropy, which will include the River Site Emmett Till Historic Marker donated by the Emmett Till Interpretive Center.
The website has a full listing of presentations and times, and more information about the Philanthropy Initiative is available.
"Journeys Toward Giving," the changing case in the "Giving in America" exhibit, looks at how the paths traveled in life shape philanthropists' desire to give and their ability to do so. The life journey of a leading Miami philanthropist Jorge M. Pérez, who was born in Argentina to Cuban-exiled parents, is represented by his Argentine and Cuban passports, a foreign student award from Miami-Dade College and a ribbon-cutting keepsake from his namesake art museum. Pedro Loza, a Chicago­-area immigrant, helped found a Chicago social club to raise funds to build a church in his home village in Mexico. Three hats, a straw fedora, a Red Cross volunteer's cap and a World War I-era cap, help illustrate three volunteer stories related to life journeys of Americans in the U.S., Japan and Europe.  
"Challenges encountered by some philanthropists and an appreciation for their communities often open their eyes to social needs and inspire them to use their resources for good," said Amanda B. Moniz, the museum's David M. Rubenstein Curator of Philanthropy.
The "Power of Giving" symposium is made possible by Rubenstein, whose foundational support with a grant from the Bill & Melinda Gates Foundation launched the Philanthropy Initiative.
Through incomparable collections, rigorous research and dynamic public outreach, the National Museum of American History explores the infinite richness and complexity of American history. The museum is located on Constitution Avenue, between 12th and 14th streets N.W., and is open daily from 10 a.m. to 5:30 p.m. (closed Dec. 25). Admission is free.
# # #
SI-285A-2023