Smithsonian Concludes 2012 Environmental Education Shout Program with Free "Water Quality" Webinars
Interdisciplinary Webinar Series Includes Digital Badges Program for Students and Educators
April 17, 2012
News Release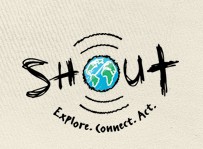 With Earth Day only a few days away, environmental education and corresponding classroom activities are top of mind for many educators. The increasingly popular Shout environmental exploration program enables educators to engage students in standards-aligned, interdisciplinary content through project-based learning and high-quality online resources. The program is concluding its 2012 "Water Matters" series with the interactive webinar sessions, "Water Quality: When It's Not Clean and Healthy," from May 16-17. Shout is a joint project of the Smithsonian, Microsoft Partners in Learning and TakingITGlobal.
The third in the 2012 series, the webinars will feature seven Smithsonian experts touching on various issues related to water quality, including water pollution, water protection legislation and the future of water stewardship. The sessions will be conducted live from the Smithsonian Environmental Research Center in Edgewater, Md., and the Smithsonian Institution in Washington, D.C.
Educators can prepare for the live sessions by attending a Teacher Preview Session May 2. The session will act as a virtual teachers' lounge, where educators can share ideas on how to incorporate Shout and other environmental issues into the classroom through hands-on activities, discussions and other lesson-planning materials. Educators also can attend Teacher Technology Sessions to learn how to create games and media-rich activities with Shout's interdisciplinary environmental content using free downloadable tools.
"In my first-grade class this year we are focusing on water topics, and the Shout program provided plenty of opportunities to enrich my lessons plans," said Cheryl Arnett, an elementary school teacher in Craig, Colo. "Through the interactive webinars, my students learned how the water in Colorado rivers can have an impact on the health of the oceans."
New to Shout this year is the Smithsonian Badges Program, which offers students the opportunity to earn digital badges by demonstrating their knowledge of environmental topics and participating in community activities. Many of the badge-based learning activities are integrated with the Shout online conferences and encompass multiple academic disciplines and skill sets. All badges align with national environmental education standards and many Common Core State Standards. For example, students could earn the "Dirt Detective" badge by analyzing soil composition in their local environments, researching the relationship between soil types and food products, and documenting how land development has changed this relationship. Educators also can earn badges through their participation in Smithsonian webinars, online professional development sessions and the completion of class projects.
Since 2010, the Shout program has offered online conference sessions with Smithsonian experts on land and water issues, which can be viewed live or through archives on the Shout website. Students and educators can earn Smithsonian badges for learning activities related to both the land and water themes explored through the Shout webinar series.
About Smithsonian Institution
Founded in 1846, the Smithsonian is the world's largest museum and research complex, consisting of 19 museums and galleries, the National Zoological Park and nine research facilities. There are 6,000 Smithsonian employees and 6,500 volunteers. Approximately 30 million people from around the world visited the Smithsonian in 2011. The total number of objects, works of art and specimens at the Smithsonian is estimated at 137 million.
About Partners in Learning
Partners in Learning is a 10-year, nearly $500 million commitment by Microsoft to help education systems around the world. Since its inception in 2003, the Partners in Learning program has reached more than 196 million teachers and students in 114 countries. Supporting the program is the online Partners in Learning Network, www.microsoft.com/education/pil/, one of the world's largest global professional networks for educators, connecting millions of teachers and school leaders around the world in a community of professional development.
About TakingITGlobal
TakingITGlobal provides innovative global education programs that empower youth to understand and act on the world's greatest challenges. Often described as a "social network for social good," the award-winning www.tigweb.org is available in 13 languages and offers a diverse set of educational resources and action tools intended to inspire, inform and involve. Since being founded as a charity by two young Canadians in 2000, 40 million people have accessed the website to learn, grow and realize their potential.
# # #
SI-169-2012