Smithsonian Citizenship Ceremony Welcomes a Dozen New Americans
Madeleine Albright Donates Objects from Her Diplomatic Career
May 24, 2012
News Release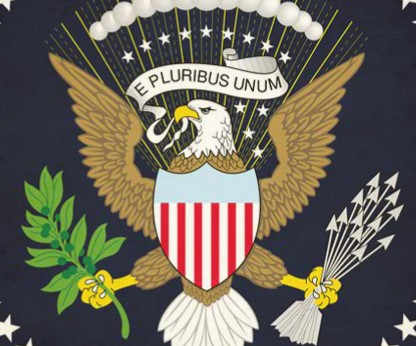 The Smithsonian's National Museum of American History will recognize the contributions of former U.S. Secretary of State Madeleine Albright to American democracy and diplomacy during a naturalization and object-donation ceremony. The public ceremony, in partnership with the U.S. Citizenship and Immigration Services, will take place May 24 at 11 a.m. in front of the Star-Spangled Banner gallery.
During the naturalization ceremony, USCIS Director Alejandro Mayorkas will administer the Oath of Allegiance to 12 candidates for American citizenship from 12 countries. Albright, a naturalized citizen and the first woman to serve as Secretary of State, will provide the keynote address.
The National Museum of American History and USCIS will also launch Preparing for the Oath: U.S. History and Civics for Citizenship, a Web-based learning tool designed to help immigrants prepare for the civics portion of the naturalization test, May 24. This interactive resource accessed at http://americanhistory.si.edu/citizenship features videos and multimedia activities that draw from the museum's vast collections in order to foster an in-depth exploration of American history, allowing learners to become more informed members of American society.
Through the rich media vignettes, interactive activities and practice tests available on Preparing for the Oath, students preparing for the U.S. Naturalization Test learn much more than the correct answers—they gain context and understanding of the people, events and concepts that have shaped American democracy. With 100 questions grouped into 15 topic areas, the website leads visitors through "Learn," "Practice" and "Test" modes, providing a scaffolded experience to encourage guided learning.
"The oath of citizenship is one that all Americans should be familiar with," said Marc Pachter, interim director of the museum. "We invite the public to come and engage with one of the great traditions of American democracy—the opportunity to choose to become a U.S. citizen."
Albright was born in 1937 in Czechoslovakia and immigrated to the U.S. in 1948. She became a U.S. citizen during college. In 1997, Albright was confirmed as the first female Secretary of State and became, at that time, the highest ranking woman in the history of U.S. government. Previously, she served as the U.S. Permanent Representative to the United Nations and a member President Bill Clinton's cabinet from 1993 to 1997. Her donation includes:
Red wool dress and jacket by Louis Féraud and red leather pumps by Ferragamo worn for the Dec. 5, 1996, public announcement of Albright's nomination to be the 64th, and first female, U.S. Secretary of State
Green leather briefcase used as U.S. Ambassador to the United Nations and Secretary of State
United Nation's Peacekeeper's helmet
Badge from the July 2000 Middle East peace summit at Camp David
Liberty Eagle pin, designed by Ann Hand, worn as a pendant for the 1996 announcement of her nomination
Dove pin, designed by Cecile et Jeanne, a symbol of the goal of peace in the Holy Land
Red shoe pin, a gift from Albright's chief of staff to commemorate Albright's remark about her predecessor Warren Christopher during her nomination announcement, "I only hope my heels can fill his shoes."
White beaded pin with red AIDS ribbon, a gift from an AIDS clinic in South Africa
United Nations scarf, designed by Joachim Metz for Hermès in 1995 to commemorate the 50th anniversary of the signing of the United Nations Charter
The National Museum of American History collects, preserves and displays American heritage in the areas of social, political, cultural, scientific and military history. To learn more about the museum, visit http://americanhistory.si.edu.
# # #
SI-250-2012