Smithsonian Celebrates Julia Child's 100th Birthday
Major Exhibition on Food in America to Open Nov. 20
August 14, 2012
News Release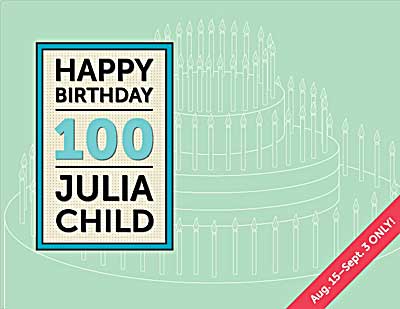 The Smithsonian's National Museum of American History marks what would have been Julia Child's 100th birthday Aug. 15 with a daylong celebration and a two-week special display of her legendary Cambridge, Mass., kitchen, open through Sept. 3. This limited engagement offers a sneak peek at the museum's upcoming exhibition, "FOOD: Transforming the American Table 1950-2000," which opens Nov. 20.
On Aug. 15, visitors to the museum can see Child in action in three episodes from WGBH's The French Chef, which have not been available to the public since their original airing in the 1960s; meet authors of books on Child, including Child's co-author and grand-nephew Alex Prud'homme, Jessie Hartland and Bob Spitz; and enjoy Child-inspired meals in the Stars and Stripes Cafe. Child's longtime producer Geoffrey Drummond signs DVD copies of programs he produced. The highlight of the day is a 1 p.m. special surprise celebration in the museum's Flag Hall made possible by Land O'Lakes Butter, Wegmans and Acme Paper & Supply Company.
"Julia Child referred to her kitchen as the beating heart of her household," said Paula Johnson, museum curator and project director for the exhibition. "In the 10 years since we first displayed it, the kitchen has become a perennial favorite of our visitors. We look forward to joining Child devotees and novices alike in honoring her legacy here at the kitchen for her birthday."
Child's kitchen, which she donated to the museum in 2001 along with its hundreds of tools, appliances and furnishings, will serve as the opening story of "FOOD: Transforming the American Table 1950-2000." The Smithsonian's first major exhibition on food history will explore how new technologies and various social and cultural shifts in the second half of the 20th century influenced major changes in food, wine and eating in America. Among the topics on the exhibition's menu are changes in food production, who does the cooking, where meals are consumed and what we know (or think we know) about what is good for us.
"FOOD" is being made possible by Warren and Barbara Winiarski (Winiarski Family Foundation), the Land O'Lakes Foundation, the Julia Child Foundation for Gastronomy and the Culinary Arts and the Nutrients for Life Foundation. For information on "FOOD," visit http://americanhistory.si.edu/food.
The National Museum of American History collects, preserves and displays American heritage in the areas of social, political, cultural, scientific and military history. To learn more about the museum, visit http://americanhistory.si.edu. For Smithsonian information, the public may call (202) 633-1000.
# # #
SI-363-2012
Media Only
Valeska Hilbig
(202) 633-3129 
(202) 309-2152