Smithsonian Awards 13 Artist Research Fellowships
August 6, 2013
News Release
Addthis Share Tools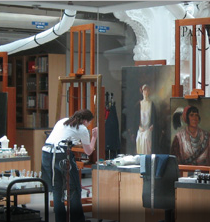 The Smithsonian has awarded 13 visual artists fellowships as part of the 2013 Smithsonian's Artist Research Fellowship Program. Nominations for the fellowship came from international art curators, scholars and former SARF fellows. Awardees were then selected by a panel of Smithsonian art experts. The fellowship program began in 2007 and allows artists from around the world to have access to Smithsonian collections, meet with Smithsonian scholars and conduct the research that is essential to producing new work. More than 60 outstanding artists have received this award.
The 13 artists' diverse mediums, nationalities and research interests reflect the unique nature of this fellowship and the research resources available only at the Smithsonian.
About the Artists
U.S.-based performance-installation and drawing artist, Suzanne Hitt Bocanegra, has been translating two-dimensional work into three-dimensional artwork and performance for 10 years. Bocanegra will be working with the Smithsonian's Human Studies Archives in order to collect footage of individuals dancing for her installation, which consists of archival film, a dancer and a speaker.
Julia Brown, a Washington, D.C.-based multimedia artist looks to numerous plants names—including scientific, common and cultivar identifications—to examine racial stereotypes, epithets or "denigrating" expressions within the classification systems. She will use the Smithsonian's Cullman Library, Museum of National History Collections and Herbarium, the Greenhouse and Orchid Collection and the National Museum of American History Collections for her plant research and representational strategy during her fellowship.
Evaristus Chukwuemeka Obodo is a Nigerian-based artist who works in fiber, cloth and other soft materials. Hisgoal for his research is to focus on the woven structure of textiles and to rethink fabric and fiber visually and in its manufacture. He plans to compare and contrast naturally woven structures such as bird nests and leaf vines with African textiles. He will concentrate on the National Museum of African Art, National Museum of Natural History and Cooper-Hewitt, National Design Museum for his studies.
Walmor Corrêa is a Brazilian-based artist who draws, paints and sculpts. He is interested in bibliographical and iconographic material related to American ornithologist William Belton, who produced studies on local Brazilian wild-bird migration patterns. Correa plans to interpret migratory processes by examining collections at the National Museum of Natural History's Ornithological Department and the Smithsonian Institution Archives.
Cameron Gainer, a U.S.-based photographer, painter, sculptor and film and video artist, is interested in the recent advances in photography and how it has changed perceptions when it comes to understanding landscape and representation. Gainer will be studying at the National Air and Space Museum and its library, and the Dibner Library of the History of Science and Technology at the National Museum of American History.
U.S.-based photography, video and installation artist Peter Garfield is fascinated by the psychology of the human response when faced with uncertainty. He will be looking closely to two specific periods of hope and upheaval in American history: post-Civil War and, from within his own lifetime, the Apollo space program. Garfield will be researching at the National Portrait Gallery, National Museum of the American Indian, National Museum of Natural History and the Smithsonian Institution Archives.
Shan D. Goshorn, an Oklahoma-based multimedia artist, combines traditional Cherokee weaving techniques with non-traditional material such as manuscripts and photographs. Her purpose is to document themes in modern Native history to bring awareness to the general public. During her time at the Smithsonian, she will be researching at the National Museum of the American Indian, National Museum of Natural History, National Archives and Records Administration to examine treaties, maps and photographs in their collections.
Zambian-born Norwegian new-media artist, Anawana Haloba, will work with the National Museum of African Art, National Museum of Natural History, the Freer and Sackler galleries and the Smithsonian Center for Folklife and Cultural History to juxtapose the influence of Franz Fanon's influential writings with the memory and recognition of women in relation to the liberation struggles of Africa and the Caribbean.
Susan Lawty is a United Kingdom-based who works with natural small stones, lead, linen, raphia, hemp and ramie to juxtapose theirtactile qualities and elicit responses to themes of connection, narrative and memory. She plans to combine scientific, cultural and historical research at the National Museum of Natural History and at the Cooper-Hewitt, National Design Museum.
U.S.-based glass artist Beth Lipman plans to research the migration of plants in North America from past geological eras of global warming like the Cretaceous and Early Cenozoic periods. She will conduct her research at the National Museum of Natural History.
Born in the Democratic Republic of Congo, Belgium-based 3-D artist Aime Mpane Enkobo plans to delve into archives related to Oto Benga, a Congolese Pygmy who was brought to the U.S. and displayed at the 1904 Louisiana Purchase World Fair in St. Louis and the Bronx Zoo in New York in 1906. Mpane seeks to understand why Benga shaped his life as he did, exploring his experiences of both loss and hopefulness, by conducting research with the Smithsonian archival sources at the National Museum of Natural History, National Museum of American History, National Museum of African Art, Anacostia Community Museum and the Smithsonian Libraries to look at minority groups exhibited the World Fairs.
Hossein Valamanesh is anIranian-born Australian visual, sculpture, installation, drawing and public artist who is interested in side-by-side depictions of violence and beauty. He plans to study Islamic art in the Freer and Sackler galleries with a focus on miniature paintings illustrating the Shahnama Book of Kings by Ferdowsi and illustrations from Khamsa (Quintet) by Nizami, along with paintings from the Safavid period, painted in the 1500s.
Canadian-based photographic and video-installation artist Jin-me A. Yoon is interested in what it means to be human today. She willexplore both the Nam June Paik archives at the Smithsonian's American Art Museum and the Museum of National History's David Koch Hall of Human Origins and the Human Origins Initiative as part of her interest in the intersection of Eastern philosophy with Western avant-garde, technology, time and history.
# # #
SI-324-2013