Smithsonian Associates Presents a Weekend of Events Exploring the Origins of Wine Civilization
Experts Examine the Link Between the Earliest Winemaking Traditions and Wines Today
April 26, 2017
News Release
Addthis Share Tools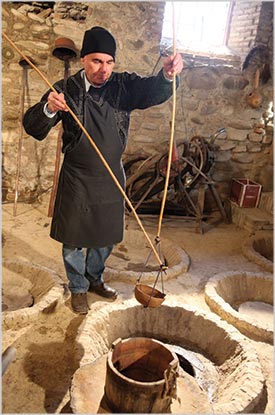 Smithsonian Associates presents a two-day exploration of the origins of wine civilization Friday, June 9, through Saturday, June 10. The weekend will feature three events: an evening reception at the Embassy of Georgia with traditional Georgian foods and wines, an all-day seminar exploring the taste and rich history of the Caucasus and Eastern Mediterranean where winemaking and the appreciation of the beverage began and a Grand Tasting of a wide array of contemporary expressions of ancient wines from countries such as Armenia, Georgia, Turkey, Israel, Jordan, Lebanon, Palestine and others.
The opening reception will be held Friday, June 9, from 6:30 p.m. to 9 p.m. at the Embassy of Georgia (1824 R St. N.W., Washington, D.C.). Ambassador David Bakradze will welcome participants as they begin their wine adventure. Guests will have the opportunity to mingle with specialists from all areas of the winemaking process while enjoying traditional Georgian small bites and a selection of Georgian wines exclusive to the event.
On Saturday, June 10, from 10 a.m. to 4:30 p.m., specialized-topic talks and panels explore aspects of winemaking traditions and processes from the grape to the glass at the Smithsonian's S. Dillon Ripley Center (1100 Jefferson Drive, S.W., Washington, D.C.). Patrick E. McGovern, scientific director of the Biomolecular Archaeology Project for Cuisine, Fermented Beverages and Health at the University of Pennsylvania Museum, provides opening remarks and shares recent research and developments pertinent to wine's history.
David Furer, former contributing editor of Santé and Sommelier Journal and writer for media outlets in the U.S. and Europe, will preside over a panel of wine experts and professionals of Armenia, Georgia and Turkey (both in person and via video conference) to explore the history and current state of Caucasus wines. A tasting spotlights products from the region's finest wineries. Panelists include:
Armenia: Vahe Keushguerian, managing director, Seminar Consulting and co-founder, EVN Wine Academy and Paul Hobbs, winemaker, Yacoubian-Hobbs Wines
Georgia: Lisa Granik, consultant, Georgia Wine Agency and member, the Institute of Masters of Wine
Turkey: Daniel O'Donnell, winemaker, Kayra Winery and Mehmet Yorukoglu, CEO, House of Burgundy importers
The conversation continues with remarks by Dave McIntyre, Washington Post wine columnist, during a multi-ethnic lunch featuring menu items paired with modern wines. Following the lunch, José Vouillamoz, a botanist, geneticist and independent researcher at the University of Neuchâtel, Switzerland, discusses the origin of wine grape varieties, covering plant reproduction and genetics, foundational varieties, the evolution of the language of wine and other topics.
A second panel, moderated by Furer, focuses on the wines of the Eastern Mediterranean. A panel of noted experts and wine professionals (participating in person and via video conference) will offer insights, and participants will taste products from leading wineries from the eastern shores of the Mediterranean. Panelists include:
Israel: Lina Slutzkin, founder and CEO, Kadma Winery
Lebanon: Bartholomew Broadbent, owner, Broadbent Selections
Israel and Palestine: Joel Butler, co-author, Divine Vintage, co-owner, World of Wines and member, Institute of Masters of Wine
The concluding event is the Grand Tasting from 4:30 p.m. to 6:30 p.m. In this walkabout tasting at the Smithsonian's S. Dillon Ripley Center, guests will meet winemakers from the Caucasus and the Eastern Mediterranean and sample product from their vineyards. Participating wineries include:
Armenia: Yacoubian-Hobbs Wines, Karas Wines, Trinity Canyon Vineyards and Keush Wines
Georgia:  Bagrationi, Pheasant's Tears and Schuchmann Winery
Israel: Kadma Winery
Lebanon: Chateau Musar, Chateau Kefraya, Chateau Ksara, Massaya and IXSIR
Jordan: Zumot Winery
Palestine: Cremisan Wines
Turkey: Kayra Winery, Kavaklidere Winery, Urla Vines, Corvus Wines and Suvla Wines
Ticket prices for the evening reception, seminar and Grand Tasting are $325 for general admission and $275 for Smithsonian Associates' members. Tickets for the Grand Tasting, which can be purchased separately, are $60 for general admission and $50 for Smithsonian Associates' members. For tickets, the public may call (202) 633-3030 or visit www.smithsonianassociates.org.
Smithsonian Associates—the largest museum-based education program in the world—produces vibrant educational and cultural programming inspired by the Smithsonian's research, collections and exhibitions. Each year more than 750 individual programs are presented to spark creativity and excite learning in people of all ages in the Washington, D.C., area and across the country. Smithsonian Associates brings the Smithsonian to life through seminars, performances, lectures, studio arts classes and local and regional study tours, as well as many engaging programs for children, including performances and summer day camps.
# # #
SI-241-2017