Smithsonian Associates Presents November Program Highlights
October 30, 2015
News Release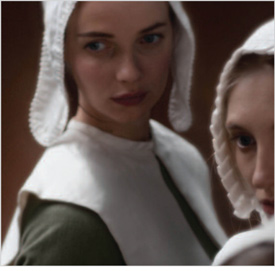 The November issue of the Smithsonian Associates' program guide features a variety of educational and cultural programs, including seminars, lectures, studio arts classes, performances for adults and children and local and regional study tours. Highlights this month include:
Stacy Schiff on the Salem Witch Trials
Tuesday, Nov. 3; 6:45 p.m. to 8:45 p.m.
Navy Memorial, 701 Pennsylvania Ave N.W., Washington, D.C.
Author Stacy Schiff examines the legal and social ramifications of the Salem Witch trials, the truth about witchcraft, the world of adolescent girls and how in curious ways the events of 1692 shaped America's future. Her new book, The Witches: Salem, 1692 (Little, Brown and Co.), will be available for signing.
The Axelrod String Quartet Series
Saturday, Nov. 7; 6:30 p.m. to 9:30 p.m. and Sunday, Nov. 8; 6:30 p.m. to 9:30 p.m.
National Museum of American History's Music Hall
Smithsonian Chamber Music Society audiences are privy to the unparalleled experience of being able to hear two magnificent quartets of instruments—one made by Antonio Stradivari, the other by his teacher Nicolo Amati in this concert series. Over the course of the season, the Axelrod String Quartet concludes its traversal—begun last season—of Haydn's Op. 76 quartets.
Classicist Mary Beard on Ancient Rome
Thursday, Nov. 12; 6:45 p.m. to 8:45 p.m.
Hirshhorn Museum & Sculpture Garden's Marion & Gustave Ring Auditorium
The story of ancient Rome—its citizens and politics, its cruelty and conquests—continues to resonate today. Acclaimed classicist Mary Beard provides an extraordinary new look at Roman history. She introduces the familiar characters of Julius Caesar, Cicero and Nero, as well as the artisans and everyday people whose names are lost but who were vital to the life of ancient Rome. Her new book, S.P.Q.R. (Liveright), will be available for signing.
The New Yorker's Bob Mankoff: A Life in Cartoons
Thursday, Nov. 19; 7 p.m. to 8:30 p.m.
Smithsonian's S. Dillon Ripley Center
In a delightful evening that is sure to illustrate—in more ways than one—cartoonist Bob Mankoff's commitment to the motto "Anything worth saying is saying funny," Mankoff offers insights into cartoon history and why people can find those single-panel visual jokes so memorable—or why they fall flat. His book How About Never—Is Never Good for You?: My Life in Cartoons (Henry Holt and Co.) will be available for signing.
# # #
SI-493-2015