Smithsonian Associates Announces 2017 Dates for "Smithsonian Sleepovers"
Overnight Adventures Await Children at Three Smithsonian Museums
March 30, 2017
News Release
Addthis Share Tools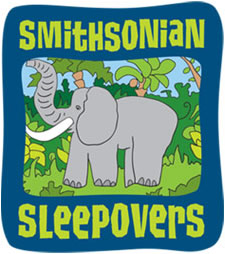 Smithsonian Associates presents true Night at the Museum experiences for children in the National Museum of Natural History, National Museum of American History and the National Air and Space Museum's Steven F. Udvar-Hazy Center in Chantilly, Va. Sleepovers will be held from May through August beginning at 7 p.m. and ending at 8:45 a.m. the next morning. Kids and their chaperones can choose their adventure, whether it is sleeping beneath a 50-foot whale, spending the night at the home of the Star-Spangled Banner or among thousands of aviation and space artifacts, including a Lockheed SR-71 Blackbird, a Concorde and the space shuttle Discovery. They will experience the museums in a whole new way during a night of fun that features tours, games, crafts and more.
National Museum of Natural History Sleepovers
Sleepover guests will experience the museum through an interactive exploration of exhibit halls consisting of games, puzzles and challenges; exhibit-based craft projects; watching an IMAX film; and sleeping under the museum's giant North American right whale, Phoenix. Sleepovers at the National Museum of Natural History will be held May 26, June 23, June 30, July 21, Aug. 4 and Aug. 18.
National Museum of American History Sleepovers
Participants will solve a mystery of historic proportions during an interactive exploration of exhibit halls. When the devious diva Miss Rose steals six valuable objects from the museum, kids must discover what is missing before the evening's end. Using their detective skills, they will collect clues to guide them to the crime scene. Along the way, they will take part in games, experiments and craft projects—and even become a presidential candidate. Sleepovers at the National Museum of American History will be held June 2, June 17, July 7 and Aug. 25.
National Air and Space Museum's Steven F. Udvar Hazy Center Sleepovers
Kids and their chaperones will explore the whole world of flight, from its pioneering days through the era of commercial aviation to the excitement of today's space program. After they grab a flight checklist, they will take off for a night that includes plenty of games, art activities and close-up looks at some of the most historic and fascinating craft ever to take to the skies. Udvar-Hazy Center staff will be on hand to offer information and insights about the aviation treasures on view. Sleepovers at the Udvar-Hazy Center will be held July 15, July 29 and Aug. 12.
Children ages 8 to 12 may participate in sleepovers. There must be at least one adult for every three children in any group that registers. Chaperones must be 21 years or older. No adults without children. All participants must pre-register by calling (202) 633-3030 or by visiting the Smithsonian Associates box office located in the S. Dillon Ripley Center at 1100 Jefferson Dr. S.W., Suite 3077.
Ticket prices are $135 for general admission and $120 for Smithsonian Associate members. The price includes exclusive access and activities in the museum, an evening snack, interactive exploration, arts and crafts activities and a light breakfast. T-shirts are available for purchase while at the sleepover. For more information and a schedule of events, visit www.smithsoniansleepovers.org.
Smithsonian Associates—the largest museum-based education program in the world—produces vibrant educational and cultural programming inspired by the Smithsonian's research, collections and exhibitions. Each year more than 750 individual programs are presented to spark creativity and excite learning in people of all ages in the Washington, D.C., area and across the country. Smithsonian Associates brings the Smithsonian to life through seminars, performances, lectures, studio arts classes and local and regional study tours, as well as many engaging programs for children, including performances and summer day camps.
# # #
SI-160-2017