Smithsonian Announces $5 Million Gift From Michael Jordan to the National Museum of African American History and Culture
August 9, 2016
News Release
Addthis Share Tools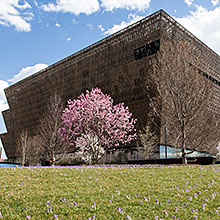 The Smithsonian's National Museum of African American History and Culture today announced that Michael Jordan will donate $5 million to support the new museum, which will open Sept. 24. In addition, Jordan will donate a game-worn 1996 NBA Finals home jersey to the museum's permanent collection.
In recognition of his generosity, a section of the museum's Sports Gallery will be named "The Michael Jordan Hall: Game Changers." The hall is dedicated to the people and institutions whose actions changed their sport, transcended their game and transformed society. Jordan is featured as a "game changer" along with 16 others, including tennis great Althea Gibson and Olympic gold medalist Jesse Owens.
"We are extremely grateful to Michael Jordan for his game-changing support," said Lonnie G. Bunch III, founding director of the museum. "His gift will enable our visitors to explore how sports were used to break barriers as a way to gain full participation in American society. The Sports Gallery will celebrate how African Americans have changed sports—and how African Americans in sports have changed America." 
"I am grateful for the opportunity to support this museum," Jordan said. "I also am indebted to the historic contributions of community leaders and athletes such as Jesse Owens, whose talent, commitment and perseverance broke racial barriers and laid the groundwork for the successful careers of so many African Americans in athletics and beyond."
The release of this announcement commemorates the historic achievements of American track and field star Owens, who won his fourth gold medal at the Summer Olympics in Berlin Aug. 9, 1936. Eighty years later, his achievement remains one of the most iconic moments in African American history. Owens' victories refuted Hitler's intention to use the Games to promote Aryan racial superiority and helped shatter stereotypes about the inferiority of people of African descent.
Jordan played 15 seasons in the NBA and is a six-time NBA champion, a five-time regular season MVP and a two-time Olympic gold medalist. He was inducted twice into the Naismith Memorial Basketball Hall of Fame, first in 2009 and again in 2010 as a member of the "Dream Team"—the 1992 U.S. Olympic basketball team. Jordan is also a successful businessman whose Jordan line of footwear and apparel revolutionized sports marketing. He is the principal owner and chairman of the Charlotte Hornets, and he is the first former player to hold a majority interest in an NBA franchise.
About the Museum
The National Museum of African American History and Culture was established as the 19th Smithsonian museum by an Act of Congress through legislation signed into law by President George W. Bush in 2003. Groundbreaking occurred in 2012. President Barack Obama will participate in the museum's Sept. 24 dedication ceremony.
The nearly 400,000-square-foot museum will be the nation's largest and most comprehensive cultural destination devoted exclusively to exploring, documenting and showcasing the African American story and its impact on American and world history.
For more information about the museum and its opening celebrations, visit the museum's website.
# # #
SI-398-2016