Smithsonian American Art Museum Releases "Renwick Gallery WONDER 360" Virtual Reality App
App Captures Experience of Blockbuster Exhibition at Its Renwick Gallery
October 4, 2016
News Release
Addthis Share Tools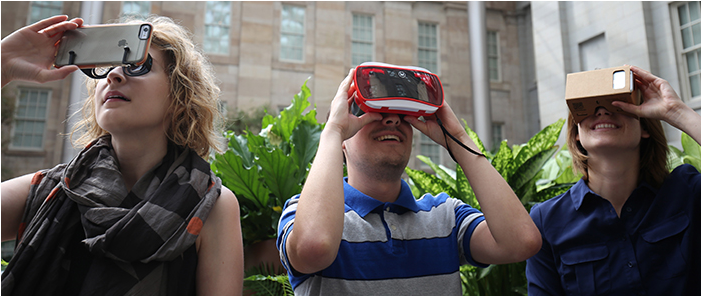 The Smithsonian American Art Museum has launched an immersive 360-degree virtual reality (VR) app for Apple and Android mobile devices, "Renwick Gallery WONDER 360." It allows audiences to explore in 3-D the entirety of the museum's 2015 blockbuster exhibition, "WONDER," presented at its Renwick Gallery. The app expands the visitor experience through emerging technologies. It is the first VR mobile app that the Smithsonian has published.
"The museum has always embraced new technologies to bring our collection to people wherever they are," said Betsy Broun, the Margaret and Terry Stent Director of the Smithsonian American Art Museum. "We're excited to use the latest virtual-reality technology to add a new dimension to the museum experience."
"WONDER" was the Renwick's most popular exhibition to date, attracting more than 730,000 visitors from November 2015 through July 2016 and creating a sensation on social media. Nine leading contemporary artists—Jennifer Angus, Chakaia Booker, Gabriel Dawe, Tara Donovan, Patrick Dougherty, Janet Echelman, John Grade, Maya Lin and Leo Villareal—created site-specific, gallery-sized installations from an array of unexpected materials. "Renwick Gallery WONDER 360" offers users a virtual walk-through of the museum with 360-degree, 3-D panoramic views of all nine artists' installations and videos of the artists discussing their works.
"'Renwick Gallery WONDER 360' is our first major experiment with VR, and we're excited to keep exploring the potential of this emerging technology," said Sara Snyder, chief of the museum's media and technology office. "The app captures the 'WONDER' exhibition as a moment in time and lets you carry the beauty of that experience around in your pocket, anywhere in the world. It represents a whole new way of sharing art with the public."
The app content was created by the museum's media and technology office; the technical development came from software tools developed by San Francisco-based InstaVR Inc. It is available for free download via iTunes for iOS devices and Google Play for Android. Although a VR headset or viewer is not required to use the app, the 3-D feature can only be experienced when using such a viewer, such as Google Cardboard.
Learn more about the project on the museum's website at americanart.si.edu/multimedia/wonder360/.
About the Smithsonian American Art Museum and Its Renwick Gallery
The Smithsonian American Art Museum celebrates the vision and creativity of Americans with artworks in all media spanning more than three centuries. Its National Historic Landmark building is located at Eighth and F Streets N.W., above the Gallery Place/Chinatown Metrorail station. Museum hours are 11:30 a.m. to 7 p.m. daily (closed Dec. 25). Admission is free.
The Renwick Gallery is the Smithsonian American Art Museum's branch for contemporary craft and decorative arts. The Renwick is located on Pennsylvania Avenue at 17th Street N.W. and is open daily from 10 a.m. to 5:30 p.m. (closed Dec. 25). Admission is free.
Follow the museum on Twitter, Instagram, Facebook, YouTube, Tumblr, Pinterest, Flickr, iTunes U and ArtBabble. Smithsonian information: (202) 633-1000. Museum information (recorded): (202) 633-7970. Website: americanart.si.edu.
# # #
SI-500-2016