Smithsonian American Art Museum Presents Educational Initiatives in Conjunction with Major Norman Rockwell Exhibition
June 29, 2010
News Release
Addthis Share Tools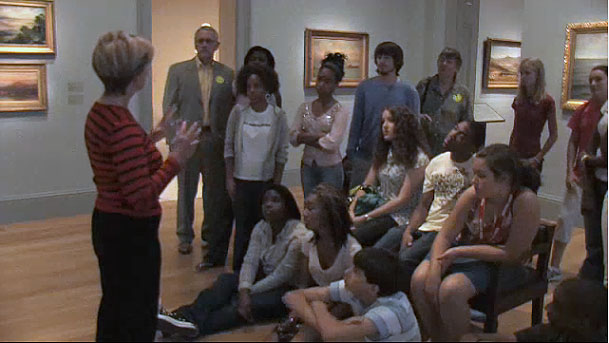 The Smithsonian American Art Museum will present an array of educational initiatives for families and educators in conjunction with its exhibition, "Telling Stories: Norman Rockwell from the Collections of George Lucas and Steven Spielberg." The exhibition showcases 57 Rockwell paintings and drawings from these private collections and explores the connections between Rockwell's iconic images of American life and the movies. "Telling Stories" is on view from July 2 through Jan. 2, 2011.
Rockwell was a masterful storyteller who could distill a narrative into a single frame. Educational initiatives organized in conjunction with the exhibition will focus on storytelling as a tool to enhance both the teacher and student learning experience.
"Rockwell offers a wonderful opportunity to teach about universal themes and emotions," said Elizabeth Broun, The Margaret and Terry Stent Director of the museum. "Through storytelling, he shows us how to excite and develop children's imaginations." 
Booz Allen Hamilton, a strategy and technology consulting firm, is supporting the exhibition and many of the educational programs and resources.  
"Rockwell depicts so well the innocent wisdom of children and how they mature," said Ralph W. Shrader, chairman and CEO of Booz Allen Hamilton. "We are excited to help young people appreciate, enjoy and understand the work of this much-loved artist."
The following programs and resources were developed to complement the "Telling Stories" exhibition.
School Groups and Curriculum Guide
Docent-led tours of the exhibition are available from 10 a.m. to 11:30 a.m. beginning Sept. 1; advance registration is required at http://americanart.si.edu/education/tours. A limited number of bus grants are available to schools. For more information about tours and bus grants, e-mail AmericanArtMuseumTours@si.edu or call (202) 633-8550.
The museum has produced a curriculum guide for educators to use in their classrooms and to prepare for a visit to the exhibition; it will be available in August. The print guide will be provided to all attendees of Rockwell professional-development programs, to groups that have scheduled school field trips at americanart.si.edu/education/tours/ and by e-mail request to AmericanArtEducation@si.edu. An online version of the guide will be available online at americanart.si.edu/education/resources/guides.
National Teacher Workshop
"Teaching with Documents and Works of Art: An Integrated Approach, Norman Rockwell and the 'Four Freedoms'" will be held Aug. 11 to 13 from 9 a.m. to 4 p.m. At this three-day workshop, a joint program with the National Archives and the National Council for the Social Studies, educators will learn how to excite students about history, social studies and the humanities by exploring connections between Rockwell imagery and archival documents related to Rockwell, life on the home front during World War II and the notion of the "Four Freedoms" taken from President Franklin D. Roosevelt's famous 1941 State of the Union speech. It will feature demonstrations and collaborative activities as well as lectures by Virginia Mecklenburg, senior curator at the museum and organizer of the exhibition, and Stephanie Plunkett, deputy director at the Norman Rockwell Museum. Information about the workshop and registration is available at americanart.si.edu/education/dev/ncss.cfm.
Evening for Educators
This professional-development event, a joint program with the John F. Kennedy Center for the Performing Arts, will take place Nov. 4 from 4:30 p.m. to 8 p.m. and will include a keynote address and a reception in the museum's Kogod Courtyard. Contact AmericanArtEducation@si.edu to receive an e-mail when registration opens.
Rockwell Activity Cart
A cart with hands-on activities, located in the museum's Kogod Courtyard, will offer visitors the chance to stage and photograph their own Rockwell scene based on selected artworks in the exhibition using images and props in front of a specially designed backdrop. Visitors will have the opportunity to add their photos to the museum's Rockwell Flickr group, "Being Norman Rockwell." The cart will be available many Saturdays and Sundays from noon to 3 p.m. Visitors can check its availability online at americanart.si.edu/calendar/family or by following @beingrockwell on Twitter.
Online Features
A podcast featuring commentary by Mecklenburg and interviews with Lucas and Spielberg will be available on the museum's website and through iTunes. A slideshow of all 57 artworks included in the exhibition also is available on the museum's website. Interpretive text for many of these artworks will be published online as part of the slideshow.
Credit
"Telling Stories: Norman Rockwell from the Collections of George Lucas and Steven Spielberg" is organized by the Smithsonian American Art Museum. Booz Allen Hamilton has provided generous support as the corporate sponsor of the exhibition. The museum also gratefully acknowledges the contributions of George Lucas and Steven Spielberg. 
About the Smithsonian American Art Museum
The Smithsonian American Art Museum, located at Eighth and F streets N.W., above the Gallery Place/Chinatown Metrorail station, celebrates the vision and creativity of Americans with artworks in all media spanning more than three centuries. Museum hours are 11:30 a.m. to 7 p.m. daily, except Dec. 25. Admission is free. Follow the museum on Twitter, Facebook, Flickr, ArtBabble, iTunes and YouTube. Museum information (recorded): (202) 633-7970. Smithsonian Information: (202) 633-1000; (202) 633-5285 (TTY). Website: americanart.si.edu.
# # #
SI-263-2010