Smithsonian Adds Visionary Leaders Byron Lewis and Lillian Vernon to Landmark "American Enterprise" Exhibition
Business History Contributions To Be Highlighted in Exhibit's Consumer Era Section
October 13, 2023
News Release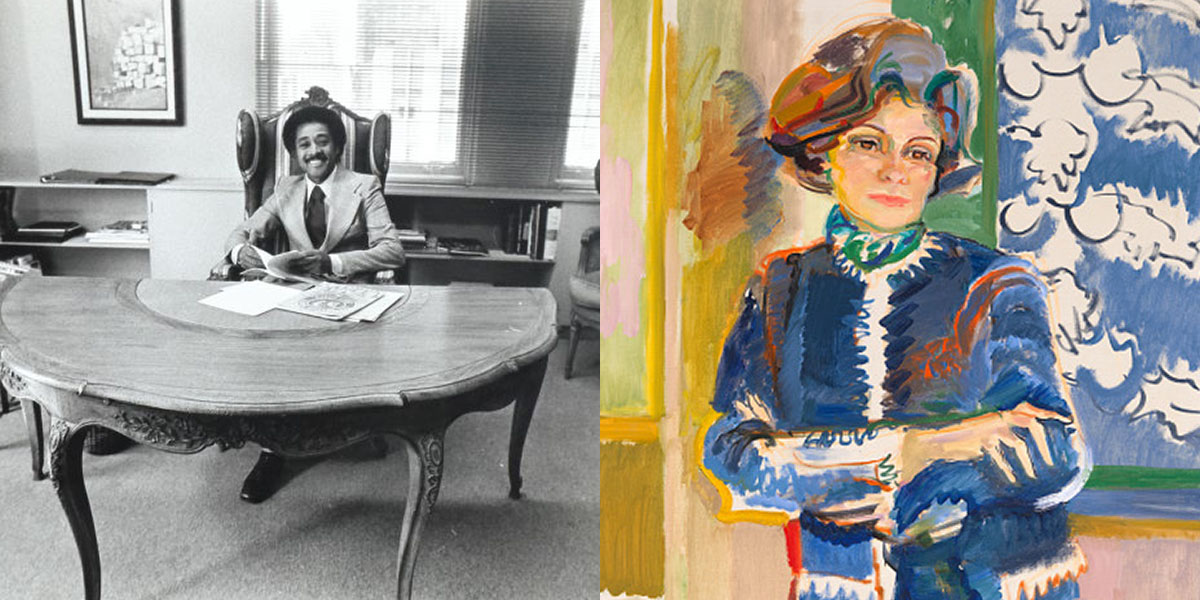 Collections from groundbreaking entrepreneurs Byron Lewis and Lillian Vernon will be showcased in a new display within the landmark "American Enterprise" exhibition at the Smithsonian's National Museum of American History beginning Oct. 17. The two stories, "Lillian Vernon, Kitchen Table Millionaire" and "Byron Lewis, Ad King Extraordinaire," will be featured in the exhibition's Consumer Era (1940s–1970s) section.
The exhibit will feature selected objects from across both entrepreneurs' career trajectories, including Vernon's original yellow Formica kitchen table and Lewis' antique French provincial desk and chair. Her kitchen table served as a foundation for Vernon's home business-turned-major corporation, The Lillian Vernon Corp., and Lewis ran his pioneering ad agency, UniWorld Group, from behind this desk.  
"Innovations in broadcasting, advertising, postwar consumerism and an increased number of women and African Americans in the business world really begins between the 1960s and 1970s," said Anthea M. Hartig, the museum's Elizabeth MacMillan Director. "It is in this 'consumer era' that we see entrepreneurs such as Lewis' and Vernon use their persistence, creativity and drive to launch and see their enterprises thrive."
As a young, married woman in 1951, Vernon began selling monogrammed accessories from her kitchen table to earn additional income for her family. Starting with a handbag that was manufactured by her father and advertised in Seventeen magazine, Vernon sold her products using niche marketing and direct-mail catalogs. These innovations helped her home business flourish, eventually expanding into a major corporation by the 1990s. Graphics of those early ad campaigns, along with an early example of the monogramed purse from 1951, will be on view. The Lillian Vernon Corp. became the first women-founded business to be publicly traded on an American stock exchange.
Lewis founded UniWorld group in 1969, inspired by his time working in the multicultural neighborhoods of New York City. As the CEO of UniWorld, Lewis advanced the interests of Black consumers and promoted the work of Black artists, filmmakers, activists and politicians. Among his many projects, Lewis promoted the 1971 movie Shaft, co-directed the National Black Political Convention and UniWorld was the first Black-owned agency to land a general consumer campaign with "3 Musketeers" candy. In recognition of author Alexandre Dumas' French and African ancestry, he cast a Black actor as one of the three musketeers. Three swords used in that campaign will be on view along with a number of awards, including one recognizing Lewis' induction into the Advertising Hall of Fame by the American Advertising Federation in 2013.
"American Enterprise" chronicles the tumultuous interaction of capitalism and democracy that resulted in the continuous remaking of American business—and American life. Visitors are immersed in the dramatic arc of labor, power, wealth, success and failure in an 8,000-square-foot gallery.
To mark the opening of the exhibit, the museum will present a panel discussion at 4 p.m. Tuesday, Oct. 17, "Women's Business: From Kitchen Table to C-Suite," focusing on how women of color are changing the ways Americans do business, moderated by MSNBC news anchor Symone D. Sanders-Townsend. Free reserved tickets are available through Eventbrite. An objects out-of-storage with additional artifacts from Vernon and Lewis will be featured during the event.
The exhibition was made possible by significant support from Mars Inc., the Wallace H. Coulter Foundation and SC Johnson. Generous support came from Intel, Monsanto Co., the United Soybean Board and History Channel, with additional support by Motorola Foundation, 3M, Pete and Linda Claussen, the William T. Kemper Foundation and John Deere.
Through incomparable collections, rigorous research and dynamic public outreach, the National Museum of American History seeks to empower people to create a more just and compassionate future by examining, preserving and sharing the complexity of our past. The museum, located on Constitution Avenue N.W., between 12th and 14th streets, is open daily except Dec. 25, between 10 a.m. and 5:30 p.m. Admission is free. The doors of the museum are always open online and the virtual museum offers exhibitions, PK–12 educational materials and programs. The public can follow the museum on social media on Twitter, Instagram and Facebook. For more information, go to https://americanhistory.si.edu. For Smithsonian information, the public may call (202) 633-1000.
# # #
SI-311-2023