The Shop at Cooper-Hewitt Launches New Location in Grand Central Terminal for the Holiday Season
Shop Open through Jan. 31, 2011
November 4, 2010
News Release
Addthis Share Tools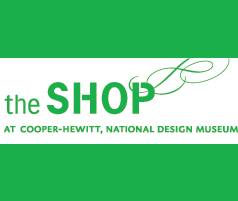 The Shop at Cooper-Hewitt, National Design Museum opens today in its first off-site retail location—the Graybar Passage of Grand Central Terminal. The kiosk, open from Nov. 4 through    Jan. 31, 2011, will offer a selection of 25 design works from the museum's renowned shop, including decorative objects, jewelry, toys and office accessories, and will be outfitted with USM Modular Furniture's Haller system in orange, a color available for the first time in three decades. Cooper-Hewitt chose the USM Haller system—a 1963 design classic, which is created from a few basic elements that can be expanded or reconfigured as needed—to outfit its museum shop and now the kiosk.
"Cooper-Hewitt is thrilled to be 'setting up Shop,' quite literally, at Grand Central Terminal, one of New York City's most famous landmarks and the largest train station in the world," said Caroline Baumann, associate director of the museum. "As Cooper-Hewitt's aim is to inform a diverse audience about design and how design processes work, we are thrilled to partner with Grand Central Terminal to spread our wings from Andrew Carnegie's Library (the location of the current Shop at Cooper-Hewitt) to capture commuters' attention with unique items."
"Grand Central Terminal is delighted to have Cooper-Hewitt's Shop open among the Graybar Passage Kiosks for the 2010 holiday season," said Nancy Marshall, director of Grand Central Terminal development for the MTA. "Cooper-Hewitt brings an outstanding collection of designer objects, which will be a wonderful addition to the variety of retailers in the terminal."
Objects available for purchase include:
Brass candlesticks by designer Eva Zeisel, the 103-year-old designer who continues to create beautiful objects in her signature curvaceous style ($55-65).

The 100 Series wristwatch, inspired by the form of British industrial wall clocks, available in black, gray, yellow, red, green and navy blue ($154).

Welcome soap by Tamanohada—a 116-year-old soap company in Tokyo—in the form of a fish, which is often associated with good fortune ($40).

The Eton Solarlink FR600 radio, an emergency radio charged via hand crank or solar panel, which works where or when the grid fails to function ($80).

Brodman Blades Ping Pong Paddle Set, ergonomically designed with a paddle that is worn like a glove ($89).

Noa Bembibre's beautiful limited edition wall calendar, Cats Let Nothing Darken Their Roar, now in its sixth year ($45).

USM's new Quick-Ship program, featuring 13 top-selling configurations in three colors and ready to ship in two to three weeks, (Price range $910– $3,916). 
"The retail kiosk in Grand Central affords the Shop an incredible opportunity to present our design offerings to a wider and diverse group," said Gregory Krum, director of retail at the museum. "We're delighted to be in another incredible landmark building and enable more people to give the gift of good design this holiday season."
A gift guide designed by Li Inc. will accompany the kiosk. All objects also will be available for sale at the main Shop at Cooper-Hewitt and online at www.cooperhewittshop.org. Shop purchases are sales-tax exempt, with all proceeds going to support the museum.
Hours are Monday through Friday, 8 a.m. to 8 p.m.; Saturday, 10 a.m. to 8 p.m.; and closed Sunday.
About the Shop at Cooper-Hewitt
Under the direction of Gregory Krum, the Shop at Cooper-Hewitt offers a choice selection of works by established and emerging designers. The Shop places special emphasis on products related to the museum's exhibitions, programs and permanent collection, and serves as a specialist outlet for design and architecture publications.
About the Smithsonian's Cooper-Hewitt, National Design Museum
Cooper-Hewitt, National Design Museum is the only museum in the nation devoted exclusively to historic and contemporary design. Founded in 1897 by Amy, Eleanor and Sarah Hewitt—granddaughters of industrialist Peter Cooper—as part of the Cooper Union for the Advancement of Science and Art, the museum has been a branch of the Smithsonian since 1967. The museum presents compelling perspectives on the impact of design on daily life through active educational programs, exhibitions and publications.
# # #
SI-471-2010