Series of Public Programs Offered with Major Exhibition, "The Civil War and American Art"
Highlights Include Symposium Nov. 16 and Talk by Drew Gilpin Faust Feb. 28, 2013
November 8, 2012
News Release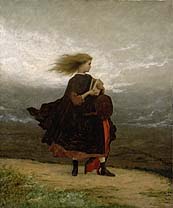 A robust series of talks, symposia, performances, films and family activities will accompany the exhibition, "The Civil War and American Art," on view Nov. 16 through April 28, 2013, at the Smithsonian American Art Museum. Programs will be held at the museum, located at Eighth and F streets N.W., unless otherwise noted. Most programs are free; some require tickets or registration. More information is available at americanart.si.edu/civilwar.
A daylong symposium, "Effects of the Civil War on American Art," begins at 10 a.m. Friday, Nov. 16, in the McEvoy Auditorium (enter at Eighth and G streets N.W.). The keynote address, "The Coming Storm: The Civil War and American Art," will be delivered by senior curator Eleanor Jones Harvey, followed by presentations from Jeff Rosenheim, curator in charge of photography at The Metropolitan Museum of Art; Peter Wood, emeritus professor of history at Duke University; John Davis, the Alice Pratt Brown Professor of Art at Smith College; Maurie McInnis, professor of American art and material culture at the University of Virginia; and Randall Griffin, professor of art history at Southern Methodist University. A full schedule is available at americanart.si.edu/research/symposia/2012. Registration is free, but required. The symposium will be webcast live and archived for future reference. This program is supported by the Smithsonian Institution's Consortium for Understanding the American Experience.
Drew Gilpin Faust, renowned Civil War scholar and president of Harvard University, will present the talk, "Seeing War; Representing War," Thursday, Feb. 28, 2013, at 7 p.m. in the McEvoy Auditorium. Limited seats are available; free tickets are required and will be distributed at 6:30 p.m. in the museum's G Street lobby.
Other programs offered during the exhibition's presentation in Washington, D.C., are:
Film, Gone with the Wind, Saturday, Nov. 17, at 1 p.m.

21st Century Consort, "Music for Civil War," Saturday, Dec. 1, at 5 p.m. (tickets required)

Gallery talks with curator Harvey, Thursday, Dec. 6, and Thursday, April 11, 2013, at 6 p.m.

Film, Shenandoah, Thursday, Dec. 6, at 6:30 p.m.

Film, Red Badge of Courage, Thursday, Jan. 24, 2013, at 6:30 p.m.

Talk and book signing, From Slave Ship to Harvard: Yarrow Mamout and the History of an African American Family by author James H. Johnston, Saturday, Feb. 2, 2013, at 3 p.m.

Panel Discussion, "Emancipation Proclamation in Art and Records," Thursday, Feb. 7, 2013, at 7 p.m. (held at the National Archives, Constitution Avenue and Seventh Street N.W.)

Musical performance and reading, "The Strangest Friendship: Unpacking the Poetry of a Civil War Veteran" with David Keplinger, Saturday, Feb. 9, 2013, at 3 p.m.

Civil War and Patent Office Building Tours led by Charles Robertson, deputy director emeritus, Friday, Feb. 15, 2013, at 3:30 p.m. and 5:30 p.m. (registration required)

Gallery talk by museum conservators, Wednesday, Feb. 20, 2013, at 4 p.m.

Contemporary artist symposium, "Why the Civil War Still Matters to American Art," March 2013

Civil War family day, Saturday, March 9, 2013, from 11:30 a.m. to 3 p.m.

Talk with David Blight, Class of 1954 Professor of American History and director of the Gilder Lehrman Center for the Study of Slavery, Resistance & Abolition at Yale University, Friday, April 5, 2013, at 7 p.m.

Performance, Victorian Dance Ensemble, Sunday, April 21, 2013, at 2 p.m.
Credit
"The Civil War and American Art" is organized by the Smithsonian American Art Museum with generous support from the Anschutz Foundation, Ludmila and Conrad Cafritz, Christie's, Sheila Duignan and Mike Wilkins, Tania and Tom Evans, Norma Lee and Morton Funger, Dorothy Tapper Goldman, Raymond J. and Margaret Horowitz Endowment, Mr. and Mrs. Raymond J. Horowitz Foundation for the Arts, Wolf Kahn and Emily Mason Foundation, Joffa and Bill Kerr, Thelma and Melvin Lenkin, Henry Luce Foundation, Paula and Peter Lunder, Margery and Edgar Masinter, Barbro and Bernard Osher, Walter and Lucille Rubin Foundation, Patricia Rubin and Ted Slavin, and Holly and Nick Ruffin. The C.F. Foundation in Atlanta supports the museum's traveling exhibition program, "Treasures to Go." This exhibition is supported by an indemnity from the Federal Council on the Arts and the Humanities.
About the Smithsonian American Art Museum
The Smithsonian American Art Museum celebrates the vision and creativity of Americans with artworks in all media spanning more than three centuries. The museum is located at Eighth and F streets N.W., above the Gallery Place/Chinatown Metrorail station. Museum hours are 11:30 a.m. to 7 p.m. daily (closed Dec. 25). Admission is free. Follow the museum on Twitter, Facebook, Flickr, iTunes, ArtBabble and YouTube. Museum information: (202) 633-7970. Smithsonian Information: (202) 633-1000. Website: americanart.si.edu.
# # #
SI-488-2012