Salman Khan Discusses His Vision for the Future of Education at Smithsonian Associates Event
August 14, 2012
News Release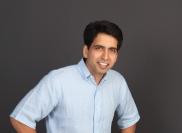 The Smithsonian Associates presents an exclusive interview with Salman Khan, founder of the Khan Academy, Tuesday, Oct. 2, at 7:30 p.m. at the National Museum of the American Indian's Rasmuson Theater. In conversation with Smithsonian Secretary Wayne Clough, Khan will discuss his remarkable story and his core idea of liberating teachers from lecturing and opening up the classroom for truly instructive interaction.
Khan envisions that a free, quality education for anyone, anywhere, remains a worldwide goal that is within reach for the first time in this digital age. He has created a free online education platform offering video tutorials that have attracted thousands of students from around the world who respond to the practical and relaxed style of learning. Visit www.khanacademy.org to learn more.
Khan was born and raised in Metairie, La., to immigrant parents from India and Bangladesh. Before founding the Khan Academy, he was a hedge fund analyst. He has also worked in engineering at Oracle and several Silicon Valley start-ups. Khan holds a Master of Business Administration from Harvard Business School and three degrees from MIT. In 2012, Time magazine named him to its annual list of the 100 most influence people in the world. His first book, The One World Schoolhouse: Education Reimagined (Twelve), is available for purchase and signing following the program.
Ticket prices for the Smithsonian presentation are $25 for general admission and $18 for Associate members. For tickets and information, the public may call (202) 633-3030 or visit www.smithsonianassociates.org. The Smithsonian Associates offers life-enriching, educational and cultural experiences inspired by the Smithsonian's exhibitions, collections and research. Each year The Smithsonian Associates creates and presents more than 750 individual programs that deliver exceptional opportunities for learning and growth. Programs range from lectures on a multitude of topics to the performing arts for audiences of all ages, in the Washington, D.C., area and across the country.
# # #
SI-368-2012