Sackler Gallery and Arts in Embassies Present Artist Cai Guo-Qiang's "Explosion Event" Nov. 30
Site-Specific Project Celebrates Milestone Anniversaries, New Collaboration
November 26, 2012
News Release
Addthis Share Tools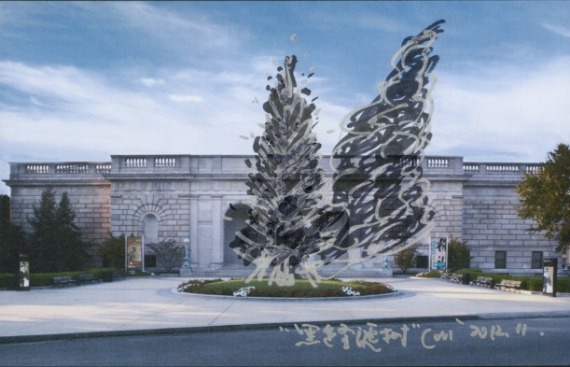 Chinese-born artist Cai Guo-Qiang will stage one of his remarkable "explosion events," a thrilling combination of pyrotechnics, artistry and optical illusion in four dimensions Friday, Nov. 30. The event is presented by the Smithsonian's Arthur M. Sackler Gallery and Art in Embassies, an office of the U.S. Department of State, and is in celebration of the Sackler's 25th and Art in Embassies' 50th anniversaries.
Shortly after 3 p.m. on the north side of the Freer Gallery of Art, a live 40-foot-tall pine tree will erupt in an effervescent shimmer of fireworks as if in a "tree lighting" ceremony, followed by a cascade of black ink-like smoke that mimics the flowing beauty of traditional Chinese brush drawings. The black tree-shaped cloud of smoke drifting through the air will create a spectral scene of two trees, one real and one ethereal. The site-specific staging is part of Cai's larger series of "explosion projects," which have been featured at the Museum of Contemporary Art in Los Angeles, the John F. Kennedy Center for the Performing Arts in Washington, D.C., and Central Park in New York City. The event will be streamed live at http://asia.si.edu/Sackler25.
Cai, a Chinese-born, New York-based contemporary artist, is one of the five artists being honored by Secretary of State Hillary Clinton and Art in Embassies with the State Department's Medal of Art, in recognition of his contributions to cultural exchange.
Cai was born in 1957 in Quanzhou City, Fujian Province, China. Trained in stage design at the Shanghai Theater Academy, his work has since crossed multiple mediums within art, including drawing, installation, video and performance art. While in Japan from 1986 to 1995, he explored the properties of gunpowder in his drawings, an inquiry that eventually led to his experimentation with explosives on a massive scale and to the development of his signature explosion events. Drawing on Eastern philosophy and contemporary social issues as a conceptual basis, these projects and events aim to establish an exchange between viewers and the larger universe around them, using a site-specific approach to culture and history. He currently lives and works in New York.
In 2004, the Sackler commissioned Cai's site-specific installation "Reflection," which consisted of six tons of porcelain fragments spilling from the hull of an excavated wooden fishing boat, part of a joint exhibition with the Smithsonian's Hirshhorn Museum and Sculpture Garden. In 2008, Art in Embassies commissioned a six-panel gunpowder drawing, "Eagle Landing on Pine Branch," for the U.S. Embassy in Beijing. For more information, visit www.caiguoqiang.com.
As the leading branch of the U.S. government dedicated to the visual arts abroad, Arts in Embassies develops temporary exhibitions and permanent collections in more than 200 diplomatic missions in 189 countries through a vital public-private partnership with more than 20,000 participants globally, including artists, museums, galleries, universities and private collectors.
The event marks the beginning of a landmark collaboration between the Sackler and Art in Embassies. In coming years, the Sackler will host exhibitions of works by contemporary Asian and Asian American artists before their installation by Arts in Embassies at new U.S. embassies overseas. This partnership will allow both institutions to continue educational outreach through artist residencies, innovative programming and cultural exchange.
The Arthur M. Sackler Gallery, located at 1050 Independence Avenue S.W., and the adjacent Freer Gallery of Art, located at 12th Street and Independence Avenue S.W., are on the National Mall in Washington, D.C. Hours are 10 a.m. to 5:30 p.m. every day (closed Dec. 25), and admission is free. The galleries are located near the Smithsonian Metrorail station on the Blue and Orange lines. For more information about the Freer and Sackler galleries and their exhibitions, programs and other public events, including other special programs to celebrate the 25th anniversary of the Sackler Gallery in 2012, visit www.asia.si.edu. For general Smithsonian information, call (202) 633-1000.
# # #
SI-516-2012