Recipients of the Archives of American Art Medal and the Lawrence A. Fleischman Award Announced
August 7, 2023
News Release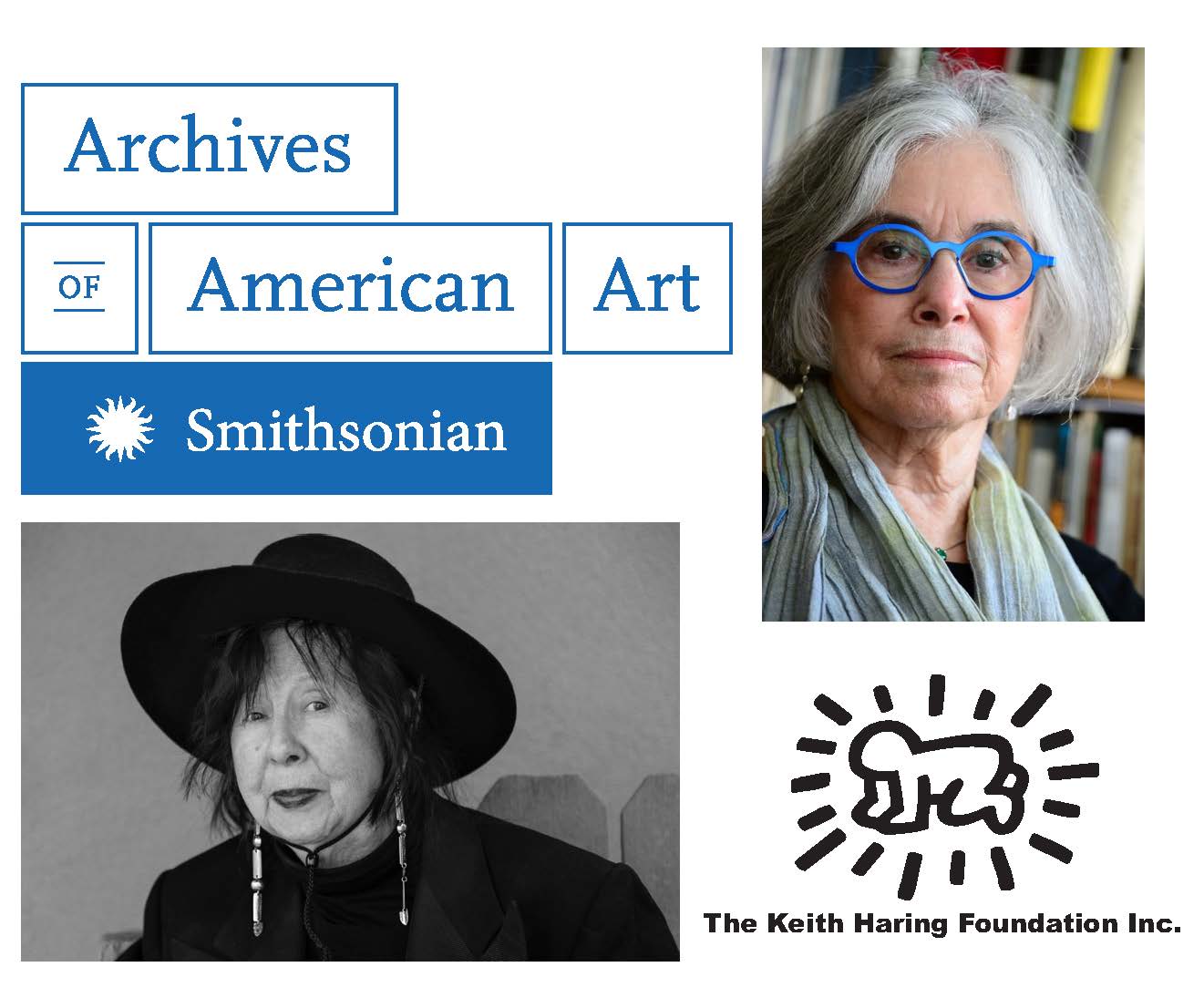 The Smithsonian Institution's Archives of American Art has announced the recipients of The Lawrence A. Fleischman Award for Scholarly Excellence in the Field of American Art History and the Archives of American Art Medal. These annual awards, the Archives of American Art's highest honors, recognize individuals who have made transformative contributions in the field of American art. Ruth Fine, retired curator of special projects in modern art at the National Gallery of Art in Washington, D.C., will receive The Lawrence A. Fleischman Award for Scholarly Excellence in the Field of American Art History, established in 1998 by Trustee Emerita Barbara G. Fleischman as a tribute to her late husband, who co-founded the Archives of American Art in 1954. The Keith Haring Foundation, dedicated to advancing the artistic and philanthropic legacy of Keith Haring, and artist, educator and activist Jaune Quick-to-See Smith, will receive the Archives of American Art Medal. The 2023 honorees will be presented with their awards at the ticketed Archives of American Art gala to be held in New York City's Rainbow Room Oct. 24. 
"We are delighted to recognize these three honorees for their contributions to art and society," said Anne Helmreich, director of the Archives of American Art. "Each honoree has spent their career demonstrating the vital contributions the arts make to national, indeed, global conversations, by making important stories accessible and approachable for the public, advocating for equity and social justice, and expanding representation in the arts. They have all done phenomenal, unprecedented work, and we look forward to honoring them."
About Ruth Fine
Fine, curator for the National Gallery of Art in Washington, D.C., from 1972 to 2012, starting as the gallery's curator for the Lessing J. Rosenwald Collection housed outside of Philadelphia, then served as the museum's first curator of modern prints and drawings and its first curator of special projects in modern art. There, she organized or co-organized dozens of exhibitions on John Marin, Georgia O'Keeffe, Helen Frankenthaler, Jasper Johns and Romare Bearden, the first solo exhibition at the gallery featuring an African American artist, as well as exhibitions of Gemini G.E.L. and other print-publishing workshops. She conceived and oversaw the distribution of the Dorothy and Herbert Vogel Collection to institutions in each of the 50 United States.
Fine also co-curated "A Graphic Muse: Prints by Contemporary Women" and organized exhibitions on James McNeill Whistler, Mel Bochner, Jim Dine, Claire Van Vilet's Janus Press and others, and she has published essays on Larry Day, Allan Edmunds, Eugene Feldman, Martin Puryear and more. Her catalog Procession: The Art of Norman Lewis earned the College Art Association's 2017 Alfred H. Barr Award for Museum Scholarship.
Fine has lectured internationally about American art and has served on numerous boards, including those of the Fabric Workshop and Museum and the Terra Foundation for American Art, and she currently serves as chair of the Roy Lichtenstein Foundation board. "Frank Stewart's Nexus: An American Photographer's Journey, the 1960s to the Present," co-curated with Fred Moten, is currently on view at The Phillips Collection through Sept. 3, after which it will travel to additional venues. She continues to make drawings, prints and artist books.  Fine donated her papers to the Archives of American Art in 2017.
About the Keith Haring Foundation
Legendary artist Keith Haring (1958–1990) contributed his talents and resources to numerous causes, including art workshops with children, logos and posters for public service agencies, and murals, sculptures and paintings to benefit health centers and disadvantaged communities. In 1989, Haring established a foundation to ensure that his philanthropic legacy would continue indefinitely.
In accordance with Haring's wishes, the Keith Haring Foundation makes grants to not-for-profit groups that engage in charitable and educational activities, such as organizations that offer educational opportunities to underprivileged children and those that engage in AIDS and HIV education, prevention and care.
The foundation also maintains and protects Haring's legacy through its collection of art and archives that facilitate historical research about the artist and exhibitions, educational programs, acquisitions and publications that contextualize and illuminate the artist's work and philosophy. Most recently, the foundation supported "Jaune Quick-to-See Smith: Memory Map," presented at the Whitney Museum among other venues.
During his career, Haring's work was featured in more than 100 solo and group exhibitions. Since his death, his work has been collected by major museums around the world, and he has been the subject of several international retrospectives and exhibitions, including "Keith Haring: Art Is for Everybody," on view at The Broad in Los Angeles through Oct. 8.
About Jaune Quick-to-See Smith
Smith, a citizen of the Confederated Salish and Kootenai Nation, has been creating complex abstract paintings and prints since the 1970s. She combines appropriated imagery from commercial slogans and signage, art history and personal narratives to forge an intimate visual language that conveys insistent socio-political commentary with astounding clout. Her multi-faceted work is grounded in themes of personal and political identity. 
Smith has received numerous awards, most recently the Woodson Foundation Lifetime Achievement Award in 2015 and the Living Artist of Distinction Award from the Georgia O'Keeffe Museum in 2012, and she was elected to the National Academy of Art in 2011. She has honorary doctorates from the Minneapolis College of Art and Design, Pennsylvania Academy of Fine Arts, Massachusetts College of Art and the University of New Mexico.
Smith's work is in the collections of the Saint Louis Art Museum, the Walker Art Center in Minneapolis, the Smithsonian American Art Museum, the National Gallery of Art in Washington, D.C., the Museum of Modern Art, the Brooklyn Museum, the Metropolitan Museum of Art and the Whitney Museum of American Art in New York City. The artist's retrospective, "Jaune Quick-to-See Smith: Memory Map" runs through Aug. 13 at the Whitney.  Smith has committed her papers to the Archives of American Art.
About the Gala
The Archives of American Art annual gala, launched in 1984, recognizes those who exemplify the Archives of American Art's mission to collect, preserve and make available the primary sources that document the history of American art. Past honorees include Chuck Close, the Ford Foundation, Agnes Gund, Roy Lichtenstein, Glen Ligon, Richard J. Powell, Lowery Stokes Sims and Alice L. Walton.
George Frederick Mead Merck, chair of the Archives' advisory board of trustees, also serves as chair of the gala committee, whose members include Virginia G. Bobins, Barbara Fleischman, Diane A. Fogg, Karen Z. Gray-Krehbiel, Evelyn Day Lasry, Amanda Quinn Olivar, Deborah Schmidt Robinson and Migs Wright.
Proceeds from the Archives of American Art Gala provide critical unrestricted support for the Archives. The 2023 Archives of American Art gala will be held Oct. 24 at New York City's Rainbow Room. More information is available on the Archives' website.
About the Archives of American Art
The Smithsonian's Archives of American Art enlivens the extraordinary human stories behind America's most significant art and artists. It is the world's preeminent resource dedicated to collecting and preserving the papers and primary records of the visual arts in the United States. Constantly growing in range and depth, and ever increasing in its accessibility, it is a vibrant, unparalleled, and essential resource for the appreciation, enjoyment, and understanding of art in America. The Archives provides access to these materials through its two research centers, exhibitions and publications, including the Archives of American Art Journal, the longest-running scholarly journal in the field of American art. An international leader in the digitization of archival collections, the Archives provides online access to more than 3 million documents. The oral-history collection includes more than 2,500 audio interviews, the largest accumulation of in-depth, first-person accounts of the American art world. Connect with the Archives at aaa.si.edu or on Facebook, Instagram, Twitter or YouTube.
# # #
SI-228-2023