Pati Jinich, Host of the PBS Series "Pati's Mexican Table," To Speak at Smithsonian Associates Event
September 9, 2013
News Release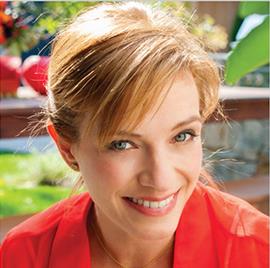 The Smithsonian Associates presents "Mexican Home Cooking with Pati Jinich" Monday, Oct. 7, at 6:45 p.m. at the Smithsonian's S. Dillon Ripley Center at 1100 Jefferson Dr. S.W. Jinich will discuss the ingredients, cooking techniques, culture, history and traditions of Mexican cuisine.  
Jinich, who was born and raised in Mexico City, is on a mission to show Americans that true Mexican home cooking is not what they have come to expect. In her new cookbook, Pati's Mexican Table (Houghton Mifflin Harcourt), Jinich introduces readers to Mexican ingredients, cooking techniques and recipes, many of which are surprising in their simplicity and freshness. Her cookbook is available for signing following the program. Participants will also have the opportunity to enjoy home-cooked Mexican food with a tasting of treats, including her famous "Piggy Cookies" and agua fresca concentrate.
Jinich's expertise is not limited to food. In Pati's Mexican Table, her PBS television series, she acts as a tour guide and interpreter, telling stories about her homeland's history, evolution and rich culture and sharing anecdotes about her upbringing, travels and conversations with cooks across both her native and adopted countries. A sneak preview of the upcoming season of her show will be screened during the program.
Jinich has appeared as a guest on the Food Network, NBC's Today, CBS's The Chew, CNN, Fox News, NPR and The Splendid Table. She directs and teaches a culinary program through the Mexican Cultural Institute in Washington.
Ticket prices for the Smithsonian Associates' presentation are $42 for general admission and $30 for Associate members. For tickets and information, the public may call (202) 633-3030 or visit www.smithsonianassociates.org.
The Smithsonian Associates offers life-enriching, educational and cultural experiences inspired by the Smithsonian's exhibitions, collections and research. Each year The Smithsonian Associates creates and presents more than 750 individual programs that deliver exceptional opportunities for learning and growth. Programs range from lectures on a multitude of topics to the performing arts for audiences of all ages, in the Washington, D.C., area and across the country.
# # #
SI-363-2013