Norse Voyages and Inuit Mythology Merge in Contemporary Art Exhibition
Inuvialuit Sculptor Abraham Anghik Ruben Showcases Works of Stone and Bronze
September 27, 2012
News Release
Addthis Share Tools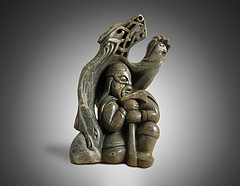 The Smithsonian's National Museum of the American Indian presents "Arctic Journeys/ Ancient Memories: The Sculpture of Abraham Anghik Ruben," an exhibition that explores parallels between the ancient arctic cultures of the Viking/Norse and Inuit through bold sculptures of stone, bronze and bone. The exhibition opens Friday, Oct. 5, in Washington, D.C., in the museum's Sealaska Gallery and will be on view through Jan. 2, 2013. It is presented in conjunction with the 18th Inuit Studies Conference, Oct. 24-28, in Washington, D.C.
As a master sculptor of Inuvialuit (Inuit) descent, Ruben contrasts these two northern seafaring peoples, weaving together elements from each culture's history and mythological landscape. Norse sagas about Odin, the god of war, and Thor, the god of thunder, converge with Inuit beliefs about Sedna, the guardian of sea animals, shamanism and Inuit spiritual life to explore a shared Arctic history of maritime exploration, migration and cultural change.
"At the time of first contact, the Inuit and the Vikings held similar spiritual and religious beliefs through their respective practices of shamanism," Ruben wrote in an artist's statement from 2008. "As a storyteller, I have sought to bring life to these ancient voices from a time when these two northern people held a reverence for the land and for all living things therein."
For Ruben, these ancient voices are not so distant. Born in 1951 in a camp near Paulatuk ("place of coal"), he spent his early childhood traveling with his family across vast expanses of land and sea, hunting caribou, polar bear, musk-oxen and beluga whales, and "living to the ancient rhythms of life passed down through the generations." This traditional upbringing forged cultural and spiritual ties to his Inuvialuit ancestors and the Arctic environment. He draws from this not-so-distant past by working in stone, whalebone and ivory—natural materials used by ancient hunting, whaling and seafaring families throughout the region to create the kayaks, umiaks, hunting equipment and domestic tools needed to survive.
Ruben's sculpture "Memories: An Ancient Past," one of 23 works in the exhibition, showcases a massive whale skull that his nephew discovered just 30 miles up the coast from Paulatuk. The figures on the top of the sculpture depict the world of the Inuvialuit. On one side, a mother caresses her child while protecting a small shaman's apprentice beneath her hair, underscoring the special status of both mothers and children in Inuit society, where infants are named for deceased relatives and regarded as their reborn souls. The opposite side of the sculpture shows an Inuit hunter standing at the prow of his umiak, a traditional Arctic boat, ready to harpoon a whale. At the center is a shaman with a hollow head and chest, representing his ability to travel between the physical and spiritual worlds. Below, Sedna opens her arms to reveal missing fingers that were cut off by her father to become different creatures of the sea.
About the Inuit Studies Conference
The 18th Inuit Studies Conference will be hosted by the Arctic Studies Center of the Smithsonian's National Museum of Natural History. Founded in 1978 in Quebec City, this biennial conference presents current research in the fields of archaeology, anthropology, linguistics, political governance, environmental science, health, education and culture. Conference sessions include the effects of climate change on indigenous communities; international cooperation in the Arctic; the role of museums and museum collections in preserving Inuit languages, heritage and culture; governmental programs in the northern regions and their interactions with communities; and Inuit cultural and political institutions. For more information on the conference, visit http://www.mnh.si.edu/arctic/.
# # #
SI-429-2012
More images available here.