New Work by World-Renowned Photographer Annie Leibovitz Featured at the Smithsonian American Art Museum
January 19, 2012
News Release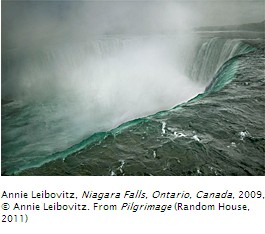 "Annie Leibovitz: Pilgrimage" charts a new direction for one of America's best-known living photographers. Unlike her staged and carefully lit portraits made on assignment for magazines and advertising clients, the photographs in this exhibition were taken simply because Leibovitz was moved by the subject. The images speak in a commonplace language to the photographer's curiosity about the world she inherited, spanning landscapes both dramatic and quiet, interiors of living rooms and bedrooms, and objects that are talismans of past lives.
The exhibition, which includes 64 photographs taken between April 2009 and May 2011, will be on view at the Smithsonian American Art Museum from Jan. 20 through May 20. The museum is acquiring the works on display in the exhibition for its permanent collection. The exhibition will travel following its presentation in Washington, D.C.
"Annie Leibovitz: Pilgrimage" is organized for the Smithsonian American Art Museum by guest curator Andy Grundberg, former New York Times photography critic and associate provost and dean of undergraduate studies at the Corcoran College of Art + Design. Joann Moser, senior curator, is the coordinating curator at the museum. The prints were made by David Adamson of Adamson Editions in Washington, D.C.
"Annie Leibovitz's new project Pilgrimage captures some of the best aspects of the American spirit through individuals who shaped how we see the world and the places that define them, from Thomas Jefferson and Abraham Lincoln to Emily Dickinson, Annie Oakley and Georgia O'Keeffe," said Elizabeth Broun, The Margaret and Terry Stent Director of the Smithsonian American Art Museum. "These images resonate with other works in the Smithsonian American Art Museum's collection, so I am delighted that we are acquiring a set for the permanent collection."
"From the beginning, when I was watching my children stand mesmerized over Niagara Falls, this project was an exercise in renewal," said Leibovitz. "It taught me to see again."
"These pictures may surprise even those who know Leibovitz's photography well," said Grundberg. "They are more intimate, personal and self-reflective than her widely published work, combining the emotional power of her recent black-and-white portraits of her family with an awareness of her own cultural legacy. All photographs are in a sense intimations of mortality, but the pictures of 'Pilgrimage' make this connection explicit."
The pictures, although there are no people in them, are in a certain sense portraits of subjects that have shaped Leibovitz's distinctly American view of her cultural inheritance. Visiting the homes of iconic figures, including Eleanor Roosevelt, Ralph Waldo Emerson, Pete Seeger and Elvis Presley, as well as places such as Niagara Falls, Walden Pond, Old Faithful and the Yosemite Valley, she let her instincts and intuitions guide her to related subjects—hence the title "Pilgrimage." Some of the pictures focus on the remaining traces of photographers and artists she admires, such as Julia Margaret Cameron, Ansel Adams and Robert Smithson.
"Pilgrimage" is an evocative and deeply personal statement by a photographer whose career now spans more than 40 years, encompassing a broad range of subject matter, history and stylistic influences. Together the pictures show Leibovitz at the height of her powers, unfettered by the demands of her career and pondering how photographs, including her own, shape a narrative of history that informs the present.
Public Programs
Leibovitz will discuss her work Tuesday, Jan. 24, at 7 p.m. in the museum's McEvoy Auditorium. Reserved tickets are required through americanart.eventbrite.com; the event is currently sold out, but a limited number of seats may be available on a first-come, first-served basis at 6:55 p.m. the evening of the program. The talk will be webcast live and archived for later viewing on the museum's website.
Book
The accompanying book, published by Random House, includes an introduction by noted historian Doris Kearns Goodwin. Pilgrimage is available for purchase ($50) at bookstores nationwide and the museum's store.
National Tour
The exhibition will travel following its presentation in Washington, D.C. A listing of venues will be available on the museum's website as they are confirmed.
Credit
"Annie Leibovitz: Pilgrimage" is organized by the Smithsonian American Art Museum. The Bernie Stadiem Endowment Fund provided support for the exhibition.
About the Smithsonian American Art Museum
The Smithsonian American Art Museum celebrates the vision and creativity of Americans with artworks in all media spanning more than three centuries. Its National Historic Landmark building is located at Eighth and F streets N.W., above the Gallery Place/Chinatown Metrorail station. Museum hours are 11:30 a.m. to 7 p.m. daily. Admission is free. Follow the museum on Twitter, Facebook, Flickr, ArtBabble, iTunes and YouTube. Museum information (recorded): (202) 633-7970. Smithsonian Information: (202) 633-1000; (202) 633-5285 (TTY). Website: americanart.si.edu.
# # #
SI-25-2012
Note to editors: Selected high-resolution images for publicity only may be requested from Contact Press Images. To preview the available images, a caption sheet is available online at americanart.si.edu/pr/kits/#leibovitz. To request image files, please contact Jeffrey Smith, Contact Press Images by email at jeffreysmith@contactpressimages.com or call (212) 695-7875.