New Interactive Exhibit Opens in Smithsonian's Castle, Bringing Light to Life
November 9, 2010
News Release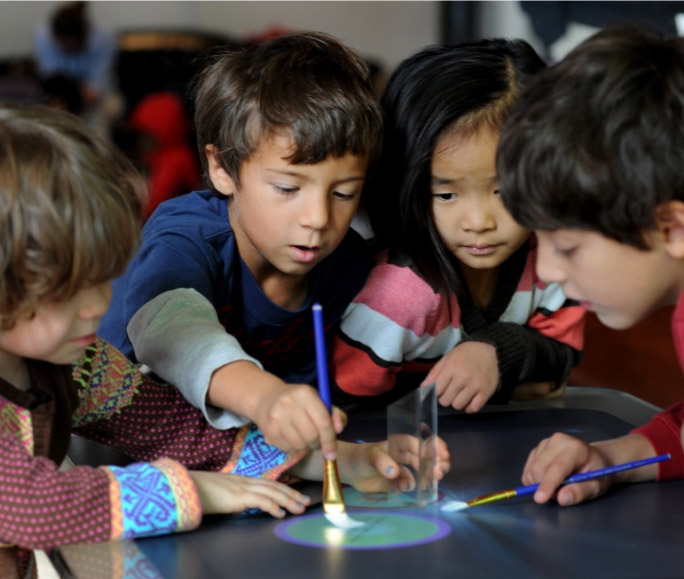 Young visitors to the Smithsonian's Castle will enjoy a different kind of light show using Microsoft Surface, a multitouch digital display that offers interaction with information and digital content with the simple flick of a finger. "The Wonder of Light: Touch and Learn!" exhibit opens Tuesday, Nov. 9, in the center of the Castle's historic Great Hall. The Surface unit was donated to the Smithsonian by Microsoft.
The Surface screen is activated by both light and touch and can be used simultaneously by all who can fit around it. Museum-goers can use everyday tools, such as a flashlight, paintbrush, magnifying ring, a prism and lightbulb models, to interact with Surface since it also recognizes real, 3-D objects. For example, children can start a virtual fire by rubbing real sticks above movable, on-screen logs—simulating how friction can ignite a flame.
Microsoft Surface opens the world of the Smithsonian to young visitors by linking on-screen activities to the Institution's historical artifacts. Children can explore multiple dimensions of light such as: light and shadow in paintings, Thomas Edison's lightbulb, fire as a source of light, prisms, stamps depicting lighthouses and even deep-sea, underwater fish that thrive despite a lack of sunlight in a whole new, interactive way.
"The Smithsonian has made a strategic decision to use technology to connect our physical collections with the digital world to enhance a visitor's experience," said Ann Speyer, the Smithsonian's chief information officer. "Microsoft Surface immediately draws you in and is a unique approach to reaching a younger audience at the information center in the Smithsonian Castle, often a first stop for our visiting families."
The 30-by-42-inch table, which is 26 inches high, recognizes dozens of points of contact at the same time, not just from one or two fingers as with a typical touch-screen device. Each application allows multiple participants to join into each session. Players "grab" digital information with their hands, without the use of a mouse or keyboard. For example, when the pieces of a postage stamp appear on the screen as a puzzle, a child can move the pieces around to form the complete stamp.
The Surface applications were created by Smithsonian staff along with experts from InfoStrat, a Washington-based technology company. The program—a series of seven experiences built around the theme of light—uses innovative technology to deliver new content from the Smithsonian museums, including the National Museum of American History (lightbulb, prism), National Postal Museum (stamps) and the National Museum of Natural History (deep-sea life). The tools also relate to the collections in the museums and children may be inspired to learn more about a particular subject by visiting that museum.
The Castle, officially named the Smithsonian Institution Building, houses the Great Hall and two exhibition rooms, as well as an information center, shop, orientation theater and café. It is open seven days a week from 8:30 a.m. to 5:30 p.m. For information, the public may call (202) 633-1000.
# # #
SI-457-2010
Note: Reporters who would like to experience the Microsoft Surface Light exhibit may call Brian Ireley at (202) 633-0308; e-mail: ireleyb@si.edu.