New Collection Acquisitions Span Centuries and Disciplines at Cooper-Hewitt
March 21, 2013
News Release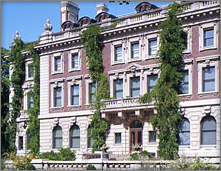 Design Watch members have chosen architect and glassmaker Carlo Scarpa's "Model 3461" vase, made at the Venini glassworks, as a gift to join the permanent collection of the Smithsonian's Cooper-Hewitt, National Design Museum. Members of Design Watch, museum supporters, were invited to hear object presentations from curators in each of the museum's four curatorial departments and vote on a design object to be purchased using proceeds from their membership dues. The museum today announced the acquisition, along with several other works.
The selected circa 1934 vase is a significant example of innovative design, superb craftsmanship and sophisticated technical skills in Venetian glass. Scarpa developed a range of new—and renewed—glass shapes, surface patterns and effects in collaboration with major glass designer-producer Paolo Venini, with whom he worked starting in 1932. The largest form in the half-filigree technique made by Venini, the vase features fine turquoise canes set in colorless glass on a curvilinear form, with an applied ring foot in colorless glass inset with specks of gold leaf.
Cooper-Hewitt's collection is international in scope and contains more than 217,000 objects spanning 30 centuries in four curatorial departments—Drawings, Prints and Graphic Design, Product Design and Decorative Arts, Textiles and Wallcoverings—and the National Design Library. The museum is pursuing an ambitious acquisitions strategy, with criteria aimed at enhancing the quality, depth and coherence of the collection. To advance the public understanding of design and underscore the museum's role as a design resource, acquisitions also include supporting design process material and recorded interviews with designers and manufacturers.
"The museum's acquisition policy places emphasis on innovation and process, integrating important developments in contemporary design with those of the past reflected in the collection," said Caroline Baumann, acting director of the museum. "Each curatorial department has a priority acquisition strategy, covering both historic objects and areas, as well as contemporary masterworks, digital acquisitions and emerging forms of design."
New acquisitions in 2013 include:
Drawings, Prints and Graphic Design
The 2010 "Leaf table" drawing by Joris Laarman, which documents the 3-D prototyping process. The design is based on a computer algorithm that mimics the way bones grow in nature, adding or diminishing material where strength is needed or not required.
Ettore Sottsass Jr.'s 1989 drawing "Designs for Floor Lamps" for the Yamagiwa Art Foundation, Tokyo.
Five drawings by the celebrated Italian post-modern architect Andrea Branzi from the 2012 gallery exhibition "Trees & Stones."
"Three Designs for Tables" drawing by Michele de Lucchi, which explores playful ideas for a table, including a leaning single-column base buttressed by an arc-shaped support.
Eighteen drawings by the artist Forrest Myers, including nine designs for tables and nine designs for chairs.
The 2011 drawing "Design for 'Scatter Shelf'" by Oki Sato of nendo. The individual shelves in the unit appear to increase and decrease in volume depending on the viewer's vantage point, creating a kaleidoscopic visual effect.
The 2012 "afterimage sketch," a wash-and-ink drawing sketch by Byung-Hoon Choi, for an outdoor bench made of basalt.
Wendell Castle's design drawing for the "Triad" chair, a 2006 prototype chair in the museum's Product Design and Decorative Arts department.
Product Design and Decorative Arts
A circa 1875 tripartite bookcase by the Herter Brothers, the most important of the American 19th-century aesthetic movement furniture makers.
The sleek 1997 Tykho radio for Lexon, designed by Marc Berthier. The small monochromatic block-like form of the radio was produced in several intense candy-like colors.
The first-generation 2012 Lytro camera, which combines technological innovations in digital photography with a new design to enable a photograph to be refocused innumerable times after the picture is taken—not before.
Textiles
The 2012 Merton blanket, designed by Wallace Sewell, featuring an abstract composition that calls to mind the early tapestry work of Anni Albers and Gunta Stölzl. Designers Harriet Wallace-Jones and Emma Sewell combine a fascination for woven structure, intuitive understanding of yarn properties and a masterful color sense.
The 2012 blanket, Index Collection, by Raw Color, which uses a series of boxes similar to the screen keys seen on the sides of printed fabrics, to express the intensity of color in each surface, from 10 percent to 100 percent.
The 1950 "Filigree" dress by Dorothy Cole Ruddick for Knoll, which adds to the museum's collection of artist-designed textiles from the 1950s.
A shirtwaist day dress designed by celebrated fashion designer Claire McCardell. The dress was made from a printed cotton fabric, Parade Sauvage, designed by Fernand Léger, one of the most prominent, prolific and influential modern artists of the early 20th century.
Wallcoverings
A hand-painted 1800–1830 Chinese scenic paper with a large central motif of a flowering tree, along with exotic birds and rocky formations.
The circa 1820 wallcovering, "Psyche Bringing Venus a Goblet of Water from the Fountain of Youth," by Dufour et Leroy.
About the Smithsonian's Cooper-Hewitt, National Design Museum
Founded in 1897, Cooper-Hewitt is the only museum in the nation devoted exclusively to historic and contemporary design. The museum presents compelling perspectives on the impact of design on daily life through active educational programs, exhibitions and publications.
Cooper-Hewitt's main facility, housed in the Carnegie Mansion, is undergoing renovation as part of a $64 million capital campaign that includes enlarged and enhanced facilities for exhibitions, collections display, education programming and the National Design Library, and an increased endowment. During the renovation, Cooper-Hewitt's usual schedule of exhibitions, education programs and events will be staged at various off-site locations.
# # #
SI-97-2013