National Postal Museum Opens "Collecting History: 125 Years of the National Philatelic Collection"
August 11, 2010
News Release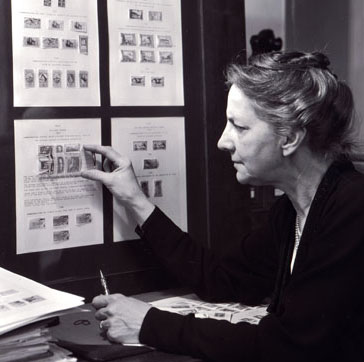 Next year marks 125 years of the National Philatelic Collection, and the Smithsonian's National Postal Museum is commemorating the milestone with the new exhibit, "Collecting History: 125 Years of the National Philatelic Collection." The National Philatelic Collection is the oldest intact national stamp collection in the world, and the exhibit highlights donors who gave their collections to the Smithsonian for the benefit of the nation and explores the role of 12 successive curators in developing and exhibiting the collection.
A highlight of the exhibit includes one of philately's rarest books, The Postage Stamps of Japan and Dependencies by Alphonse Marie Tracey Woodward. Only 100 signed and numbered copies were printed on handmade vellum paper, bound in calf leather and decorated with tooled gold. The National Philatelic Collection obtained this copy at auction in 1954. Another rare piece is George Ludlow Lee's Collection of Egyptian Royal Imperforates. Egypt's King Fuad and his son, King Farouk, were presented with specially printed imperforate copies of every Egyptian stamp issued from 1926 to 1952. Lee's writings provided philatelists with reliable information about these stamps for the first time.
"My hope for this exhibit is for people to consider the importance of this national treasure and reflect on what the material within it can teach us about world culture and the American experience," said Daniel Piazza, exhibit curator.
The National Postal Museum is devoted to presenting the colorful and engaging history of the nation's mail service and showcasing one of the largest and most comprehensive collections of stamps and philatelic material in the world. It is located at 2 Massachusetts Avenue N.E., Washington, D.C., across from Union Station. The museum is open daily from 10 a.m. to 5:30 p.m. (closed Dec. 25). For more information about the Smithsonian, please call (202) 633-1000. Visit the museum website at www.postalmuseum.si.edu.

# # #
SI-346-2010