National Postal Museum Launches "RFD: Marketing to a Rural Audience"
New Research Provides Additional Perspective on Early Marketing Efforts
May 15, 2012
News Release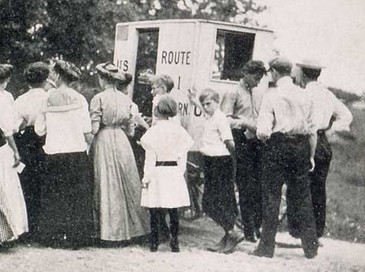 The Smithsonian's National Postal Museum has launched a new microsite, "RFD: Marketing to a Rural Audience" (www.npm.si.edu/rfdmarketing), telling the story of how an experimental mail service in the late 1800s created a new commercial market.
When Rural Free Delivery service became an official nationwide service in 1902, it provided rural Americans with regular and reliable contact with the world beyond their homes. The history of the service has been well researched and documented by historians. But there was another aspect to the story that, until now, has not received attention: the creation of a new market—not the giant market represented by a greater ability to reach new rural consumers—but a smaller, more specialized market in which businesses could establish connections with the new rural letter carriers themselves.
For some businesses, rural carriers signaled an opportunity to broaden the market for goods already in production. By regulation, these carriers were responsible for purchasing their own transportation and other goods to conduct their daily rounds. The rapid growth of the service meant thousands of new potential customers each year for wagons and buggies (followed later by motorcycles and automobiles), as well as for wagon heaters, cash boxes and a variety of other mail-processing or carrying tools. Other businesses recognized the potential of rural carriers to serve as the gateway into local communities since the carriers were part of the community and contacted each family on a regular basis.
Companies sought an entry into this new market through a variety of ways. In the end most of the young companies did not survive the rush to claim rural carriers' loyalties. But the first decades of the 20th-century's rural mail service bring historians a fascinating look at commercial opportunities and challenges.
"It's always exciting to see new research flourish, and in this instance, it shows us how so many different businesses looked to expand their market through the promise not of rural delivery itself, but through the growing number of workers who made those daily rounds," said Nancy Pope, museum historian and curator.
The National Postal Museum is devoted to presenting the colorful and engaging history of the nation's mail service and showcasing one of the largest and most comprehensive collections of stamps and philatelic material in the world. It is located at 2 Massachusetts Avenue N.E., Washington, D.C., across from Union Station. The museum is open daily from 10 a.m. to 5:30 p.m. (closed Dec. 25). For more information about the Smithsonian, call (202) 633-1000 or visit the museum website at www.postalmuseum.si.edu.
# # #
SI-231-2012