National Postal Museum To Enshrine Medal of Honor
William H. Gross Stamp Gallery Will Showcase Medal
August 6, 2013
News Release
Addthis Share Tools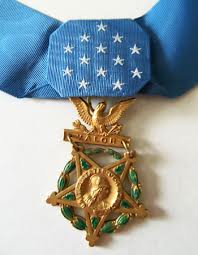 The Smithsonian's National Postal Museum will be accepting and enshrining a Medal of Honor into its collection as part of the Sept. 22 grand-opening ceremony of the William H. Gross Stamp Gallery. The medal will be installed into the museum's new National Stamp Salon.
Recognized for his heroic acts of bravery and valor in action during the Vietnam War, First Sgt. David McNerney (June 2, 1931- Oct. 10, 2010), an avid stamp collector, was awarded the Medal of Honor by President Lyndon B. Johnson Sept. 19, 1968.
At 11 a.m. Sept. 22, Gen. Ray Odierno, the 38th Chief of Staff of the U.S. Army, will present the Medal of Honor to Allen Kane, director of the National Postal Museum, on behalf of all who have served. Odierno and other dignitaries who knew of McNerney's contributions will make remarks at this historic occasion. Highlights from McNerney's stamp collection will also be displayed in the new gallery. The 3rd U.S. Infantry Regiment, traditionally known as "The Old Guard"—the oldest active-duty infantry unit in the Army, serving the nation since 1784—will present the National Colors and the Medal of Honor flag for the ceremony.
McNerney earned a Boy Scout stamp merit badge with a stamp collection composed primarily of American stamps. As an adult, he collected world-wide material, connecting him to the many places the military sent him for duty. In many ways, he felt he accompanied the service men and women in every battle in the American experience through his extensive stamp collection. In his retirement, he championed volunteering and service and shared his passion for his work and his hobby with all.
"It is said that David McNerney liked all the stamps he ever met," said Kane. "We will proudly display his Medal of Honor for all to see."
For more information about the grand opening of the William H. Gross Stamp Gallery, visit www.postalmuseum.si.edu/StampGallery/sunday.
The National Postal Museum is devoted to presenting the colorful and engaging history of the nation's mail service and showcasing one of the largest and most comprehensive collections of stamps and philatelic material in the world. It is located at 2 Massachusetts Avenue N.E., Washington, D.C., across from Union Station. The museum is open daily from 10 a.m. to 5:30 p.m. (closed Dec. 25). For more information about the Smithsonian, call (202) 633-1000 or visit the museum website at www.postalmuseum.si.edu.
# # #
SI-316-2013