National Portrait Gallery's "Portraits After 5" Recognizes Asian Pacific American Heritage Month
Features KYOPO: Multiplicity and "Asian American Portraits of Encounter"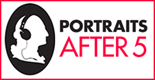 The Smithsonian's National Portrait Gallery presents another installation of "Portraits After 5" with a free after-hours celebration, KYOPO: Multiplicity, connected with its exhibition, "Portraiture Now: Asian American Portraits of Encounter" Friday, May 18, 8 p.m.–11 p.m.
The event, taking place in the museum courtyard, will incorporate composed music performed by an eight-piece orchestra and Korean artist CYJO's art to explore different facets of cross-cultural identity. Three projection screens will be used to display slideshow projections of 240 people profiled and moving words from the "KYOPO project," which will be manipulated by a dancer using Wii technology. These projections will be choreographed to the music in select movements. Together they will demonstrate the collective and individual experience of KYOPO (a term used to distinguish Koreans who live outside of Korea).
Artists collaborating on the project are CYJO, who created the "KYOPO Project"—currently part of "Portraiture Now: Asian American Portraits of Encounter"; Benoit Granier, French composer; Anthony Paul De Ritis, American composer; and Dana Tai Soon Burgess, a Korean American choreographer. As an added connection, Burgess is featured in the "KYOPO Project."
This "Portraits After 5" is sponsored by the Korean Cultural Center at the Embassy of the Republic of Korea and the DC Commission on the Arts and Humanities. Collaborators include the National Endowment for the Arts; Northeastern University's College of Arts, Media and Design; Yale School of Music; Quince Imaging; Smithsonian Asian Pacific American Program; and the Cherry Blossom Giving Circle.
The National Portrait Gallery is located at Eighth and F streets N.W., Washington, D.C. Website: npg.si.edu. Smithsonian Information: (202) 633-1000.
# # #
SI-212-2012