National Portrait Gallery Expands the Boundaries of Portraiture Through Performance Art Series: "IDENTIFY"
First-ever Performance Art Series in the Museum
October 2, 2015
News Release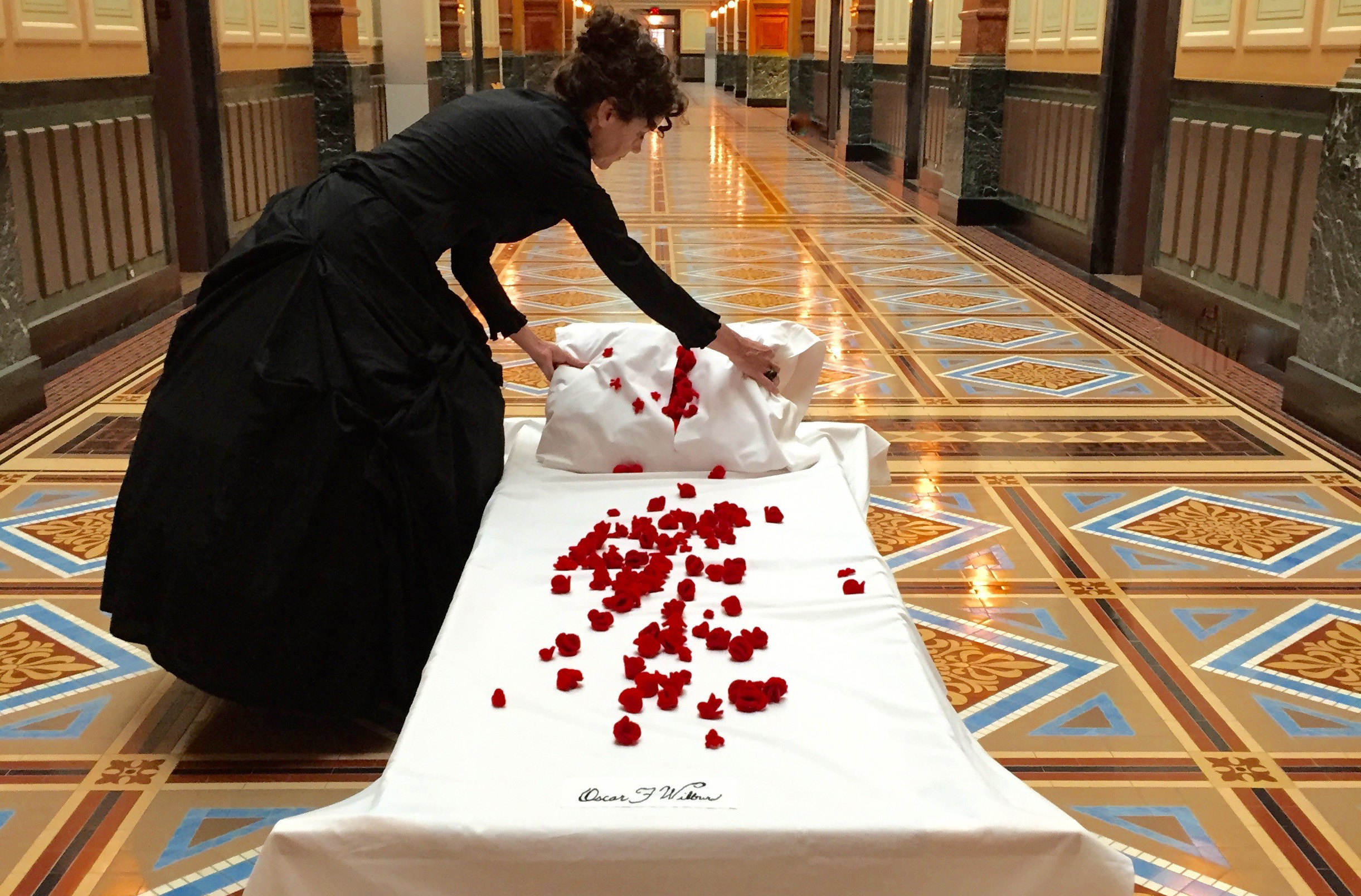 The Smithsonian's National Portrait Gallery is pulling back the curtain of time to acknowledge those who are missing from its historical collections through "IDENTIFY," the museum's first-ever performance art series, beginning Saturday, Oct. 10.
In the 18th and 19th centuries, wealth, class, race and gender determined who could have a portrait made. For the inaugural "IDENTIFY" series, each artist critiques this aspect of American portraiture and institutional history by making visible a body or bodies that historically have been forgotten, marginalized or oppressed.
This series expands definitions of portraiture through positioning performance and portraiture in the same space. The first two presentations, in October, will feature Wilmer Wilson IV and Martha McDonald.
"The processes of portraiture have always been performative," said Wilson, who is performing Oct. 10. "This combination of the two will reveal how specific subjects navigate those processes surrounding the moment of the portrait."
McDonald, who will perform Oct. 17, said that "portraiture is often used to memorialize a public figure and convey aspects of the sitter's character or personality. My performances in historic house museums and gardens explore how these public places connect with private histories and emotional states."
Performances
All of the programs will take place in the museum's Great Hall.
Portrait with Hydrogen Peroxide Strips by Wilmer Wilson IV: Saturday, Oct. 10; 4 p.m.
Wilson (b. 1989, Richmond, Va.) is recognized internationally for his interdisciplinary investigations of the absurdity of cultural meaning, as it impacts the human body. His work includes performances in which he creates a second skin over his body using everyday objects.
Hospital Hymn: Elegy for Lost Soldiers by Martha McDonald: Saturday, Oct. 17; 1 p.m.
McDonald (b. 1954, Pittsburgh) is known for her work featuring handcrafted costumes and objects that are activated by the acts of singing, making and ultimately undoing her handwork.
Ishi: The Archival Performance by James Luna: Saturday, Jan. 16; 4 p.m.
Luna (b. 1950, Orange County, Calif.), the last member of the Yahi, who were Native Americans indigenous to Northern California. A ground-breaking performance artist and multimedia artist, Luna is known for his installations and performance art that focuses on ethnic identity. Luna performs with Sheila Tishla Skinner, paying tribute to the man known during his lifetime as "the last wild Indian." 
"IDENTIFY" is curated by Dorothy Moss, associate curator of painting and sculpture, and the series is made possible through the support provided by an anonymous donor, the Philip and Elizabeth Ryan Fund, the Director's Visionary Fund and other individual contributors.
National Portrait Gallery
The Smithsonian's National Portrait Gallery tells the multifaceted story of America through the individuals who have shaped its culture. Through the visual arts, performing arts and new media, the Portrait Gallery portrays poets and presidents, visionaries and villains, actors and activists whose lives tell the American story.
The National Portrait Gallery is part of the Donald W. Reynolds Center for American Art and Portraiture at Eighth and F streets N.W., Washington, D.C. Smithsonian Information: (202) 633-1000. Website: npg.si.edu. Connect with the museum at @NPG, Facebook, YouTube, Instagram and Tumblr.
# # #
SI-438-2015