National Portrait Gallery and the Contemporary Jewish Museum Present "Seeing Gertrude Stein: Five Stories"
When this you see remember me. – Gertrude Stein
September 21, 2011
News Release
Addthis Share Tools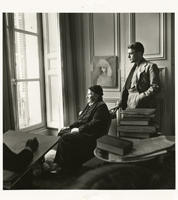 Media Advisory Oct. 11, 2011: Tour with curator of "Seeing Gertrude Stein: Five Stories"
---
Gertrude Stein (1874–1946) is famous as a modern writer and the creator of such memorable phrases as "rose is a rose is a rose is a rose." But Stein's reach went far beyond literature to include collaborations in book making, operas and ballet. As an American expatriate in Paris, she was an influential style-maker, art collector and networker. This fall, the Smithsonian's National Portrait Gallery presents the major exhibition "Seeing Gertrude Stein: Five Stories" from Oct. 14 through Jan. 22, 2012.
This exhibition is an art-filled exploration of Stein's multiple identities as a literary pioneer, transatlantic modernist, American celebrity, art collector and muse to artists of several generations. The exhibition also features Alice B. Toklas (1877–1967), Stein's lifelong partner, and explores the aesthetics of dress, home decor, entertainment and food that the two women created together.
"This groundbreaking exhibition about Gertrude Stein tells five compelling stories about a person who was immensely influential in all aspects of American concepts of modernism, art and culture," said Martin E. Sullivan, director of the National Portrait Gallery. "Stein's friendships with the leading artists of her day, their creation of portraits inspired by her, her partnership with Alice B. Toklas, her renown and her legacy are all highlighted in this account."
"Seeing Gertrude Stein: Five Stories" is almost as multidisciplinary as Stein and is built upon exciting new scholarship by lead guest curator Wanda M. Corn, the Robert and Ruth Halperin Professor of Art History Emerita at Stanford University, and associate guest curator Tirza True Latimer, chair of visual and critical studies at the California College of the Arts. The show has been jointly organized with the Contemporary Jewish Museum in San Francisco, where it was most recently on view.
Born in Allegheny, Pa., in 1874 and raised in Oakland, Calif., in an upper middle-class Jewish family, Stein left America for France in 1903 at the age of 27. Like James McNeill Whistler and Henry James, her American predecessors, Stein became an expatriate, living in France until her death in 1946. For almost all of that time, from 1910 onwards, Stein lived in partnership with Toklas. Toklas had previously been a San Francisco resident who went to visit Paris in 1907 and never resided again in the U.S.
Stein was a cultural networker, bringing creative people and friends such as Pablo Picasso, Henri Matisse and Earnest Hemingway together at legendary salons held in her homes. Her originality as a thinker, along with her interdisciplinary approach to projects in dance, music and theater, continue to inspire artists today. As an inventor of modernist literature, she wrote novels, poems, journal essays, literary and art theory, opera libretti, plays, memoirs and word portraits.
"Seeing Gertrude Stein: Five Stories" features more than 100 artifacts and artworks by artists from across Europe and the United States. It includes paintings, sculpture, photography, drawings and artist's gifts to Stein, as well as items from Stein's custom-designed wardrobe, books, periodicals and personal belongings. Digital monitors and interactive kiosks will render a fuller picture of Stein's personae. One kiosk will contain headline stories and journalistic photographs of Stein's lecture tour across America, and another will present footage from her operas and ballet. One gallery will feature Stein's voice as she reads from her work.
This wealth of archival and artistic material illuminates Stein through five distinct stories that offer multiple ways of looking at or "seeing" Stein. Notably, these five stories do not repeat what is well known—Stein's years as a salonnière and collector of the works of Picasso and Matisse in the years before World War I—but instead focus on Stein from 1915-46 when she became recognized as a major writer, collected the works of the Neo-Romantics and formed a new international circle of young friends that she called her "second family."
Story One: Picturing Gertrude
Images of Stein changed considerably over the decades, from her Gibson Girl "New Woman" look during her student days, to her reinvention as a Bohemian priestess in Paris at the turn of the century, to her matronly look after World War I and her masculine dress in waistcoats after she cut her hair in 1926. Stein actively constructed her image and worked with artists as a co-author of her portraits. She became one of the most painted, sculpted and photographed women of the 20th century. This first story presents portraits of Stein from her childhood to maturity and includes works by Cecil Beaton, Jo Davidson, Jacques Lipchitz, Man Ray, Felix Vallotton, Carl Van Vechten and others.
Story Two: Domestic Stein
This section explores the life Stein and Toklas created around distinctive styles of dress, home decor, food and entertaining. "Seeing Gertrude Stein" is the first exhibition to give Toklas a major place in Stein's life, demonstrating that there was no Gertrude without Alice and no Alice without Gertrude.
Story Three: Art of Friendship
The wide circle of visual artists Stein and Toklas befriended included not just famous figures, such as Matisse and Picasso, but also, after World War I, a less well-known international set of younger male artists, writers and composers—most of them gay—who adopted Stein as a figurehead, mentor, mother, patron and model. While achieving her own fame, Stein also championed others, such as Carl Van Vechten, Pavel Tchelitchew, Francis Picabia, Cecil Beaton and Francis Rose, who made their own contributions to transatlantic modern culture.
Story Four: Celebrity Stein
The fourth story focuses on one of the most important aspects of Stein's career—her six-month cross-country trip in the U.S., followed by her life and activities during the two world wars. In 1934-35, Stein, who had never returned to the States after setting up housekeeping in Paris, travelled throughout the U.S. on a wildly successful lecture tour. She arrived with the reputation as an eccentric, avant-garde writer and left as a beloved media celebrity. She finished that year more famous in the States than she had ever been in France. During World War I, she and Toklas were active patriots, distributing Red Cross supplies throughout France. In World War II, their decision to stay in Nazi-occupied France and suppress their Jewish identities has recently attracted considerable scholarly investigation. The two Americans were protected by a French scholar and friend high up in the Vichy government allowing them to escape notice and persecution.
Story Five: Legacies
The fifth story probes the deep influence Stein has had on American artists after her death and includes works by Andy Warhol, Robert Indiana, Red Grooms, Glenn Ligon, Deborah Kass and other contemporary artists. A 405-page, fully illustrated scholarly book accompanies the exhibition and is available for $45.00. It was written by Corn and Latimer and published by the University of California Press.
"Seeing Gertrude Stein: Five Stories" has been jointly organized by the National Portrait Gallery and the Contemporary Jewish Museum. Major support for the exhibition, publication and related programs has been received through a grant from the Terra Foundation for American Art. Additional support for the exhibition's national tour has been provided by E*Trade.
Support for the exhibition at the National Portrait Gallery has been provided by the Abraham & Virginia Weiss Charitable Trust, Amy and Marc Meadows; Ella Foshay; Vicki and Roger Sant; and the Gertrude Stein Salon Circle.
Support for the exhibition at the Contemporary Jewish Museum has been provided by the Koret Foundation, Taube Foundation for Jewish Life and Culture, an anonymous donor, Osterweis Capital Management, Jim Joseph Foundation, the Leavitt family, Michael and Sue Steinberg, Randee and Joe Seiger, Joyce Linker, Seisel Maibach and Dorothy R. Saxe. Support for the publication has been provided by Fred Levin and Nancy Livingston and The Shenson Foundation, in memory of Ben and A. Jess Shenson.
Permission has been granted by Stanford G. Gann Jr., literary executor of the estate of Gertrude Stein, for quoting Stein's words and works. Proof restaurant, located at 775 G Street N.W., will present a four-course meal inspired by Toklas Oct. 14 through Nov. 3.
Contemporary Jewish Museum
With the opening of its new building June 8, 2008, the Contemporary Jewish Museum ushered in a new chapter in its 20-plus year history of engaging audiences and artists in exploring contemporary perspectives on Jewish culture, history, art and ideas. The new facility, designed by internationally renowned architect Daniel Libeskind, is a lively center where people of all ages and backgrounds can gather to experience art, share diverse perspectives and engage in hands-on activities. Inspired by the Hebrew phrase "L'Chaim" (to life), the building is a physical embodiment of the CJM's mission to bring together tradition and innovation in an exploration of the Jewish experience in the 21st century. The Koret and Taube foundations are the lead supporters of the 2010/2011 exhibition season.
The National Portrait Gallery
The Smithsonian's National Portrait Gallery tells the history of America through the individuals who have shaped its culture. Through the visual arts, performing arts and new media, the Portrait Gallery portrays poets and presidents, visionaries and villains, actors and activists whose lives tell the American story.
The National Portrait Gallery is part of the Donald W. Reynolds Center for American Art and Portraiture at Eighth and F streets N.W., Washington, D.C. Smithsonian information: (202) 633-1000; (202) 633-5285 (TTY). Website: npg.si.edu.
# # #
SI-412-2011