National Museum of the American Indian Hosts Symposium on Inka Engineering
Panelists To Explore How Civil Engineers Can Apply Ancient Engineering Concepts
November 7, 2013
News Release
Addthis Share Tools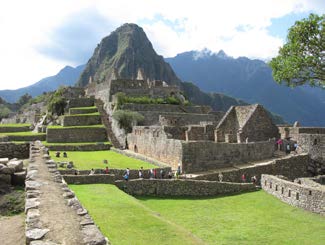 The Smithsonian's National Museum of the American Indian presents "Engineering the Inka Empire: A Symposium on Sustainability and Ancient Technologies," a day of panel discussions Thursday, Nov. 14, from 10 a.m. to 5 p.m. in the museum's Rasmuson Theater.  
 One of civilization's most impressive engineering achievements, the Inka Road (or Qhapaq Ñan) traversed the Inka Empire, which encompassed large territories of present-day Peru, Bolivia, Ecuador, Colombia, Argentina and Chile. The symposium explores new theories and discoveries about the construction of the Inka Road and how these ancient techniques can be applied by modern engineers and city planners. Presentations by noted international engineers and scholars illuminate the planning, building and sustainability of the magnificent Inka roads that 500 years ago integrated the mountainous world of the Andes.
Presenters include Crayla Alfaro (City of Cusco Architect), Alejandro Beltrán (Universitat Rovira i Virgili), Christine Fiori (Virginia Tech), Ricardo Mar (Universitat Rovira i Virgili), John Ochsendorf (MIT), Clifford Schexnayder (Arizona State University), Gary Urton (Harvard University), Erika Vicente (Pontificia Universidad Católica del Peru) and Kenneth and Ruth Wright (Wright Water Engineers Inc.). The program is presented in partnership with the Smithsonian Latino Center. Wayne Clough, Secretary of the Smithsonian, will deliver opening remarks.
Co-sponsored by the National Museum of the American Indian and the Smithsonian Latino Center, this symposium was supported by the Smithsonian's Consortium for Valuing World Cultures. It will be webcast live here. A full program and biographies of the symposium's speakers are available here.
# # #
SI-452-2013