National Museum of the American Indian Debunks Mayan Doomsday with Bak'tun 13 Festival
Free Weekend Celebration Offers Guatemalan Culture, Food, History and Dance
December 10, 2012
News Release
Addthis Share Tools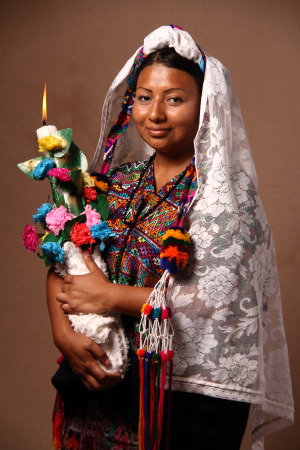 The Smithsonian's National Museum of the American Indian presents "Bak'tun 13: A Guatemalan Celebration of Time," a three-day festival celebrating Guatemalan history and culture as well as the legacy of the Mayan people. The festival will take place Friday, Dec. 14, through Sunday, Dec. 16, and will include dance performances, lectures, hands-on workshops for families and a special Guatemalan-themed menu in the museum's award-winning Mitsitam Cafe.
Dec. 21 signals the much-anticipated passing of the 13 B'ak'tun, a cycle in the timekeeping system of the ancient Maya, who developed ceremonial and agricultural calendars (Tzolk'in, Haab and Long Count) using a deep understanding of the sun's movements and the cycle of corn. Together with scholars, performers and Mayan culture-bearers, the museum offers a Native perspective on this milestone to dispel doomsday myths.
All lectures will be webcast live at www.nmai.si.edu/webcasts. Visitors are encouraged to tweet their questions to @SmithsonianNMAI using the hashtag #MayaCalendar.
At 2 p.m. Saturday, Dec. 15, in the museum's Rasmuson Theater, Victor Montejo, a Jakaltek Maya originally from Guatemala and chair of the Native American Studies Department at the University of California, Davis, will present "Maya from the Inside: The 13 B'ak'tun as Challenge to the Western Mind," which explores the meaning of millennial Maya culture.
On Saturday and Sunday at 11:30 a.m. in the museum's Rasmuson Theater, Roderico Teni, a Maya-Qeqchi culture-bearer, and José Barreiro, the museum's director of the Office of Latin America, will hold a conversation, "The Ways of the Days: Maya Calendar Tradition and the Way of Life," which debunks common misconceptions about the Mayan people.
From 10 a.m. to 12 p.m. and 1 p.m. to 5:30 p.m. Saturday and Sunday, Juanita Velasco (Ixil Maya) will demonstrate traditional Mayan weaving on a backstrap loom.
At 12 p.m. Saturday and Sunday, visitors can enjoy a fashion show of Mayan textiles from the 1930s to the present. Sunday's show will be live webcast.
Ubaldo Sanchez (Maya-Mam) creates a sawdust carpet based on the imagery of the traditional Maya calendar and the glyph (symbolic figure) for Bak'tun 13 from 10 a.m. to 12 p.m. and 1 p.m. to 5:30 p.m. throughout the weekend. At 11 a.m. and 2 p.m. Saturday and Sunday, visitors are invited to join Sanchez in the museum's imagiNATIONS Activity Center to make their own artwork using sand.
At 1 p.m. and 3 p.m. Saturday and Sunday, Marimba Pequeña Internacional will demonstrate Marimba playing in the museum's Potomac Atrium, followed by traditional dances from Concepcion Chiquirichapa of Guatemala, based on the cylindrical calendar cycle, at 1:30 p.m. and 3:30 p.m. Sunday's performances will also be live webcast.
The festival will also feature a photographic essay by Juan Carlos Lemus of the Mayan women of Guatemala wearing traditional regalia, as well as a discussion Friday, Dec. 14, at 2:30 p.m. with photographer Ricky López about his book, 13 Bak'tun, which explores Mayan culture.
The Mitsitam Cafe will offer a special menu of traditional Guatemalan cuisine, including pork tamales, white bean stew, escabeche salada and nuegadas con miel (yucca dough with caramel) for dessert.
For more information, click here.
# # #
SI-539-2012