National Museum of the American Indian Awarded Prestigious LEED Green Building Certification
October 11, 2011
News Release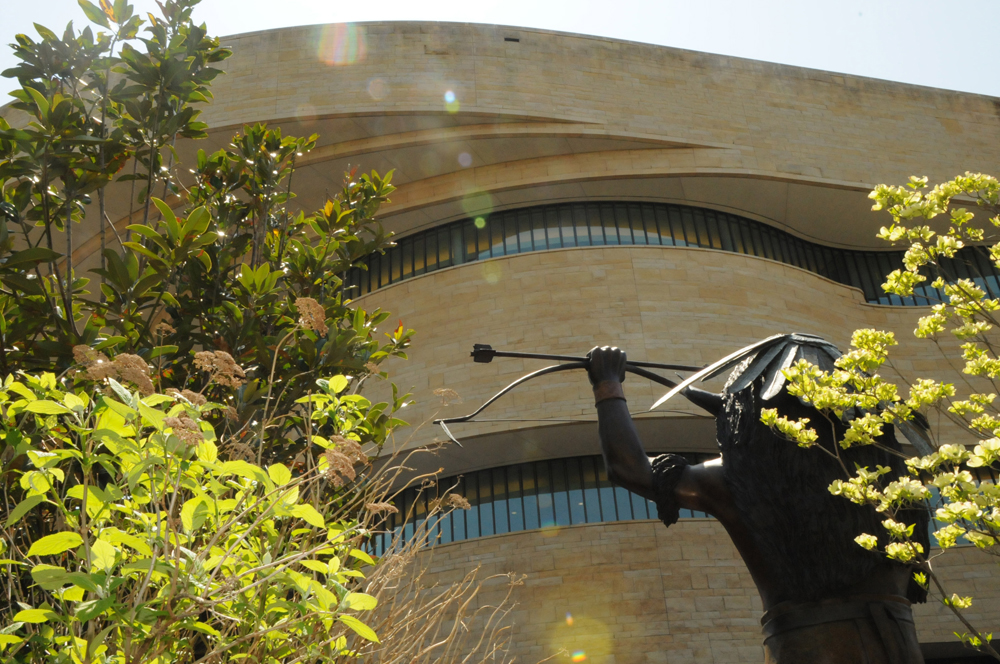 Note: This news was originally posted Oct. 6, 2011.
The Smithsonian's National Museum of the American Indian announced that it has been awarded a LEED Silver rating established by the U.S. Green Building Council and verified by the Green Building Certification Institute. LEED, Leadership in Energy and Environmental Design, is the nation's preeminent program for the design, construction and operation of high-performance green buildings.
"This achievement not only signifies the Smithsonian Institution's commitment to sustainability, it also advances our museum's mission to share traditional indigenous values such as stewardship and conservation," said Kevin Gover (Pawnee), director of the museum.
The National Museum of the American Indian achieved LEED certification for energy savings, water efficiency, indoor environmental air quality and sustainable sites. Unique on the National Mall, the museum has nearly 150 species of plants representing four landscapes indigenous to the region: an upland hardwood forest, lowland freshwater wetlands, eastern meadowlands and traditional croplands. In addition, the museum's contributions to, and support for, environmental research—as well as public programs like the annual Living Earth Festival, the Indigenous Farmer's Program and the newly launched environmental website for educators, American Indian Responses to Environmental Challenges—reflect traditional knowledge that has been developed over millennia by Native Americans with the living earth.
By using less energy and water, LEED-certified buildings save money, reduce greenhouse emissions and contribute to a healthier environment for area residents. "The National Museum of the American Indian's LEED certification demonstrates tremendous green-building leadership," said Rick Fedrizzi, president, CEO and founding chair of the U.S. Green Building Council. "The urgency of USGBC's mission has challenged the industry to move faster and reach further than ever before, and the museum serves as a prime example of just how much we can accomplish."
LEED certification of the National Museum of the American Indian was based on the number of green design and construction features that positively impact the building and its immediate environs and the broader community. These features include:
High standards achieved for exterior and interior building management
Extensive use of native vegetation within the museum's landscape
Indoor environmental air quality
Water-efficient and sustainable landscape
Onsite and offsite use of renewable energy
Recycling and waste management
The museum is the first Smithsonian museum building to achieve LEED certification.
For more information, visit www.usgbc.org.
# # #
SI-434-2011