National Museum of American History Reveals Celia Cruz Portrait
Special Collaboration with Photographer Robert Weingarten
October 3, 2012
News Release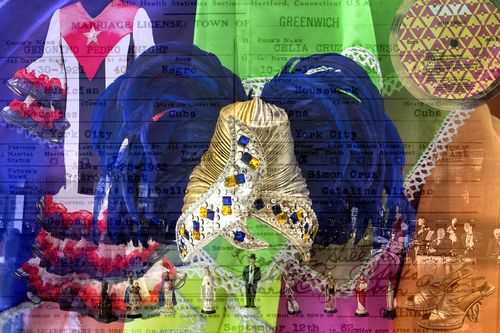 The Smithsonian's National Museum of American History collaborated with photographer Robert Weingarten to create an object-based portrait of Celia Cruz featuring artifacts in the museum. The portrait was unveiled Oct. 3.
In May and June 2012, the public selected Cruz through an online vote after five historical figures, well represented by the museum's collection, were presented on the museum's blog. As Cruz is no longer living to create her own list of what she would include her own self-portrait, the public answered the question, "What makes Celia Cruz significant?" Weingarten's artwork combines multiple images of artifacts, documents and landscapes. Because it does not include the subject's face, the portrait becomes about the life and not the physical body of his subjects.
Cruz was born in 1925 in Havana. By the 1950s, Havana's music scene was world famous. As a rare female member of a band, she was a musical chameleon, able to master many different genres of Afro-Caribbean songs. Over the course of a career that spanned six decades and took her from humble beginnings in Cuba to a world-renowned artist, Cruz became the undisputed "Queen of Latin Music." Combining a piercing and powerful voice with a larger-than-life personality and stage costumes, she was one of the few women to succeed in the male-dominated world of Salsa music. She established her battle cry ¡Azúcar!, which literally means sugar, an essential agricultural product in Cuba's history, directly linking both to the vibrant diversity of Cuban culture and to the slavery. Upon her death July 16, 2003, she was celebrated around the world as the "Queen of Latin Music" and the "Queen of Salsa."
The National Museum of American History collects, preserves and displays American heritage in the areas of social, political, cultural, scientific and military history. To learn more about the museum, visit http://americanhistory.si.edu. For Smithsonian information, the public may call (202) 633-1000.
# # #
SI-440-2012