National Museum of American History Debuts First e-Book Centered on Abraham Lincoln
April 30, 2015
News Release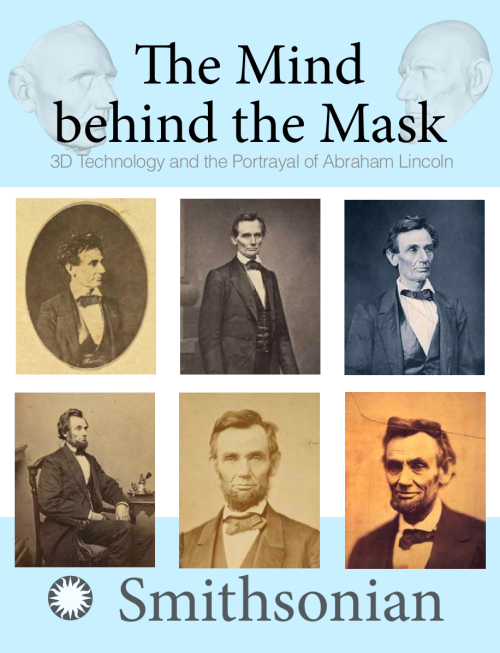 As part of its marking of the 150th anniversary of the Civil War and the assassination of the nation's 16th president, the Smithsonian's National Museum of American History will debut its first e-book for students. "The Mind behind the Mask: 3-D Technology and the Portrayal of Abraham Lincoln" invites students to immerse themselves in an investigation of Abraham Lincoln, how he has been portrayed and what the availability of 3-D data can bring to the study of history. It will be available April 30 in the iTunes store and on the Smithsonian X 3D website. 
Inspired by the Smithsonian's 3-D digitization of the 1860 and 1865 Lincoln life masks held at the Smithsonian's National Portrait Gallery, the National Museum of American History collaborated with the Portrait Gallery and ARTLAB+ at the Smithsonian's Hirshhorn Museum and Sculpture Garden to develop the first education resource that features Smithsonian X 3D. 
"Teachers from multiple disciplines are interested in the potential of using 3-D data in their classrooms," said Matt Hoffman, National Museum of American History educator and one of the authors of the e-book. "The e-book was designed to provide a platform for teachers to collaborate and engage students in an interdisciplinary learning experience."
The e-book challenges students in grades eight to 12 to deepen their understanding of Lincoln with interactive primary sources. Using this knowledge and video-based technology instruction, students grapple with the e-book's compelling question: How should Abraham Lincoln be portrayed? The book also allows readers to create their own portrayals using 3-D technology.
The e-book was funded through the Smithsonian's Youth Access Grants program and by the Verizon Foundation.
The museum has declared 2015 the Year of Innovation, during which it will inspire the next generation of inventors, innovators and entrepreneurs through hands-on exhibitions, programs and performances focused on American innovation.
Through incomparable collections, rigorous research and dynamic public outreach, the National Museum of American History explores the infinite richness and complexity of American history. It helps people understand the past in order to make sense of the present and shape a more humane future. The museum is currently renovating its west exhibition wing and the first floor will open July 1 with a focus on innovation, business and creativity. For more information, visit http://americanhistory.si.edu. The museum is located at 14th Street and Constitution Avenue N.W., and is open daily from 10 a.m. to 5:30 p.m. (closed Dec. 25). Admission is free. For Smithsonian information, the public may call (202) 633-1000.
# # #
SI-129-2015