National Museum of African Art Will Hold Its Second Annual African Art Awards Dinner Oct. 27
Alice Walton Joins Ghada Amer and Mary Sibande as Honorees
October 4, 2017
News Release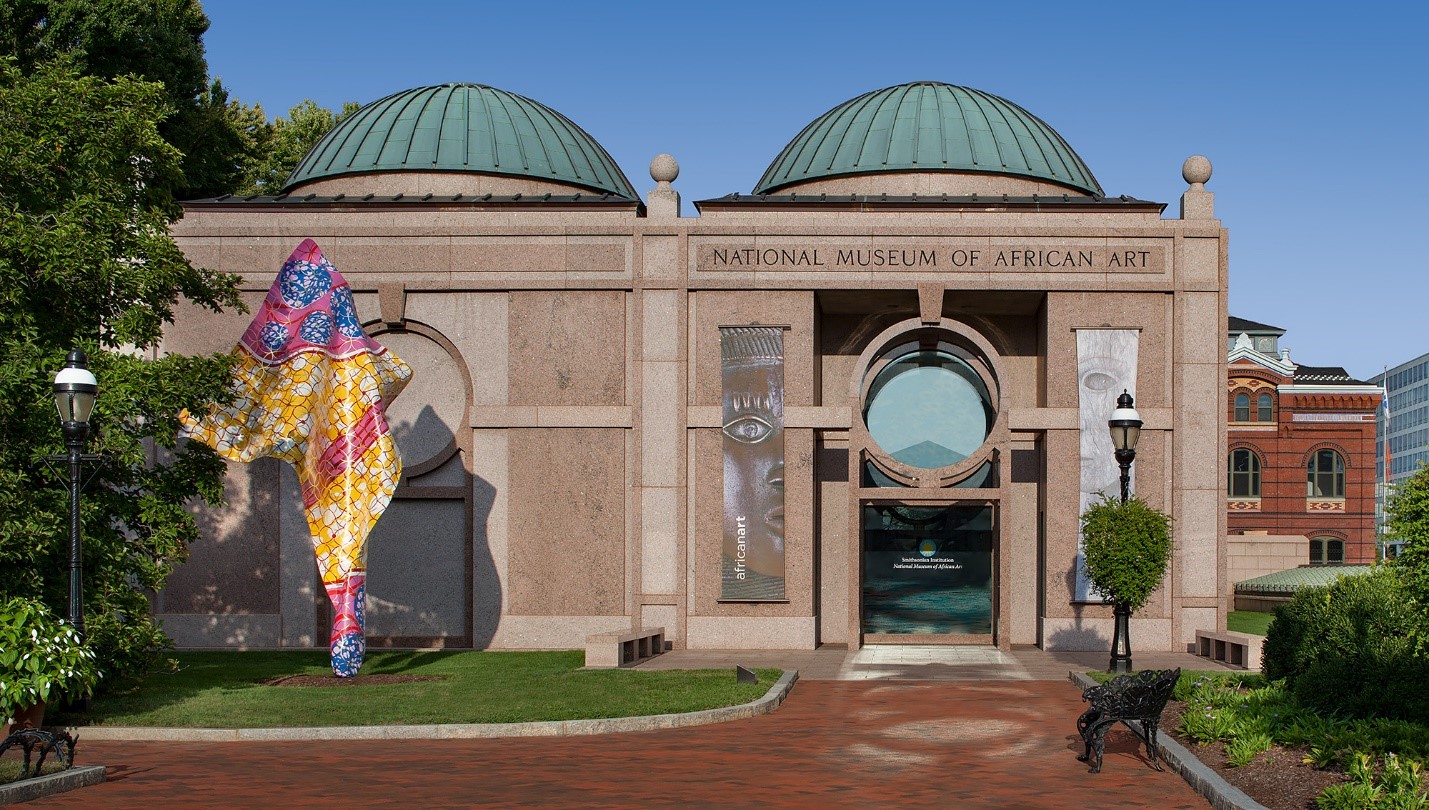 This is an updated version of a release originally published June 12, 2017
The Smithsonian's National Museum of African Art will hold its second annual African Art Awards Dinner Friday, Oct. 27, at 6:30 p.m. The dinner will take place in the Smithsonian's iconic Arts and Industries Building on the National Mall in Washington, D.C. Tickets are available on the museum's website or by phone at (202) 633-3773.
"Honor, Inspire and Include" is the theme of this year's dinner.  The dynamic celebration of art, culture and philanthropy will feature artists, speakers and honorees as part of the museum's larger women's initiative—a commitment begun in 2012 and launched as a sustained initiative in 2017 to emphasize the creative voices of African women artists through the National Museum of African Art's collections, research, publications and exhibitions. The 2017 artist honorees are internationally renowned artists Ghada Amer and Mary Sibande and philanthropist Alice Walton.
 "We are delighted to recognize the outstanding achievements of Alice Walton, Ghada Amer and Mary Sibande, three remarkable women whose compelling contributions to philanthropy and art recognize the potency of women to confront globally relevant issues of gender, identity, inequality, access, privilege and power. Engaging our visitors in understanding the aesthetic achievements of historic and contemporary African artists is at the heart of our museum's mission," said Christine Mullen Kreamer, acting director of the museum.
Guests will enjoy cocktails, a seated dinner designed by guest chef Carla Hall and presentations of the African Art awards. The African Art Awards Dinner is the premier annual fundraising event to support the museum's mission.
The 2017 Awardees
Walton is a committed patron of the arts and philanthropist. She led the Walton Family Foundation's founding of Crystal Bridges Museum of American Art and serves as chairwoman of the museum's board of directors. She is a board member of the Walton Family Foundation.
She is a recipient of the Smithsonian Archives of American Art Medal, the American Federation of Arts Cultural Leadership Award, the John Cotton Dana Medal for Visionary Leadership in Museums and the Leonore and Walter Annenberg Award for Diplomacy through the Arts for her significant philanthropic contributions. She was recognized by Time magazine as one of the most influential people in the world.
Walton has remained committed to improving the quality of life in her home state. She was the first chairperson and driving force behind the Northwest Arkansas Council. This organization played a major role in securing the development of the Northwest Arkansas Regional Airport, improving transportation infrastructure throughout the region. She also established Camp War Eagle, which offers Northwest Arkansas children of differing socioeconomic backgrounds an exceptional summer camp experience.
Walton began her career in finance and later founded Llama Company, an investment bank. She has served as a member of the board of the Amon Carter Museum in Fort Worth, Texas, and the Trustees' Council of the National Gallery of Art in Washington, D.C.
 Sibande was born in Barberton, South Africa, in 1982. She obtained her Diploma in Fine Arts at the Witwatersrand Technikon in 2004 and a B-Tech degree from the University of Johannesburg in 2007. Sibande, whose mother and grandmother were domestic laborers, was one of the first in her family to achieve such a high level of education. She drew on this history to inspire her artistic practice, particularly through her recurring character and alter ego, Sophie. In many of Sibande's sculptural and photographic works, Sophie wears an instantly recognizable maid's uniform to which Sibande adds glamorous references to Victorian costumes. The resulting dresses consciously upend the master/servant dichotomy, transforming laborers into super "she-roes," conquerors and belles of the ball. Sibande's work critiques stereotypical depictions of women and privileged ideals of femininity, particularly those surrounding black and African women. Her practice powerfully examines identity construction and power dynamics within a post-colonial, post-apartheid South African context.
Sibande was a Smithsonian Artist Research Fellow in 2011 at National Museum of African Art, where her work is also held in the permanent collection. Her work is in public collections in South Africa and around the world, including the Toledo Museum of Art in Ohio and the University of Kansas's Spencer Museum of Art. It has also been featured in venues that include the 54th Venice Biennale and 2011's Paris Photo. She lives and works in Johannesburg.
Amer was born in Cairo in 1963. She relocated with her parents to France in 1974 and began her artistic training in 1984 at the Villa Arson in Nice, France.
Amer gained prominence with her large-scale embroidered sculptural installations and canvases that, through their delicate depictions of explicit subjects, defy and transcend objectification of the female body. She has since explored mediums as diverse as painting, sculpture, ceramics and public garden projects (including a site-specific work of land art for the National Museum of African Art's "Earth Matters" exhibition in 2013). Her work was also featured in the museum's 2005 exhibition "TEXTures: Word and Symbol in Contemporary African Art" and the museum's 2007 exhibition and publication "Inscribing Meaning: Writing and Graphic Systems in African Art."
Amer was a Smithsonian Artist Research Fellow in 2007, the first year of the program, at the National Museum of African Art. Her work is held in public collections around the world, and it has been shown in numerous solo and group exhibitions at venues including the Johannesburg Biennale in 1997, the 48th Venice Biennale (where she was awarded the UNESCO prize) and, in 2000, New York's Whitney Biennial and South Korea's Gwangju Biennale. In 2008, a retrospective of her work was exhibited at the Brooklyn Museum of Art in their Elizabeth A. Sackler Center for Feminist Art. She currently lives and works between New York and Paris.
About the National Museum of African Art
The National Museum of African Art is the only museum in the United States dedicated to the collection, conservation, study and exhibition of Africa's arts across time period, geography and medium. Founded as a small museum on Capitol Hill in 1964, it became part of the Smithsonian in 1979 and in 1987 moved to its current location on the National Mall. The museum has 35 staff members and its fiscal year 2017 budget is $7 million. The museum's collection of 12,000 artworks represents the diversity of the African continent and includes a variety of media—from jewelry to painting, photography, pottery, sculpture, textile and video and sound art—dating from ancient to present times. In 2007, the museum mounted the exhibition "African Vision: The Walt Disney-Tishman African Art Collection" to highlight one of the world's finest and most respected collections of African art, which was donated to the museum in 2005 by the Walt Disney Co. In 2010, the museum opened "African Mosaic: Selections from the Permanent Collection," which focuses on the individual stories found across the various media, genres and stories that form the permanent collection. In 2016, the museum installed "Wind Sculpture VII," a colorful and compelling outdoor sculpture commissioned from internationally renowned contemporary artist Yinka Shonibare MBE, to transform the museum's exterior. This November, the museum will open "Visionary: Viewpoints on Africa's Arts," which features over 300 works of art and offers broad thematic connections between works from across the spectrum of time, place and medium represented in the museum's holdings.
The museum is open daily from 10 a.m. to 5:30 p.m. (closed Dec. 25). Admission is free. The museum is located at 950 Independence Avenue S.W., near the Smithsonian Metrorail station on the Blue, Orange and Silver lines. For more information about this program, call (202) 633-4600 or visit the museum's website at africa.si.edu. For general Smithsonian information, call (202) 633-1000.# # #
SI-345A-2017