National Museum of African Art Presents "Market Symphony" by Emeka Ogboh
Ogboh Brings Nigerian "Open Air" Market to Museum in Unique Sound-Art Exhibition
December 21, 2015
News Release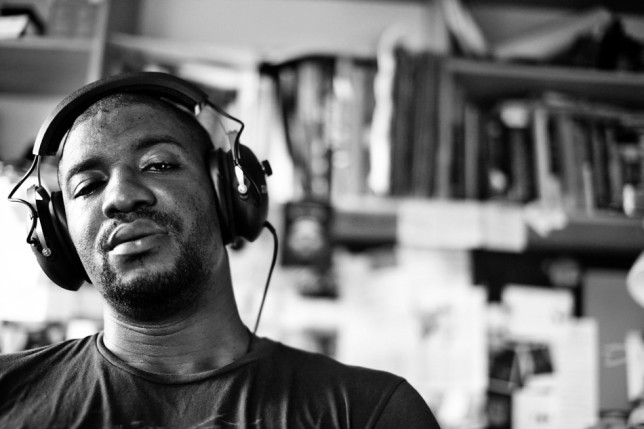 Emeka Ogboh's "Market Symphony" exhibition will be open at the Smithsonian's National Museum of African Art, Wednesday, Feb. 3, 2016, through Sept. 24, 2016. Commissioned by the museum, Ogboh's site-specific sound-artwork draws on the commercial cries and urban ambiance of Balogun—a sprawling open-air market in Lagos, Nigeria, Africa's largest and most populated city. The artist invites museum visitors to experience the distinctive sounds of this vibrant Nigerian metropolis and the traders who drive its daily economy. 
"'Market Symphony' will be the first work of sound art to be featured in the museum," said Karen E. Milbourne, curator at the Museum of African Art. "This multisensory work of art by an emerging global talent will transport visitors across the Atlantic and be accessible to the visually impaired and other audiences who have less opportunity to enjoy our museum."
In "Market Symphony," Ogboh records the distinctive sounds of Nigeria's sprawling, thriving metropolis Lagos in order to reconstruct the experience of its dynamic spaces and urban ambiance. Visitors will hear the voices of traders advertising their goods and calling out for potential customers, the sounds of bantering between buyers and sellers and the overall bustle of Lagos' major markets.
Speakers will be mounted on colorful enamelware trays commonly used for displaying goods at stalls in markets like Balogun. Laden with food and other goods, these trays are also popular with itinerant hawkers who weave through Lagos' busy streets while balancing their wares upon their heads. Whether concealed beneath merchandise or navigating crowded streets, the trays lend to the color, chaos and creativity characteristic of the symphony of rhythms at Balogun and other markets. Women and hawkers will call from all sides against the backdrop of horns, footsteps and city living to transport museum goers from the hush of a gallery to a commercial hive approximately 5,400 miles away.  
About the Artist
Ogboh is a pioneer of sound art on the African continent. His "soundscapes" have transposed the aural experience of Lagos to Addis Ababa, Ethiopia; Berlin; Dakar, Senegal; Helsinki; Houston; Seattle; Venice, Italy; and Washington, D.C.
Born in 1977, Ogboh studied graphic design at the prestigious University of Nigeria in Nsukka, receiving his bachelor's degree in fine arts in 2001. His 2008 participation in a class on the audible spectrum taught by the Austrian artist Harold Scherz at the Winter Academy in Fayoum, Egypt, launched his experiments with sound art. Internationally acclaimed for his work in sound and video, Ogboh's artworks have appeared in major international venues, including the Dak'Art Biennale and Mikromusik Festival in 2014 and the 56th Venice Biennale in 2015. His works can be found in private collections and exhibitions in Colombia, Croatia, Denmark, England, Finland, France, Germany, Greece, Italy, Luxembourg, Morocco, Nigeria, Pakistan, South Africa, Spain, Switzerland, Turkey and the United States. He has been selected from an internationally competitive pool to create a work of art for the Peace and Security Building of the African Union in Addis Ababa. Currently, he is an artist in residence at the DAAD (Deutscher Akademischer Austauschdienst) in Berlin.
Gallery Tour for "Market Symphony"
The artist will introduce his work to the public at 3:30 p.m. Wednesday, Feb. 3, followed by a conversation with the curator. On Sunday, Feb. 7, at 2 p.m. in the museum's Point of View gallery, exhibition curator Milbourne will lead a tour to explore Ogboh's work; both events are free and open to the public, but space is limited.
Support
Major sponsorship for "Market Symphony" is provided by Eminence Speakers.
About the National Museum of African Art                            
The National Museum of African Art is the nation's premier museum dedicated exclusively to the collection, conservation, study and exhibition of Africa's diverse arts. The museum is open daily from 10 a.m. to 5:30 p.m. (closed Dec. 25). Admission is free. The museum is located at 950 Independence Ave. S.W., near the Smithsonian Metrorail station on the Blue and Orange lines. For more information, call (202) 633-4600 or visit the National Museum of African Art's website. For general Smithsonian information, call (202) 633-1000.
Note to Editors: Photos from "Market Symphony" may be downloaded by visiting the museum's media website at africa.si.edu and clicking on "press room." To arrange an interview with the artist and curator, contact Eddie Burke at (202) 633-4660 or burkee@si.edu.
# # #
SI-575-2015