National Museum of African Art Presents Johnnetta Betsch Cole in Discussion with Celebrity Chef Marcus Samuelsson
Hirshhorn Museum Will Host the Event
July 19, 2012
News Release
Addthis Share Tools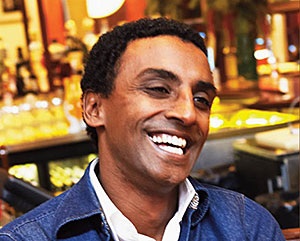 The Smithsonian's National Museum of African Art presents the second offering of its Director's Discussion Series. Johnnetta Betsch Cole, director of the museum, will have a bold, lively and thought-provoking discussion with Marcus Samuelsson, world-renowned chef and owner of the Red Rooster in Harlem. The discussion will be introduced by Michel Martin, host of National Public Radio's "Tell Me More." The event will be held Friday, July 27, at the Ring auditorium of the Smithsonian's Hirshhorn Museum and Sculpture Garden from 6:30 to 8 p.m. The event is free and open to the public.
Following the discussion, audience members will have the chance to pose questions to Cole and Samuelsson.
Samuelsson has made his mark in the competitive restaurant world. He is an internationally acclaimed chef, philanthropist and a New York Times best-selling author. Samuelsson is the youngest chef to achieve two three-star reviews from the New York Times and he has been honored by the James Beard Foundation on multiple occasions, including "Rising Star Chef" (1999), "Best Chef: New York City" (2003), "Best International Cookbook" (2007) and "Best Television Program" (for Chopped in 2012). The author of several award-winning cookbooks, Samuelsson released his best-selling memoir, Yes, Chef, in June.
In December 2010, Samuelsson opened Red Rooster Harlem restaurant, earning two stars from the New York Times. In March, he and his business partner, Andrew Chapman, opened Ginny's Supper Club in the space underneath Red Rooster Harlem. Samuelsson is also committed to charitable endeavors and won $115,000 for the UNICEF Tap Project when he beat out 21 fellow chefs on the second season of the television competition Top Chef Masters on Bravo. He also won $50,000 for the Careers through Culinary Arts Program when crowned Chopped: All Stars champion in May.
Other recent accolades Samuelsson has been given include planning and executing the Obama administration's first state dinner, hosting the President at his restaurant and being named on the "International Best Dressed List 2011" in Vanity Fair magazine.
Samuelsson will sign copies of his critically acclaimed new memoir, Yes, Chef following the discussion. Yes, Chef chronicles Samuelsson rapid ascent through the culinary world and offers a firsthand account of how his incredible and varied experiences in Sweden, Ethiopia and the United States have shaped his life and lead him to where he is today.
The Director's Discussion Series features leading public intellectuals, artists and other cultural producers in conversation with Cole. The museum's Director's Discussion Series started in 2011 with a discussion between Cole and renowned philosopher Kwame Anthony Appiah of Princeton University.
# # #
Note to editors: To request an interview with Cole or Samuelsson contact Eddie Burke at (202) 633-4660 or BurkeE@si.edu.
SI-337-2012