National Museum of African Art Launches Third Installment of "Africa Underground" after Previous Sell-Out Successes
September 14, 2011
News Release
Addthis Share Tools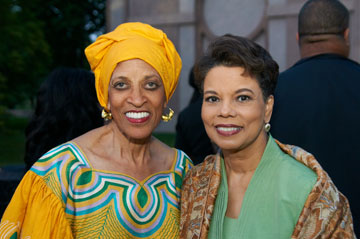 "Africa Underground" returns Friday, Sept. 30, with "No Boundaries," an evening of eclectic delights at the Smithsonian's National Museum of African Art from 7 to 11 p.m. Coming on the heels of a successful second installment of "Africa Underground" in May, this fall evening event also offers patrons the chance to enjoy refreshments, dance and the museum exhibitions, as well as performances from around the continent. Tickets are $25. Advance online purchase only. Entry includes one free drink with ticket purchase. Must be 21 to be admitted (IDs will be checked at the door).
The May "Africa Underground" event sold out in days. This installment will have several exciting new elements, including a fashion show by renowned designer Korto Momolu and music by DJ Underdog, who will spin African beats from each region of the continent from both the Smithsonian's Haupt Gardens and a designated perch in the thick of "Africa Underground." The evening will also feature Sahel, performing music from the Sahel region of Africa with Eme and Heteru playing music from Central Nigeria to compliment the museum's exhibition "Central Nigeria Unmasked."
"We look forward to our third 'Africa Underground,' an exciting way to celebrate the ties between Africa, the African diaspora and the world," said Johnnetta Betsch Cole, director of the museum. "It is particularly significant that our third 'Africa Underground' event focuses on the entire African continent—East, West, North, South and Central Africa. My hope is that guests will once again leave with a deeper sense of the diverse and dynamic visual arts of Africa."
Highlights
Fashion show by designer Korto Momolu
Afrobeat face painting by Lunchbox Theory
Opportunity to participate in an art-making workshop where guests will paint a mural featuring an Ndebele architectural design from South Africa
Visit the Souk and experience aromatic coffee and tea from the North region of Africa and taste delicious desserts
"Africa Underground" is held four times a year in the winter, spring, summer and fall. Each event is themed and features works of art, cuisine from the African diaspora from area restaurants, specialty cocktails, creative art activities, live performances and music entertainment from emerging DJs or music groups.
Support for "Africa Underground" is provided by Thompson, Cobb, Bazilio & Associates PC, hushhush.com, Toni Ritzenberg and Afren Plc and Jerusalem restaurant of Virginia.
The National Museum of African Art is America's only museum dedicated to the collection, conservation, study and exhibition of traditional and contemporary African art. The museum is open daily from 10 a.m. to 5:30 p.m., except Dec. 25. Admission is free. The museum is located at 950 Independence Avenue S.W., near the Smithsonian Metrorail station on the Blue and Orange lines. For more information, call (202) 633-4600 or visit the National Museum of African Art's website at africa.si.edu. For general Smithsonian information, call (202) 633-1000 or TTY (202) 633-5285.
Note to editors: To attend or to arrange an interview with a specific guest, contact Eddie Burke at (202) 633-4660 or BurkeE@si.edu.
# # #
SI-394-2011